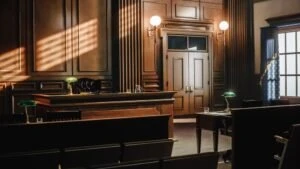 An arraignment refers to your first court appearance in front of a judge. If you experience a DUI arrest, you will be handed a traffic ticket with a court date on the bottom.
The first step of a DUI arraignment will involve the judge addressing an individual or their attorney. A judge will read out their DUI charges in front of the court and allow the defendant to seek legal counsel. A judge will offer the services of a court-appointed attorney if the individual cannot afford their own. The final stage of a DUI arraignment involves the judge asking the defendant how they wish to plead. As a defendant, you can plead guilty, not guilty, no contest, or mute.
If you have been arrested for driving under the influence (DUI) and face a DUI conviction, you must seek reputable legal representation. At The Law Place, we have a team of attorneys with over 75 years of combined experience. They can guide you through the DUI court process and help you make the right plea at the arraignment stage. To schedule your free consultation with one of our attorneys, call us now at (941)-444-4444.
How Should I Prepare for My DUI Arraignment?
The most important thing you should do in preparation for your arraignment is to decide on your plea agreement. If you go to court as an unprepared DUI defendant, a judge will likely enter a "not guilty" plea on your behalf. We generally advise people going to court for DUI charges to plead not guilty at their arraignments. There are exceptions, however, where a DUI defense attorney will tell their client to make a different plea in the best interests of their particular case.
Furthermore, we suggest that people should plead "guilty" if their attorneys have secured a plea bargain for them. Although, this is not common in DUI cases. It is generally advised that people with pending DUI charges do not accept a plea bargain.
If you are headed to your first court date unprepared, do not worry. You should contact an experienced attorney as soon as possible who will guide you through the DUI process and advise you on how you should plead. You should know that if you are unsure, pleading "not guilty" is a far safer option than pleading "guilty."
What Happens if I Plead Guilty?
If you plead guilty at your DUI trial, you will be sentenced by the judge and your court proceedings will come to an end. Pleading guilty will put a stop to any chance you have of getting your criminal charges reduced or dismissed. Your DUI charge will be placed on your criminal record and there will be nothing you can do to remove it. These convictions cannot be expunged. Unfortunately, many Floridians are unaware of the consequences of pleading guilty. Once someone has made a guilty plea, it is very difficult to withdraw it.
What Happens if I Make a Not Guilty Plea?
If you decide to make a not-guilty plea at your DUI arraignment, the judge will set a date for your future pretrial hearing. These court dates typically occur within 90 days of DUI arraignments.
During this time, you will be able to seek reputable legal representation and gather solid evidence. Your attorney may also try to negotiate a plea bargain with the district attorney.
Once your trial date arrives, your attorney will present evidence on your behalf and fight for your rights and interests.
What Are My Constitutional Rights?
If you are facing a criminal charge and are heading to court, it is important to know and understand your constitutional rights. These include:
The right to be legally represented by an attorney.
The right to receive a court-appointed public defender if you cannot afford an attorney.
The right to remain silent and not incriminate yourself.
The right to a speedy trial.
The right to a jury trial.
The right to cross-examine and confront witnesses.
How Does a DUI Plea Bargain Work?
A plea bargain is an agreement made between an attorney and a prosecutor. These work by defendants pleading guilty to a charge with an agreed-upon punishment. For example, after examining your case, your attorney may advise that you plead guilty and accept the punishment offered. This is because your attorney could believe that by pleading not guilty, you will likely face worse penalties in the future once your case concludes.
The prosecutors who are involved in these bargains are government lawyers who take over cases from law enforcement officers after DUI arrests are made. A prosecutor will determine the plea bargain offer for you. If there are no aggravating circumstances involved in your case, this offer can be predicted by your attorney.
How Do DUI Trials Work?
During a trial, the prosecution has the duty of proving beyond a reasonable doubt that the defendant is guilty of driving under the influence. If the prosecution is unable to do this, a case will be dismissed.
These trials can take anywhere between a couple of days to a week to complete. The first step involved is jury selection. Once the jury has been selected by the defense and prosecution, both sides will present their opening statements. The main substance of the trial will be the presentation of evidence.
Once both sides have presented their evidence, they will have the chance to make their last pitch to the jury in their closing arguments. It is then the role of the jury to deliberate and come to a decision. Finally, once a verdict has been made, they'll inform the judge and it will be announced in an open court.
What Does It Mean to Plead No Contest?
To plead no contest at a DUI arraignment means that you don't want to plead either guilty or not guilty. You aren't disputing the facts of your DUI case but you are also not admitting to breaking the law.
It is not always possible to plead no contest in criminal cases. The judge that gets assigned to your case will decide whether you will be able to enter a no-contest plea.
These pleas are usually not acceptable in federal courts. District judges of the United States typically require defendants to either admit their guilt or go to trial.
What Does It Mean to Plead Mute?
In court, you have the right to remain silent. A mute plea is made when a defendant chooses to remain silent and not engage in the arraignment. By doing so, they do not make a plea. In these situations where defendants choose to remain silent, the judge will typically enter this type of plea as not guilty.
Do I Have to Make a Court Appearance?
You don't always have to make a court appearance for your DUI charge at your arraignment if you have hired an attorney to represent you. If you have decided to plead not guilty, your attorney will enter the plea for you and obtain all of the necessary documents.
At The Law Place, we advise that all individuals attend their future court dates. This is because it presents to the court that they are taking their criminal charges seriously. However, we understand that life can get in the way and it can be difficult to make all these appearances. If you are not required and wish not to attend, one of our reputable defense attorneys will be able to act on your behalf.
Should I Contact The Law Place?
If you have experienced a DUI arrest and are facing a DUI arraignment, you should contact a reputable law firm. An attorney can examine your case and make you aware of all your legal options. They can also advise you on how you should plead during your arraignment.
We understand that DUI cases can feel daunting, but we are here for you. Our team is highly experienced and has helped defend countless clients in the courtroom.
To schedule your free no-obligation consultation with a member of our team, call us now at (941)-444-4444.