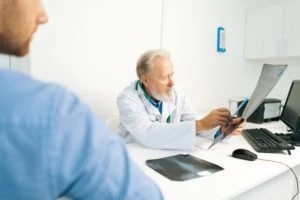 Medical malpractice claims are a type of personal injury claim that involves medical professionals acting negligently while providing medical treatment to a patient. Medical malpractice can lead to the patient experiencing pain, sustaining an injury, and can sometimes even cause death. A victim of medical malpractice can seek compensation for the poor treatment they have received.
If you have sustained an injury and are unsure whether to file a medical malpractice or personal injury lawsuit, call The Law Place today. Medical malpractice claims differ slightly from other personal injury claims, so it's important to know which lawsuit better fits the circumstances of your specific case.
We have 75 years of combined experience obtaining monetary compensation for our clients by filing both medical malpractice and personal injury lawsuits. At The Law Place, we know how difficult it can be to differentiate between personal injury law and medical malpractice claims. One of our skilled lawyers can guide you through the legal process and provide you with invaluable legal advice so that you feel confident when filing your claim.
At The Law Place, we believe that our clients should know who we are and how we work before they decide to hire us. For this reason, we offer a free legal consultation to all of our clients. During your free consultation, you can ask one of our attorneys any questions you may have so that you can feel confident in our abilities before deciding to use our services. Call us at (941) 444-4444 for a free case evaluation with no strings attached.
Medical Malpractice vs. Other Personal Injury Claims
Medical malpractice is a type of personal injury that normally relates to medical and hospital care. Under Florida Statute 766.102, a medical malpractice lawyer must prove that the medical professional responsible for the malpractice didn't meet the standard of care that they owed the patient while under their care. In Florida, medical professionals, including doctors and nurses, owe their patients a duty of care. When an individual responsible for taking care of a patient breaches this legal duty of care, the claimant has the right to file a medical malpractice lawsuit.
Unfortunately, medical malpractice is quite common in the U.S., and the consequences of a medical professional not meeting the standard of care expected of them can be devastating. According to studies carried out by Johns Hopkins University, approximately 250,000 people die every year due to medical negligence in the U.S. alone.
Personal injury claims are filed when a person is hurt or injured in an accident that was someone else's fault. For example, if a person is injured in a car accident caused by the negligence of another driver, then the claimant may be able to file a personal injury claim and receive compensation. A personal injury lawyer must prove that the at-fault party acted negligently, which ultimately caused the accident. For example, if the at-fault driver was using their cell phone while driving, this can be used as evidence to prove negligence.
Examples of Medical Malpractice
According to a Johns Hopkins University study, medical malpractice is the third leading cause of death in the U.S., behind cardiovascular disease and cancer. The following list offers common medical malpractice examples:
Misdiagnosis.
Delayed diagnosis.
Childbirth injuries.
Surgical errors.
Unnecessary surgery.
Medication errors.
Using unsterlizied equpiment.
Anesthesia errors.
Premature discharge.
Misreading or ignoring lab results.
Failure to recognize symptoms.
When a medical practitioner makes a medical mistake, the consequences can be devastating. One of our medical malpractice attorneys will review your medical records as well as the injuries you have sustained and determine if you have grounds to file a medical malpractice claim.
Examples of Personal Injury Cases
Personal injury cases usually involve an individual causing harm to another person due to their negligence which led to an accident. Examples of personal injury cases include:
Auto accidents.
Slip and fall accidents.
Animal attacks, including dog bites.
Workplace accident.
Personal injury victims can sustain mild to serious injuries after their accident, including cuts, bruises, broken bones, and head injuries. One of our personal injury attorneys can help you with your personal injury case and ensure you recover the expenses you have incurred as a result of your accident. At The Law Place, seeking justice for our clients is our top priority. Call our law office to schedule your free consultation with a personal injury lawyer today.
Proving a Medical Malpractice Case
In order to receive compensation for your claim, it's crucial to prove medical malpractice. Your attorney must prove that the injuries and pain that you have experienced as a result of the medical care you have received was the result of medical malpractice. In order to file a medical malpractice lawsuit, a lawyer must prove:
The doctor-patient relationship.
The doctor or other medical worker acted negligently.
The injuries sustained were caused by negligence.
Damages were incurred due to medical malpractice.
In order to prove this, your attorney may:
Collect evidence – Gathering evidence of medical malpractice is key. Your attorney may take photos of the injuries you have sustained and make copies of your medical bills. Doctor's notes and medical records can also be useful when proving medical negligence.
Get an expert opinion – Your lawyer may ask a medical professional to review the evidence collected in order to prove that the healthcare worker that treated you did not meet the expected standard of care. If the medical expert believes that the healthcare worker in question did not meet this standard of care, they may give a signed written statement that declares this.
Prove damages – Your lawyer will then prove that you incurred financial losses due to the malpractice. Damages that you may be entitled to include medical bills, lost income, and pain and suffering. An attorney can calculate how much compensation you may be entitled to and fight so that you obtain it.
Proving a Personal Injury Claim
Medical malpractice and other personal injury claims require an attorney to prove that someone acted negligently in order to win compensation for their client. For example, in a slip and fall accident, the property owner of the place in which the accident occurred must be held responsible for the accident in order for the accident victim to receive money.
In order to prove negligence in a personal injury case, your personal injury attorney may:
Take photographs of the scene of the accident.
Gather eyewitness statements.
Collect CCTV or dashcam footage.
Obtain police reports when necessary.
What Damages Can I Claim Under a Personal Injury Lawsuit?
Damages that a claimant could be entitled to when filing a personal injury claim include:
Medical bills – Bills you may have incurred can be covered by seeking compensation. If you have incurred additional medical bills to rectify the issues caused by medical malpractice or to treat injuries sustained after an accident, a personal injury attorney can help you recover these costs. For medical malpractice cases, a claimant
Lost wages – If you have been left unable to work and therefore lost income as a result of your accident or medical malpractice, you can seek compensation to cover lost wages.
Pain and suffering – If the claimant has suffered from emotional distress and/or physical pain as a result of their accident or medical malpractice, they can seek pain and suffering damages.
Wrongful death – An individual can seek damages if they have lost a loved one due to someone else's negligence. Under Florida Statute 768.16, only immediate family members such as the spouse of the deceased can file a wrongful death lawsuit.
Statute of Limitations in Florida
It's important to seek legal representation as soon as you suspect you have been the victim of medical malpractice. Under Florida Statute 95.11, a claimant has 2 years from the date they discovered the malpractice or from when they started receiving medical treatment to file a medical malpractice claim.
It's important to note that the statute of limitations is different for other personal injury claims in Florida. A claimant normally has 4 years from the date of their accident to file a personal injury claim.
A person hoping to file a personal injury claim after this deadline will legally not be able to, even if they were not at fault for their accident. Therefore, it's important to file a lawsuit soon after an accident.
How Much Does an Attorney at the Law Place Cost?
At The Law Place, we believe that those who have suffered from mental and physical pain and trauma due to the negligence of someone else deserve legal representation no matter their financial situation. Therefore, we work on a no-win-no-fee basis as monitored by The State Bar Association. This means that we never ask for money upfront from our clients, and we only charge for our services if we're successful in winning compensation for your case. If you decide to hire our services to take on your case, you can be confident that you won't be left with hidden charges or surprise fees.
We also offer all of our clients a free legal consultation so that they can ask any questions they may have before deciding to hire us. We believe in open and honest communication, and no question is too big or trivial. If you decide to hire our team of experienced attorneys, you can rest assured that your case is in safe hands.
Contact The Law Place Today
Understanding the difference between medical malpractice and personal injury cases is difficult. The right lawyer with the necessary experience and expertise can explain the difference between the two and ensure that you feel confident in your knowledge about the legalities that surround your specific case. At The Law Place, we have ample experience across multiple practice areas, so we know what we're doing when it comes to Florida law.
Your attorney will review your case, examine evidence in detail, and ensure that your case is strong enough to get the highest amount of compensation possible. We pride ourselves on our attorney-client relationship, and most of our attorneys have the highest AVVO rating of 10.0, so we're confident that the professionals that make up our legal team will be well-suited to your case.
If you're unsure about the technicalities of your case, don't hesitate to contact our law office. Our phone lines are open 24/7 so that you can call us whenever it suits you. Contact us today at (941) 444-4444 for a free case review from a top Florida lawyer.