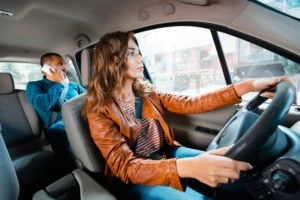 If you have been involved in an accident with an Uber driver, then you are likely to be entitled to receive compensation for any injuries or damages that happened when the accident occurred. However, with rideshare companies like Uber and Lyft, you may find yourself in the unfortunate situation of becoming tied up in legal complications due to the complex nature of rideshare vehicle insurance claims.
For this reason, you need the best personal injury lawyers on your side in order to access the appropriate coverage offered when an Uber driver gets into an accident with you. Our car accident lawyer team has over 75 years of combined experience and can provide free legal advice at no obligation to you. All you need to do is arrange a free consultation today and discuss the relevant information with an Uber accident lawyer from our firm.
Our lines are always open, so if your accident happened in the last four years, you should get in touch with our attorney team today in order to seek compensation. Our telephone contact number is (941) 444-4444!
Your Role in Determining How Much Your Uber Accident Claim Could Be Worth
As with all car accidents, the unfortunate truth is that the actions you take immediately afterward will ultimately impact and determine the amount of compensation that you could be owed.
In the following sections, we will talk you through the correct steps to take from the accident scene to cover yourself and ensure you do not accidentally lower the claim amount you could be owed.
The Importance of Filing a Police Report After a Crash With a Rideshare Company
If you are involved in an accident with an Uber or Lyft driver, it is likely that you are legally required to contact the police and file an official report or report the accident to the Department of Motor Vehicles within 10 days, as per Florida Statute 316.066.
The following are the scenarios where this is a legal requirement:
If the car accident resulted in the injury, pain, discomfort, or death of any of the parties involved.
If a motor vehicle had to be towed after the crash occurred.
If the accident had any type of commercial vehicle involved.
Not only is filing a police report a legal necessity, but it will also create a helpful paper trail that will help your claim. The information contained in the report is valuable evidence and can increase the scope of your legal options.
The Importance of Seeking Medical Attention After Any Car Accident
If you are involved in an Uber accident and sustain any injuries, it is vital that you seek medical attention.
This is not only for your own personal wellbeing but also because the personal injury protection (PIP) requirements under Florida Statute 627.736 require you to do this within 14 days of the accident with the Uber driver in order to be eligible for compensation.
What seems like minor injuries can become major complications if left untreated, and this is not worth the risk. Your attorney can also help you to make a claim to cover the cost of your medical bills.
What Else Can You Do at the Scene of Uber Accidents to Protect Your Claim?
There are several things that drivers involved in an Uber accident can do at the scene of the accident to safeguard their claim. Of course, these should only be done if it is safe to do so and you do not require urgent medical care.
The following is a checklist of additional things to try and do at the scene of your Uber accident:
Take photographs of the scene, including your own injuries, all vehicle damage, registration plates, environmental damage, and skid marks on the road. These are useful in demonstrating the extent of property damage and determining liability and fault.
Get the contact information and registrations of everyone on the scene, including the Uber driver. This can be extremely valuable when gathering witness statements to act as evidence.
Hire a car accident attorney who can help you ensure you took all the right steps and help you deal with your insurance company without mistakenly lowering your claim amount.
It is also important to remember to retain all important documents, such as those detailing your medical expenses or employer correspondence detailing how much time you were forced to take off from work to recover from your Uber accident. These are vital to ensuring your settlement will pay a fair and representative amount.
What Are Some Issues You Could Face With the Insurance Companies Involved in an Uber Driver Accident?
We mentioned in the introduction that it could be difficult and complex to seek compensation for accidents involving Uber and Lyft drivers.
This can happen for the following reasons:
The Uber driver's insurance company may attempt to deny any claim due to the fact the car was in use for commercial purposes.
You might have to file a claim through the rideshare's insurance company if the Uber driver was in possession of a liability insurance policy that was purchased through them.
If you attempt to sue Uber, they may make the argument that their Uber drivers are independent contractors and therefore they are not responsible for any personal injury which was the fault of their driver.
This is why it is so important to have the support of an experienced Uber accident attorney on your side before you file a claim.
To get the support of one of our many AVVO 10.0 rated lawyers, simply call us and arrange a free consultation today. We will work tirelessly to demonstrate fault and identify the correct path for your claim in order to make sure you receive the highest insurance payout possible for your situation.
How Much Will Legal Support Cost From The Law Place?
Many people fear seeking worthwhile legal representation after an accident due to fears that it will cost them too much. However, here at The Law Place, we believe that if the fault lies with the other driver, you should have to take no risks to access the compensation you deserve.
As such, all of our personal injury claims take place in a no-win-no-fee environment. This means if you are unsuccessful, the process will cost absolutely nothing. If you are successful, then fees will only be subtracted from the final settlement amount once it is issued.
Trust and transparency are central to the values of our law firm, and as such, all of our no-win-no-fee contingency work is continuously monitored by The Florida State Bar Association.
Contact The Law Place Today
If you have been involved in an accident with an Uber or other rideshare company driver in the past four years, it is likely that you are entitled to compensation for any injuries or other complications you suffered as a result.
To begin your path to compensation, call and arrange a free case evaluation with one of our attorneys today. Our lines are always open, all calls take place under no obligation, and everything you disclose will be protected by the attorney-client relationship. There really could not be less risk involved in seeking the compensation you deserve.
For more information on how to maximize your settlement for a crash involving an Uber driver, call us on (941) 444-4444 as soon as possible.