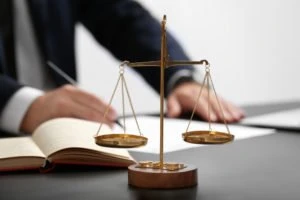 If you have considered hiring an attorney to represent you, you may have heard the term contingency fee thrown about a lot. You will often hear it on television ads and see it on billboards. But what does a contingency fee actually mean?
In simple terms, a contingency fee contract is a deal that you make with your attorney. They will agree to represent you in court under the condition that you pay them a percentage of the money that you receive if you win your case.
Unlike legal fees, you only pay a contingency fee if you win your case.
Contingency fees are a very popular way of hiring a lawyer. In fact, many people who are hesitant to hire a personal injury lawyer, only hold back because they are scared that the up-front costs will be too high for them to afford.
At The Law Place, we operate under a contingency fee arrangement, helping to put you as the claimant at ease. You don't have to find an up-front payment to proceed with your claim. This means that every person and their family can seek the help of skilled and knowledgeable personal injury lawyers, such as those found at The Law place, regardless of their financial situation. A lack of funds should never hold you back from seeking the compensation you deserve. That is why our phone lines are open 24 hours a day, and we offer a free consultation. That way, you can get the right advice when you need it most, and at no cost.
Call us now on 941-444-4444.
What is a Typical Contingency Fee?
A typical contingency fee is one where your lawyer will take a percentage of your settlement or compensation, in exchange for them representing you and fighting on your behalf. This means they will deal with all of the paperwork, will liaise with all of the other parties involved, and will give you their honest advice that they believe is best for you.
This will allow you to sit back and remove yourself from the dealings and negotiations, allowing you to spend more time focusing on your mental and physical health.
What Do Most Lawyers Charge for a Contingency Fee?
There are a couple of different rules and laws on what a lawyer can charge its client when it comes to fees and what percentage you will pay. State Bar Associations actually dictates the regulations surrounding contingency fees, although regulations can be confusing.
To simplify things, here are the guidelines that the majority of cases will follow.
Without a Lawsuit
If your personal injury case settles before a lawsuit is raised, the fee agreement should be as follows.
Up to $1,000,000 dollars, there is a cap of 33.3%.
For settlements over $1,000,000, the fee is reduced by 10% for any amount over the million. So if the settlement is $1.2,000,000, the fee is 33.3% of the million and 23.3% of the 200,00.
At this point, the defendant has 20 days to accept or refuse the complaint.
With a Lawsuit
If the case proceeds into the lawsuit phase, the cap changes. This usually happens if the client answers the complaining or the victim succeeds in getting a court judgment. In these cases:
The attorney for the victim may accept 40% of the compensation if it is agreed in the fee arrangement under Florida state law.
For settlement over $1,000,000, the percentage is reduced in increments that are set out by the Florida Supreme Court.
How Does a Contingency Lawyer Work?
A contingency fee agreement is generally used in cases where a victim is seeking compensation for damages or an injury. When an attorney is approached by someone who is looking for a contingency fee arrangement, they will ask some questions about your incident.
It is up to them to then decide whether or not they believe that you have the right to compensation, and how strong your case is. If you have a genuine case, your lawyer may offer to work on a contingency fee. This means they are confident that you will either receive a settlement figure or that you have a great shot at convincing a judge that you deserve compensation.
In a situation that your lawyer deems as low-risk, I.e., there is very little chance of you losing or not receiving a settlement, they may be happy to work on a lower percentage when it comes to their contingency fees. For riskier cases, the percentage you will pay in contingency fees is usually higher.
Additional Costs
Even when your attorney agrees that he will work for free until you pay his contingency fees, there are still a few situations where additional costs can come into play. These will always be laid out to you up-front in a clear manner by your attorney. Unfortunately, these are the costs of a personal injury lawsuit and are pretty unavoidable:
Filing fee and court fee – It costs around $350-450 dollars to file a complaint in a federal court.
Discovery fee – Depositions, for example, require a transcript and a court reporter. Depositions can last 8 hours and can often cost around $1000.
Expert Help – An expert witness, one who might be instrumental in your chances at winning, might cost as much as your attorney. An expert witness might cost up to $2000 dollars to review your case.
Evidence – If your attorney has to dig out medical records, public documents, and so on, this can cost a couple of hundred dollars.
Litigation costs can make a big difference in how much money you walk away with if you win. It is important to make sure that you discuss with your attorney the exact fees. In particular, you should ask whether your litigation fees are paid before you pay your contingent fee or after. If it is after your contingent fee, you will be more out of pocket then if you paid for litigation before you pay your contingent fee.
As an example, if you win a case and are awarded $150,000 dollars. Your litigation costs are $20,000 dollars, and your contingency fee is 30%.
If you pay for your litigation before the contingency fee, your lawyer will get 30% of $130,000 dollars which equals $39,000. You will get $91,000.
If you pay for your litigation costs after paying your fee, your lawyer gets $45,000 dollars, then you get $105,000 but have to then pay the $20,000 litigation fees leaving you with $85,000 dollars.
Obviously, this is a difference of $6,000 dollars, which is no small sum. This is why it is so vitally important to discuss your attorney's fee arrangement early and often, and you should ask as many questions as you need to until you have a crystal clear idea of the arrangement.
Are there any Downsides to Hiring a Lawyer on a Contingency Fee Basis?
Just as there are some major benefits to hiring an attorney on a contingency basis, there are also a couple of downsides.
Firstly, there is a chance that you will end up paying your lawyer more on a contingency agreement, then you would have to pay legal fees hourly.
Secondly, due to the nature of the agreement, your lawyer may be less likely to take a case that is not a clear-cut victory.
Speak to a Lawyer at The Law Place Today!
If you are unsure about hiring a lawyer for your case, please get in touch with us here at The Law Place.
We offer a free initial consultation with no strings attached. In this quick call, one of our lawyers will discuss your individual needs and will give you the best and most honest advice we can. We will inform you of your options and advise you to the best of our ability regardless of whether you intend to hire us or not.
If you do decide to proceed with your case, you will be assigned one of our skilled and knowledgeable lawyers from our reputable team. We have over 75 years of combined experience in dealing with a wide variety of cases.
Are you tired of the stress that comes with medical malpractice or criminal defense cases? Let us take the weight off your shoulders! Get in touch today on 941-444-4444.