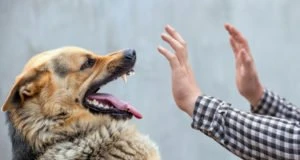 There are few moments quite as traumatic for the victim as a dog bite attack. These attacks often happen out of the blue, and the majority of dog bite cases come from dogs that have never before shown aggressive behavior. In the aftermath, a victim can feel scared, emotionally traumatized, and the injuries can be severe.
In this situation, many feel too worried to reach out for help from an attorney. Often, medical bills are rising, as well as stress, and this can add to the problem. It is perfectly acceptable to feel overwhelmed.
Here at The Law Place, we understand. We know what you are going through, having dealt with a number of dog bite cases just like yours over the years. Our process is designed to make life easier. We have phone lines manned 24/7, so we are ready whenever you are.
We can offer free and immediate legal advice, a free consultation to evaluate your case, and if you decide to hire us to represent you, we will ease the burden you face. We do the paperwork as well as liaising with third parties, insurance, emergency services, and police. We will investigate your case to the fullest extent of our abilities and build a case that is going to give you the best fighting chance at seeking compensation and justice for what you have been through.
Following a dog bite, you might be wondering, "what damages can I claim after a dog bite injury?" or "what is the process for claiming after a dog bite injury?" The answers to these questions will depend upon your specific situation, but we will try to explain as much as we can.
We are here to help. Contact us now at (941) 444-4444 to schedule a free consultation.
Potential Dog Bite Damages
Under Florida law, you can seek compensation following an accident that wasn't your fault if you can prove the other party was negligent and liable for your damages. The stronger the evidence, the better your chances of seeking a higher compensation value.
The best way to ensure you receive the fairest possible treatment is to use a skilled personal injury attorney, one who knows the complex Florida legal system like the back of their hands. You need an attorney like one of the team here, at The Law Place.
Every single Florida dog bite case is different and will include different damages to different degrees. This means that each settlement is worked out on a case-by-case basis.
The main types of damages that you might be able to claim are:
Medical expenses.
Pain and suffering.
Loss of income.
Property damage.
Punitive damages.
Medical Expenses
Dog bite injuries can range from mild to severe and may lead to some pretty sizable medical bills and expenses. You can claim for any past, present, or future medical expenses that you have incurred as a result of the incident. This means it's extremely important to keep a record of all your expenses and bills for treatment, transport to and from the hospital, physical and mental therapy, and anything else medical-related.
Medical bills have a quantitative figure attached to them, which means there is a physical sum and cost to these types of damages, making them easy to justify in a case.
Pain and Suffering
Pain and suffering cover the damages that are more difficult to quantify. These include things like loss of enjoyment, loss of quality of life, and mental/emotional suffering. With dog bite injuries having such a high chance to cause emotional trauma, pain and suffering will most likely be used in your case.
Usually, to figure out exactly what your pain and suffering damages are worth, your attorney will use a sliding scale figure between 1-5 depending on how severe they judge your damages to be. They will apply this multiplier to the medical expense figure. A severe dog bite resulting in long-term emotional trauma and severe physical injuries, for example, may have a multiplier of 5, whereas a light bight with mild injuries and trauma might be a 1.
A good way to ensure that you receive the maximum amount for your pain and suffering is to keep a detailed diary of how you feel each day regarding the injury. If you are feeling stressed or unhappy, make sure you keep a note of it so that you have a record that can be used later on by your attorney,
Loss of Income
Dog bite injuries often result in the dog bite victim having to take time off work. This might be due to the injury or the trauma, but the end result is the same, a loss of income or wages.
If you have missed out on wages or income due to your injuries, then those lost wages are recoverable by your attorney. This is the same as medical bills, meaning you can claim for lost wages as well as any wages you might lose in the future.
Many dog bites result in nerve damage or amputation, and if this means you can no longer operate machinery or work in construction, for example, you can claim for the wages you will potentially lose for the rest of your life.
Punitive Damages
Punitive damages are reserved for cases where you think the accident has happened through malice or severe negligence. In these cases, you might want to punish the other party as well as seek compensation from them.
Punitive damages are damages that you will seek directly from the defendant. They aren't covered by their insurance. This means the other party will have to find that money personally.
Punitive damages are rare, but if you feel the other party has trained their dog to be aggressive or set their dog on you on purpose to cause the damage, you will most likely have grounds to seek punitive damages from them.
How Long Does the Insurance Company Have to Settle Cases Regarding Dog Bites in Florida?
There are so many complex rules and regulations surrounding dog bites and dangerous dogs, as laid out in Florida Statute 767.04. These laws make it impossible to give a solid answer to this without knowing the specific details of your case. The specific period of time that it will take for your dog bite case to settle will depend on the circumstances of the case. The more complex it is, the longer it will take to settle.
Clear-cut cases settle quicker, but if the other party has decided to dispute your claim, then it will take an aggressive lawyer with a great level of investigatory skill to build a claim that will win you your case. This is just one of the reasons why it is so important to seek the help of a skilled personal injury lawyer as soon as physically possible.
If your case has some strong opposition, or if the injuries involved are severe and complex, then it is likely that your case will take up to a year, potentially longer. This is especially the case when long-term medical care is on the cards, as it will take time for the injuries to really settle and be treated.
What to Do When a Dog Bites?
The most important thing that you can do following a dog bite is to prioritize your personal safety. This means removing yourself from any dangerous situations, away from the dog owner and dog responsible, and calling for immediate medical help and police assistance. If you are injured, call for the paramedics first and tell them that you need police assistance as well.
This is crucial, as they will be able to make the situation as safe as possible, as well as examining you for any injuries. Dog bites have a high chance of infection, and you will need to get a rabies shot as soon as possible in case the dog is infected. This medical attention will also be instrumental in your case later on as it will be the first recorded medical attention you received.
The police will be able to take the details of any witnesses as well as the correct details of the party at fault. It is very common for guilty parties to give false information, and surprisingly, witnesses often do the same. The police will ensure this doesn't happen.
The emergency services will also create something known as a police report. This is an accurate, unbiased report made by the emergency services on the scene. This is a great piece of evidence that can be obtained by your attorney and used in your case.
Once you are safe and have dealt with your injuries and the police, this is the perfect time for you to get in touch with a personal injury attorney to allow them to begin their investigations of the incident as early as physically possible. The sooner you get in touch, the easier it will be for investigators to pick up evidence.
After dealing with your safety and calling the police/ambulance services, now is the time for you to get in touch with your legal aid. The sooner you get in touch with your attorney after an accident, the sooner they will be able to send investigators, give you legal advice, and begin building the strongest possible case for you.
Call The Law Place today for immediate legal advice and a free consultation.
How Much Is the Average Dog Bite Settlement?
Dog bite settlements differ from case to case as each one is different and will involve different circumstances. This means that there is no average dog bite settlement per se.
With data announced by The Centers for Disease and Control and Prevention showing that there are nearly 4.5 million dog bites every single year, compensation will always depend upon:
How severe the injuries you received are.
How high the costs for the medical treatment necessary to treat the injury are.
How much the victim stands to lose in terms of lost wages and income due to the accident.
The emotional and mental trauma suffered as a result of the attack.
How Is a Dog Bite Claim Settled?
There are numerous different calculations involved when it comes to assigning a monetary settlement value to your case, and this is one of the reasons why a skilled dog bite injury lawyer is so instrumental. They will be able to quickly evaluate your case and build up evidence that will make your settlement figure hard to argue with.
When dealing with a dog bite lawsuit, the dog owner and their insurance company might want to play hardball. Big insurance companies have not gotten to be big insurance companies by paying out in every single instance. They will most likely have a strong and aggressive legal team who have the sole job of lowering their liability.
Your attorney will use all of the tools and experience they have to calculate a settlement figure and will send it to the other party with evidence for the decided settlement figure. At this point, they will either accept, decline, or respond with a counter-offer.
If they accept or respond with a counter-offer, it will be up to you whether you decide to accept it. If you do, you will avoid the need for a long legal battle. If you don't, it will proceed to the courtroom.
If it proceeds to a dog bite lawsuit in the courtroom, then your dog bite lawyers will then use the strong case they have built to convince the court that you deserve the settlement you are seeking from the insurance company. If you get to this stage, you will be very thankful that you obtained the help of an attorney that isn't afraid to fight an insurance company in court and knows exactly how to win a dog bite lawsuit.
When Should I Sue for a Dog Bite Injury?
Often people are slow to obtain help for their dog bite claims. With medical treatment being the priority and a high level of stress and emotional trauma, it can be easy to become too wrapped up in dealing with immediate problems to worry about the long term.
This is one of the reasons why it is so important for victims of dog bite attacks to seek the help of a dog bite lawyer or law firm.
The sooner you get in touch with your attorney, the sooner they can create an action plan and can remove the burden of dealing with the case from the victim. They can liaise with the other parties, investigate the accident on their behalf, do all the paperwork, and calculate damages. This removes a huge strain from the dog bite victim's day-to-day life.
Besides easing that burden, the longer you leave it to get in touch with an attorney, the harder it will become for them to investigate to their full potential. Witnesses can become harder to reach, the scene of the accident can lose evidence, and CCTV may be wiped.
Besides the immediate need for haste, there is also a clock ticking. After any accident in the State of Florida, you are bound under Florida Statue 95.11 to make a claim within 4 years of the date of the incident or forgo your right to claim.
We highly recommend that nobody wait that long, as all personal injury cases are time-critical.
Contact The Law Place Today
Don't let your traumatic experience cause you more worry and stress than it needs to. Call us here at The Law Place and let a strong team of accident lawyers take your case. We want to give you the room to breathe and focus on the important things.
Let us take over the paperwork, liaise with the insurance companies, and fight on your behalf for a fair settlement or victory in the courtroom.
Our phone lines are always open! Call us at (941) 444-4444 for a free consultation with a leading attorney at our firm and find out how much compensation you may be entitled to.