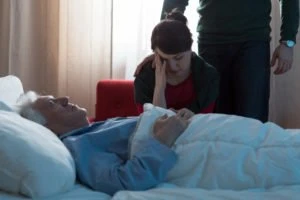 Wrongful death is a tort claim, which is a claim that seeks compensation, meaning it is a civil claim and not a criminal case.
In a criminal case, such as a homicide case, the government files charges. However, in a civil case, such as wrongful death, the representative of the deceased estate files charges on behalf of the family.
The key difference is that criminal law looks to punish people who commit crimes, whereas tort law provides a way for victims to obtain monetary compensation.
If your loved one has died due to someone else's wrongful act, then you could be owed compensation. While no amount of money can ease your pain, it can take away the stress of the financial pressures you may be experiencing.
At The Law Place, we have over 7 decades of combined experience helping families seek compensation for wrongful death. We offer support and guidance when you need it most and handle everything with the sensitivity, care, and determination your claim needs.
Contact The Law Place on (941) 444-4444 to schedule a free consultation today.
What's the Difference Between a Wrongful Death Claim and a Criminal Homicide Case?
A wrongful death claim could be thought of as a type of personal injury lawsuit where someone else steps in to file a lawsuit on behalf of the deceased.
Just like other types of personal injury lawsuits, the liability of the defendant is expressed in terms of financial compensation, known as damages. This is the key difference between a wrongful death claim and a criminal homicide case. In a criminal homicide case, a conviction can result in prison time, fines paid to the state, probation, and other penalties.
There are other important differences. For example, in a criminal case, the guilt must be established "beyond a reasonable doubt," which is a very high bar for the prosecution. On the other hand, in a civil case, liability must be shown only "by a preponderance of the evidence," meaning it's more likely than not that the defendant is responsible for the death. This means that it is often easier to secure a wrongful death claim than to convict someone for criminal homicide.
It is possible to secure compensation in a wrongful death claim without someone being convicted for criminal homicide. It is also possible that someone could face both a criminal homicide conviction and a wrongful death lawsuit for the same act. The defendant could be sued in civil court for wrongful death and at the same time face criminal charges for the same death.
Examples of Wrongful Death
According to Florida Statute 768.19, wrongful death is a death is "caused by the wrongful act, negligence, default, or breach of contract or warranty of any person,"
Common examples include:
Auto accidents.
Medical negligence.
Slip and fall fatalities.
Workplace accidents.
This is just a handful of examples of wrongful death. A wrongful death claim can arise in any situation where the intentional or negligent acts of another person or entity cause the death of another person.
Filing a Lawsuit for Wrongful Death in Florida
A wrongful death claim must show that a wrongful act caused the death of another person. This can include negligence, breach of warranty, or default. A wrongful death attorney will understand how to gather evidence and build a strong case.
A representative of the deceased estate must file a wrongful death claim on behalf of family members.
In Florida, the following family members of the deceased can file a wrongful death lawsuit, in accordance with Florida Statute 768.21:
The surviving spouse.
Each parent of a deceased minor child.
Minor children of the decedent.
Adult children of the decedent if there is no surviving spouse.
A survivor who has paid medical or funeral expenses on behalf of the decedent.
Proving Negligence in a Wrongful Death Case in Florida
Often, wrongful death claims are based on negligence. In order to prove negligence, four things must be established.
Duty of care – The first step in a negligence case is to prove that the defendant owed a duty of care to the deceased. For example, property owners owe a duty of care to visitors to their property, and drivers owe a duty of care to other road users to keep people safe from harm.
Breach of duty of care – Next, it must be shown that they breached their duty of care by failing to act as a reasonable person would have. Common examples are breaking the rules of the road or failing to warn people of a hazardous condition.
Causation – Next, it must be proven that the breach of duty caused the death of the person in question.
Damages – Finally, the breach must have caused damages. In the case of wrongful death, this could include loss of income to a family household, funeral expenses, and compensation for the emotional suffering of the family.
Compensation That May Be Awarded in a Florida Wrongful Death Claim
Florida law on wrongful death action makes a distinction between the estate and the family members.
The deceased's personal representative is required to make a claim for damages, which will be broken into damages awarded to the estate and damages awarded to the family.
The estate of the deceased may recover damages for;
Medical expenses are paid by the estate.
Funeral expenses paid by the estate.
Lost wages, benefits, and potential future earnings.
Loss of net accumulations of the estate that could be expected had the decedent lived.
Family members of the deceased could receive compensation for:
Medical and funeral expenses are paid by the family.
Loss of companionship for a spouse.
Lost parental companionship, instructions, and guidance for minor children.
Mental pain and suffering for the surviving family members.
Florida Statute of Limitations in Wrongful Death Cases
Florida Statute 95.11 details the statute of limitations in Florida. This sets a time limit for a lawsuit to be filed. For wrongful death claims, the statute of limitations is two years from the date of death.
Once two years have elapsed, you will no longer be able to make a claim. Considering the deep emotional pain following the loss of a family member, two years is a very short amount of time to file the necessary legal documents and gather the evidence necessary for a successful case.
When you seek representation, a wrongful death attorney can handle the legal process on your behalf, so you can focus on yourself and your family.
What Is the Average Payout in a Florida Wrongful Death Lawsuit?
It is difficult to give an average payout for a Florida wrongful death lawsuit, as the amount people receive in compensation varies widely and is dependent on many factors.
Families that have representation from a reputable law firm usually receive compensation from between $500,000 to over $1 million. When you contact The Law Place for a free consultation, an wrongful death attorney can give you a clearer idea based on your individual case.
What's more, our attorneys work on a contingency basis, monitored by The State Bar Association. Meaning we don't ask for any money upfront. Our fee is taken as a percentage of your settlement, and only if we are successful. That way, you can never be left out of pocket.
Don't Accept the Initial Settlement Offer From the Insurance Company in a Wrongful Death Lawsuit
If the wrongful death suit involves insurance companies, then they will have insurance adjusters on hand to lower the amount they pay out in compensation.
They might pressure you through phone calls, which is especially difficult after the death of a loved one, as your judgment is likely clouded. They could be eager to offer you a low offer in hopes that you accept, and therefore sign away your right to fight for anything more. You should always say no to a first offer. Seek advice from an attorney who will be able to tell you whether an offer is fair or whether they believe you can fight for more.
You may be tempted to accept the first offer in order to avoid the stress of a legal battle. But when you seek the help of an attorney who understands Florida law, they will handle the process for you and minimize the stress that you experience. They can speak to insurance companies, file the right legal documents, gather evidence on your behalf, and will only keep you as involved as you need or want to be.
Contact The Law Place Today
If you have lost a family member as a result of wrongful death, then contact The Law Place today. We offer a free case evaluation where we can answer any questions you have and establish whether we believe you have a valid claim.
We are committed to justice and will help you seek the compensation you deserve. No amount of money can ease your loss, but it can relieve financial pressures for you and your family. With over 75 years of combined experience dealing with wrongful death lawsuits in Florida, you can rest assured that your case is in safe hands.
Contact The Law Place on (941) 444-4444 to schedule a free consultation today with a Florida wrongful death attorney.