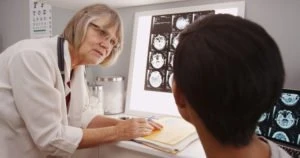 If you or a loved one has suffered a traumatic brain injury (TBI) in an accident, you may be worried about your recovery and future. If you haven't done so already, we would strongly recommend that you speak to some medical professionals. They will be able to examine your specific traumatic brain injury case to give you the answer to this question.
Brain injuries vary in severity. Physical symptoms of mild traumatic brain injuries, such as a concussion, will usually go away in the days or weeks following an accident. A severe traumatic brain injury can, however, cause permanent brain damage, a coma, or death. A traumatic brain injury can greatly impact a person's life. If you have suffered a traumatic brain injury in a car accident or another kind of accident, you need to contact our reputable personal injury lawyers at The Law Place today.
At The Law Place, we have over 75 years of combined experience. We have helped many clients who have suffered severe injuries in motor vehicle accidents, and we can help you too. No matter if you have experienced a mild traumatic brain injury or a severe TBI, you may be entitled to compensation. For some honest and unbiased legal advice, contact us today to schedule your free consultation. Call us now at (941) 444-4444.
What Is a Traumatic Brain Injury (TBI)?
A traumatic brain injury (TBI) can occur following a head injury. They are typically caused by a blow to the head. In some cases, brain damage is caused by penetrating head injuries, such as gunshot wounds. In other cases, brain damage can be caused by non-penetrating injuries, such as your head being struck in a car accident.
Every traumatic brain injury is different. The human brain is an incredibly complex organ, and brain trauma of any kind, whether that be a moderate or severe TBI, can have a great impact on a person's life. People who have suffered severe TBIs may never fully recover from their injuries. TBI symptoms for a mild TBI, however, may disappear in days or weeks.
A traumatic brain injury is a very serious injury. If you have suffered a head injury in an accident, you must seek medical attention immediately.
Who Might Get a Traumatic Brain Injury (TBI)?
Anyone is potentially vulnerable to suffering a traumatic brain injury, although 80% of them are suffered by males. These injuries are also more common among people who are over the age of 65. This is because older people are far more likely to lose their balance and fall. However, this doesn't mean that young children don't suffer severe TBIs. Younger children can suffer brain and head injuries from something as simple as falling from a bed or changing a table.
People who are involved in particular professions or activities are at a higher risk of suffering TBIs. These include:
Law enforcement and police.
Members of the military.
Construction workers.
Professional and recreational athletes.
Are Traumatic Brain Injuries Common?
In the United States, a traumatic brain injury (TBI) is a leading cause of death and disability. The Centers for Disease Control and Prevention (CDC) have published traumatic brain injury data from 2014. In that year, they reported that close to 3 million citizens had to go to emergency rooms, be hospitalized, or lose their lives as a result of these head injuries.
In 2014, more than 54,000 adults and 2,500 children lost their lives as a result of these injuries. This is a deeply upsetting figure. If you have lost a loved one as the result of a traumatic brain injury, you need to contact our law firm today. We understand that no amount of financial compensation could ever take away your trauma and grief, but it can help relieve you from financial burdens.
What Are the Different Types of Traumatic Brain Injuries?
Every brain injury is different as there as so many possible variations of the injury that can occur. The severity of a brain injury is determined by many factors, such as whether memory loss, a loss of consciousness, and abnormalities on the head are involved.
There are many types and grades of TBI, as stated below.
Mild Concussion
Concussions are the most common type of brain injury. These injuries can cause people to briefly lose consciousness for less than 30 minutes. People can also feel "dazed" as a result of them. Concussion victims can also experience confusion for about one day. If you think you may have suffered a mild TBI, we would strongly urge that you still seek medical attention. Any kind of brain injury is serious and worth examining by a professional doctor.
Moderate TBI
This type of TBI refers to a head injury that results in a person losing consciousness for longer than 30 minutes but less than a day. With a TBI of this severity, a person can experience confusion for about one week.
Severe TBI
People who have suffered these severe injuries will likely lose consciousness for over one day. Victims may likely be in the state of a coma. A severe brain injury can be detected from head CT and brain MRI scans.
Open
Open TBIs refer to injuries to the head that are penetrating. These injuries occur when a person experiences a knife, bullet, or something else going through the skull. If the particular object reaches the brain, it can directly cause severe damage to the brain tissue.
Closed
A traumatic brain injury will most typically be classified as closed. This means that the injury is caused by a great jolt or blow to the head that did not penetrate the skull. This contact to the head can cause brain swelling that results in a TBI.
How Are Traumatic Brain Injuries Caused?
The brain is a very complex and important organ. Damage to brain cells can be very severe. These injuries are typically caused by violent and hard hits to the head. A big blow to the head can cause a brain to experience changes in chemicals and energy as a way to try and compensate for the injury.
These changes can result in a person experiencing a headache, sound and/ or light sensitivity, and confusion. If you have suffered a mild injury, these changes will be short and will not permanently damage your brain.
These changes within the brain could be more severe if the impact sustained to the head was great. These changes will likely last longer and can potentially damage brain cells. In serious injuries, the brain will likely swell and expand inside of the skull. This is dangerous because the swelling can cause further damage to the brain.
What Are the Most Typical Causes of Traumatic Brain Injuries?
A traumatic brain injury can be caused in many different ways. The most typical cause for these injuries is falling. Falls account for almost half of all hospital admissions for injuries to the brain.
Some other top causes of traumatic brain injury in the United States include:
Accidents involving motor vehicles.
Sports, work, military, or recreational injuries.
Wounds caused by gunshots.
Domestic violence.
Child abuse and shaken baby syndrome.
What Are the Symptoms of a Brain Injury?
Traumatic brain injury symptoms will vary greatly depending on the severity of the injury. An obvious symptom is losing consciousness after a blow to the head. If you have suffered a head injury, you should go and get it examined by a medical professional. Do not worry about medical bills, an attorney at The Law Place can help you recover these costs at a later date. Your health is important.
Some symptoms include:
Blurred vision.
Slurred speech.
Behavior or mood changes.
Confusion or memory problems.
Headaches.
Nausea and vomiting.
Fatigue.
Dizziness.
Seizures or convulsions.
How Is a Traumatic Brain Injury Diagnosed?
To diagnose a brain injury, your doctor will have to examine you and ask you about your symptoms. You will also need to tell them in greater detail what caused your injury. Depending on the severity of your symptoms and injury, you may have to complete the following:
Blood tests – These can test for proteins in your blood that indicate a mild injury or concussion.
Imaging tests – An MRI or CT scan will check for swelling and/ or bleeding on the brain.
Neurological evaluations – A specialist will check your memory, sensory functions, and motor functions.
What Are the Complications of Traumatic Brain Injuries?
The brain is a very delicate and complex organ. Any kind of damage to the brain will likely result in complications. People who have suffered TBIs have a far greater risk of:
Bleeds on the brain.
Seizures (epilepsy).
Depression, anxiety, and post-traumatic stress disorder (PTSD).
In rare cases, serious head injuries have caused some people to experience an increased risk of developing dementia, Alzheimer's disease, or movement disorders later on in their lives. You can feel rest assured though, that this is unlikely to occur if you have suffered a mild brain injury.
How Can I Prevent a Permanent Brain Injury?
Unfortunately, many injuries to the brain can't be prevented. There are a few things that you can do that will prevent some incidents that commonly cause TBIs. These include:
Fall-proof your home.
Monitor your medicines.
Go to regular eye exams.
Be safe behind the wheel of your vehicle.
Wear a helmet when playing sports or riding a bike.
Stay active and healthy.
Use a walking assist device if you are unsteady on your feet.
When Should I Contact the Doctor?
We recommend that you contact the doctor if you have suffered a head injury of any severity. Even if you think you may only have a minor injury, it is always worth seeking a professional medical opinion. Your health is important and should be treated properly.
If you are unsure about whether you should contact your doctor, we can help you out. If you experience any of the following symptoms, you should get in contact with your doctor as soon as possible:
Dilated pupils.
Confusion.
Excessive fatigue.
Loss of consciousness.
Vomiting and nausea.
Seizures or convulsions.
Severe headaches that don't go away.
Can Someone Fully Recover From a Mild Traumatic Brain Injury?
Your recovery time for your brain injury will depend on the severity of your injury. The majority of patients who suffer mild injuries will suffer symptoms that will likely recover fully in a week to up to three months. If you are over the age of 40, your injury may take longer to heal. This is because younger people tend to recovery at a slightly quicker rate.
Can Someone Fully Recover From a Severe Traumatic Brain Injury?
Most people who suffer a severe brain injury will be able to make a good recovery, although symptoms can last for some time. The longer a person was unconscious as a result of their injury, the longer it will take for them to make a full recovery.
In the most severe cases, however, some symptoms can remain permanent. In these cases, it is often recommended that people seek treatment at a rehabilitation center.
Should I Contact The Law Place?
If you or someone you love has suffered a traumatic brain injury, you should contact The Law Place. These injuries can result in many medical bills. Not only this, but you may have missed wages as a result of your injuries. We can help you recover financial compensation to help aid your recovery.
We recognize that no amount of money will ever take away the trauma that you have experienced, but it can relieve you from any financial stresses and burdens that you may be facing.
At The Law Place, our personal injury attorneys will do all that they can to ensure that justice is served for our clients. An attorney-client relationship at our law firm is built on foundations of trust and commitment. No matter where you have suffered your injury, we can help you. We have practice areas over the state of Florida. To schedule your free consultation, contact us today! We are available 24 hours a day, 7 days a week, to take your call. Phone now at (941) 444-4444.