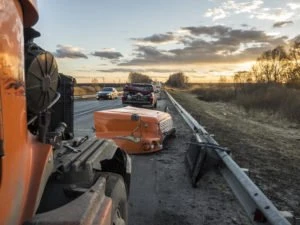 All types of car accidents can cause traumatic and serious injuries to anyone involved, and some can even cause fatalities. However, because of how large and heavy trucks are compared to vehicles such as cars, accidents and the consequences are almost always much more devastating when a truck is involved.
At The Law Place, we know how a truck accident can be completely life-changing, so we believe that you deserve compensation and justice for all you have had to endure. If you have been involved in a truck accident and are in need of an accident lawyer, then you should get in contact with The Law Place. Our skilled and qualified personal injury lawyers have over 75 years of combined experience handling truck accident cases, and we will do everything in our power to get you the maximum compensation possible.
So contact our law firm today for a free consultation with one of our top truck accident lawyers at (941) 444-4444. Phone lines are open 24/7.
Should You Hire a Truck Accident Lawyer?
The process of filing a lawsuit, dealing with insurance companies, and negotiating a settlement is always incredibly complex and stressful, so it is a huge disadvantage to not have the help of a truck accident lawyer.
Our team of lawyers at The Law Place will investigate the accident to determine the negligent parties and calculate how much compensation you deserve. They will also gather and submit all necessary documentation, handle any communication with the at-fault driver, negotiate a fair settlement, and more, all on your behalf, meaning that the stress is taken off your shoulders so you can focus on your recovery.
In all car accidents, it will always be advantageous to hire the help of a qualified, experienced truck accident lawyer, as they will guide you and ensure that you get the best result out of your case. The Law Place has qualified truck accident attorneys who will fight endlessly on your behalf to secure the best possible result for your case. So if you have been involved in a truck accident, get in touch with us today. The Florida legal system can be incredibly complex, so don't go into this process blind. Call us today!
Our team of dedicated attorneys fight and win for Floridians.
How Much Will It Cost to Hire a Lawyer?
There are many factors that are involved when looking to hire a lawyer. For many people, it is important to work with a truck accident lawyer that works on a contingency fee agreement. This is better known as no-win-no-fee and means that if your accident lawyer fails to win a settlement for your case, they will not charge you. If the accident lawyer does win the case on your behalf, you will likely pay them around 33%-40% of your settlement.
There are many advantages to hiring a lawyer on a contingency fee basis, and some are listed below:
You won't have to pay anything toward the case out of your own pocket, win or lose.
The attorney will only charge you if your case is won.
The attorney will push for maximum compensation as they get a higher payslip if you get a better settlement, meaning your attorney wants you to win.
However, some lawyers do not work on a contingency fee basis. An attorney may choose not to do this based on the following factors:
The attorney has a lot of merit to their name – They see their time as valuable.
The complexity of your case – If your case is particularly challenging and time-consuming, you may be charged more.
Your financial situation – In some cases, the accident lawyer might take a higher fee to help cover court costs.
If you have been involved in a truck accident, you should contact The Law Place to schedule a free case evaluation. During this consultation, we will go through the details of your case with you, explain your best options to you, and help you understand the basics of the Florida legal system, as well as what you can expect as the outcome of your case. We will also be able to give you a good idea of how much it will cost you to work alongside our team of skilled lawyers. So contact us today to start on the path to winning your case.
We're here to serve you. Our phones are open 24 hours a day.
What Are the Most Common Causes of Truck Accidents in Florida?
In the State of Florida, according to the Florida Department of Highway Safety and Motor Vehicles (FHSMV), in 2020, there were over 330,000 crashes and over 3,000 fatalities. Some of the most common causes for these accidents are as follows:
Speeding or other types of negligent driving.
Distracted driving, e.g., use of a phone while driving.
Driving under the influence of drugs or alcohol.
Poor weather or road conditions.
An animal in the middle of the road.
As listed above, there are plenty of car accident causes, many more of which aren't mentioned, and while there are many regulations and traffic laws put in place to try to prevent or minimize crashes from happening, unfortunately, they are still common. Furthermore, truck accidents are even more deadly than other car accidents, as the vehicle involved is bigger and heavier. Although there is nothing that can be done to stop truck and car accidents from happening, if you hire a truck accident lawyer and file a lawsuit against the at-fault driver, you will be deterring the negligent party from driving recklessly, negligently, or distracted again.
Before filing a lawsuit, it is crucial that you contact our truck accident lawyers at The Law Place. If you hire an accident attorney, you will be ensuring that you have someone experienced in the field on your side. By working with our law firm, you will be increasing your chance at success, so contact us now to schedule a free case evaluation.
We're Florida's top litigation team with over 75 years of combined experience
Contact The Law Place Today!
At The Law Place, our Florida truck accident attorneys have the knowledge and skill necessary to handle any case thrown at them. We understand that any money you receive won't fix the situation or the trauma you may still be going through, but it will help towards minimizing your stress, help you cover any bills you may have incurred due to the accident, and, hopefully, you can feel that justice was served.
So get in touch with us today to schedule a free consultation with a truck accident attorney that is highly experienced with handling the Florida legal system and helping clients just like you. The sooner you call us, the sooner we can get to work on your case and building a strong argument. So don't hesitate, contact The Law Place today and get one step closer to winning your case!
Our phone lines are open 24 hours a day, 7 days a week. Call now to schedule a free consultation at (941) 444-4444.