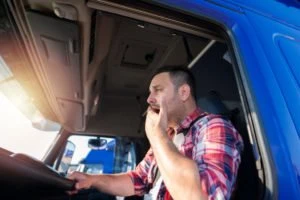 Large commercial trucks are some of the most dangerous motor vehicles on the roads of the United States today. Their large size, huge weight, and high clearance increase the chances of a truck accident resulting in serious and life-changing injuries. When we combine this with the fact that truck driver fatigue is a huge problem in the commercial truck industry, it is easy to imagine the potential for chaos and serious injuries on the road due to drowsy or fatigued driving.
If you have been involved in a truck accident in the past four years, whether it was due to truck driver fatigue or not, an experienced truck accident lawyer from our firm can help you to maximize the compensation you deserve for any injuries or complications you suffered as a result of the crash. Our legal team has 75 years of experience dealing with large commercial truck accidents. Our lines are always open, so simply call (941) 444-4444 today for free legal advice and to find out how our law firm can help you!
The Impacts of Driver Drowsiness on the Ability to Safely Operate a Motor Vehicle
Fatigued drivers are one of the leading causes of accidents behind the wheel in America today.
This is due to the fact that fatigued driving creates the following risks:
The impaired judgment speed of a fatigued driver impacts that driver's ability to respond quickly to hazards, changes in traffic patterns, and other drivers. This is similar to the impacts of drunk driving.
Falling asleep behind the wheel can easily lead to losing control of the motor vehicle, even if it is just a brief microsleep.
Truck drivers specifically may not pay due attention to non-driving procedures, leading to situations such as improper loading that can risk cargo spilling onto the road and endangering other drivers.
How to Avoid Fatigued Driving
There are many things that can be done to prevent driver fatigue, both by the person driving and their employer.
For the driver, reducing the risk of unsafe driving behavior due to fatigue can be achieved by:
Ensuring you get enough sleep each night, with the recommended amount being between 7 and 9 hours per night.
Scheduling outside of work activities carefully to ensure there is enough time for the recommended amount of sleep.
Creating a sleeping space that promotes restful sleep, which is dark, cool, and free of electronic devices.
Being aware of if you are experiencing drowsy driving and taking necessary precautions, such as drinking coffee or taking a nap – while also remaining aware these are only temporary fixes.
Being aware of any personal ailments that can contribute to driver fatigue, such as sleep apnea, insomnia, night terrors, or other untreated sleep disorders.
A truck driver's employer can help to reduce the risk of driver fatigue by ensuring the following:
That hours of service represent a realistic number of hours to allow for enough rest, especially considering things like overtime and consecutive shifts.
Ensuring there is enough staff, so individual workers do not have to work too many hours consecutively.
Provide sufficient training and information on how truck driver fatigue contributes to accident risk.
Provide screening for sleep disorders.
Ensure rest breaks are being taken in line with federal regulations.
Implement monitoring systems for drowsy driving, such as peer monitoring, in-vehicle systems, or wearable devices to monitor driver fatigue.
If a trucking company fails to implement necessary safety measures or encourages driving that exceeds the legal limit in terms of hours of service regulations, your truck accident attorney may be able to demonstrate that the trucking company breached their duty of care and therefore is liable for the injuries you received as a result of your truck accident case.
Why Truck Drivers Are a Particular Risk in Terms of Drowsy Driving
Not only are large trucks capable of the most destruction should the driver fall asleep at the wheel, but truck drivers are also at a higher than average risk of driver fatigue.
This is largely down to the payment systems implemented by most trucking companies that put profit before the safety of their commercial truck drivers and those they share the road with.
Trucking companies pay their truck drivers using pay-per-mile schemes, which only account for the distance traveled and not other important and time-consuming elements of the job such as rest breaks, properly filling out the driver's log, actually loading and delivering cargo, and checking for defective equipment.
How Pay-Per-Mile Schemes Greatly Increase the Risk of Trucking Accidents
Commercial drivers already spend a large amount of time away from their families and countless hours on the road. Pay-per-mile schemes are not only unethical but increase the risk of trucking accidents in the following ways:
They encourage skipping the rest periods mandated by federal law and minimizing the time spent asleep while on the job, increasing the likelihood that the truck driver will experience fatigue.
They encourage minimizing the time spent on essential non-driving related tasks, such as route planning, safety checks, and safe cargo loading.
They encourage the risk of truck accidents caused by aggressive driving in situations outside of the control of the truck driver, such as traffic jams and construction delays.
Some Statistics Concerning Truck Accidents by Leading Commercial Motor Vehicle Companies
Thanks to information published by the Safety Measurement System, we can look at accurate accident statistics for leading commercial motor vehicle companies.
For example, in 2020:
UPS had 4,488 inspection violations, 1,891 unsafe driving violations, and 2,512 reported truck accident cases.
FedEx had 6,636 inspection violations, 3,249 unsafe driving violations, and 2,175 reported truck accident cases.
While the statistics do not allow us to see which accidents driver fatigue was the cause of, it does give us a good idea of the number of truck drivers getting into accidents on a yearly basis. There is no doubt that truck driver fatigue as a result of pay-per-mile schemes is responsible for a not-insignificant amount of these.
What Should You Do if You Are Involved in an Accident Caused by Truck Driver Fatigue?
If you are involved in an accident with a fatigued truck driver, the steps to take after the accident are much the same as any other type of car accident.
The steps are as follows:
Contact the police or the Department of Motor Vehicles to report the accident. Not only will the police report be extremely useful to your truck accident lawyer, but you are also legally required to report any accident involving a commercial vehicle within ten days, as per Florida Statute 316.066.
Use your mobile phone to photograph the scene. Take pictures of your own injuries, all vehicle damage, environmental damage, tire skid marks on the roads, and the registration plates of other vehicles involved.
Gather contact information, both from the fatigued truck driver and anybody else who witnessed the accident, and could provide an eye-witness statement.
Get your injuries checked by a medical professional. Not only is this essential for your own health and safety, but not seeking medical attention within 14 days of your drowsy truck driver accident could impact your chances of a successful claim under Florida Statute 627.736.
Obviously, if the accident involving the tired truck driver caused you serious injuries, you should not prioritize steps such as taking photographs. Always put your own safety and well-being first.
What Are the Different Damages That You Could Be Awarded Compensation for Following a Drowsy Driving Accident?
Not every personal injury claim following crashes with fatigued truck drivers will be the same. The amount and types of compensation you could be owed will depend on the specifics of your circumstances, as well as the severity and type of consequences you suffered. Generally speaking, the more severely you suffer, the more compensation you can expect.
The following are the most common compensatory damage types following crashes with drowsy drivers:
Property damage – If your vehicle or any valuables contained within it were damaged in the drowsy driver collision, your attorney could work for you to be compensated for their material value.
Medical bills – Seeking medical attention for serious injuries is a leading cause of financial strain in the United States today. If you retain copies of your medical bills and receipts, your attorney can seek to get these costs reimbursed.
Lost wages – If you were forced to spend time off work recovering from your injuries and you did not receive full pay during this time, your attorney can also help you reclaim this money. For the best chances of success, make sure you retain all relevant correspondence with your employer.
Pain and suffering – These damages seek to reimburse an accident victim an amount based on the length, pain level, and permanent consequences of their recovery. This includes considerations for impairments, disabilities, and disfigurements.
Wrongful death – Florida Statute 768.21 allows the family of a loved one who lost their lives in an accident to seek compensation for the cost of funerary and burial expenses, loss of companionship, and the impact on household income. While this may seem unthinkable at a time of grief, the payout is often essential to allowing families to process their loss free from unnecessary financial stresses.
The best way to find out which of the above categories applies to your case is to arrange a free consultation and case evaluation with one of our experienced truck accident attorneys today.
We will talk you through the specifics of your case, which damages apply, how much they could be worth, and what the strategy will be for maximizing your compensatory amount.
How Long Does an Accident Victim Have to Make a Claim Following a Fatigued Driver Accident?
As per Florida Statute 95.11, known as the statute of limitations, accident victims have a period of four years in which they are eligible to raise a claim and seek compensation for the injuries, damages, and consequences they suffered.
This time period begins to count on the exact day on which your accident occurred, and once it has expired, there is no way to seek compensation.
One thing that catches many unfortunate families out is the fact that the statute of limitations for raising a wrongful death claim is different. In these cases, you only have two years from the exact date on which the accident occurred.
However, just because you have a period of several years in order to make your claim, this does not mean you should delay. The sooner you make your claim, the more chance there is to gather sufficient evidence, build a solid case, and deal with your insurance company. Simply put, the sooner you raise your claim, the greater your compensatory potential will be.
What Are Your Insurance Requirements for Accidents Involving Truck Drivers in Florida?
Florida is a no-fault state. This means that no matter who is at fault for an accident, both parties must deal with their own insurance company to make a claim, as per Florida Statue 627.7407.
This means that you need to carry Personal Injury Protection insurance. However, as per Florida Statute 627.736, there are limitations to this. Your insurance company is only responsible for $10,000 of medical and disability benefits and $5,000 in the case of a fatality.
If you are seeking a compensatory amount that is greater than this, you will need the help of a personal injury lawyer in order to file a lawsuit and take your case through the courts.
How to Deal With Your Insurance Company Following Any Accident Involving Truck Drivers
Despite what they say, insurance companies do not have your best interests at heart. This is because they are for-profit businesses, and paying out the smallest amount possible is in their best interest.
Unfortunately, this means that they will often resort to underhanded tricks to attempt to lower your potential settlement amount. Since you will be obliged to report your accident to them, they will usually try to take advantage of your shaken state to pump you for unnecessary information to attempt to impact your claim amount.
Speak to your lawyer before contacting any insurance company, and they will brief you as to the absolute minimum you are required to disclose. It is also important that you absolutely never sign anything provided by your insurance company without a lawyer present.
Outside of this, your lawyer can also help you to negotiate any unfair settlement offered by insurance companies.
What Is the Cost of Hiring an Attorney From The Law Place for Accidents Due to Drowsy Drivers?
Unfortunately, a significant amount of drivers are put off seeking an experienced and worthwhile attorney due to a false perception of how much it may cost.
The good news is that any accident injury case undertaken by The Law Place will take place on a contingency basis. This means your case will be on a no-win-no-fee basis, meaning you pay absolutely nothing if the claim is unsuccessful.
If your case is successful, any fees will only be subtracted from the final settlement amount once it is received. With The Law Place, you can rest assured that you will not be surprised by any extra costs or hidden fees. Transparency, honesty, and trust are central to what we do here at The Law Place – and many of the attorneys at our firm are AVVO rated a perfect 10.0 rating.
All of the contingency work taken on by The Law Place is monitored by The State Bar Association in Florida for your peace of mind.
Contact The Law Place Today
If you have been in an accident that involved one or more fatigued truck drivers, it is likely that the truck drivers themselves or their trucking company can be found liable for your injuries. This means that, with the help of an experienced attorney, you could be entitled to a sum of compensation for the consequences you suffered.
Here at The Law Place, our team of attorneys has over 75 years of combined experience fighting and winning cases just like yours. All our cases are no-win-no-fee, as we believe that injured drivers should not have to go through risk to access the compensation they deserve. To find out more about how we could help you with your case, all you need to do is call us today for a free consultation and case evaluation at no obligation, which is completely covered by the confidentiality of the attorney-client relationship.
For more information, free legal advice, and to schedule a free case evaluation, call us on (941) 444-4444 today!