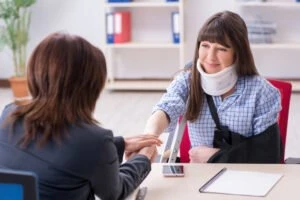 A personal injury settlement brings much-needed financial relief to those who have suffered serious injuries as a result of an accident. However, this process is a complex area of Florida law that requires a tough negotiation process.
Here at The Law Place, we can provide you with legal representation and negotiate on your behalf to receive an appropriate settlement agreement. Whilst every personal injury case is different. We're confident that we can help you to achieve the right level of compensation for you.
We're a Florida law firm that specializes in personal injury settlements and lawsuits. We can give expert legal advice, help you to understand your rights, and support you through this difficult time. Our team of personal injury lawyers has a strong record of winning cases like yours all over the State of Florida. So, you can rest assured that we're working day and night to win your case.
Book your free legal consultation with one of our experienced attorneys today by calling (941) 444-4444.
What Is a Personal Injury Settlement?
A settlement in a personal injury case is a formal legal agreement to end all proceedings without taking your case before a court of law.
Personal injury cases usually involve an injured party making a claim against an at-fault driver in order to receive monetary damages. Therefore, a settlement agreement is an amount of money that will be paid to the individual making a claim by the liable party's insurance company.
However, taking this settlement usually means that you will waive your right to take your case to trial later on.
The settlement process involves negotiations between the lawyers of both parties and their insurance companies to determine what monetary damages will be paid to the individual making a claim. So, once the plaintiff's lawyer submits an amount that they feel is appropriate, the defendant's lawyer will then submit a counteroffer, which is usually lower. This negotiation process continues until a mutually agreeable settlement is reached. Occasionally, an independent mediator can also be used to assist these discussions.
Benefits of Taking a Personal Injury Settlement
Personal injury claims which resolve with a settlement agreement are the best option for those who want a quicker, more discreet process. However, the amount you receive from a settlement will usually be lower than what you could achieve by taking your case to court.
However, personal injury lawsuits tend to be much more expensive as it takes much longer for your lawyer to prepare for a trial. In addition, it could take 2-3 years to receive a court date, which is often not feasible for victims who need to cover more immediate costs.
Our team of dedicated attorneys fight and win for Floridians.
Increasing Your Settlement From a Personal Injury Claim
A personal injury settlement is crucial for victims who need to cover costs such as lost wages and medical expenses. However, there is no guaranteed settlement amount, and the total you receive will depend on the specifics of your case.
In order to receive the best possible figure, you'll need to:
Seek Medical Attention Within 14 Days
In order to pursue compensation, you'll need to prove that your injuries were directly caused by the accident you were involved in. Therefore, according to Florida Statute 627.736, you will need to seek medical treatment from a qualified medical professional at a medical facility such as a hospital within 14 days.
If you do not meet these criteria, it could be argued that:
Your injuries were not severe enough to warrant short-term medical attention.

Your injuries were not caused by the accident but were received later on.
Prove Your Injuries Meet the Serious Injury Threshold
In order to receive a higher amount of compensation, you will need to prove the severity of your injuries. The more severe your injuries are, the more likely it will be that you'll receive a higher settlement amount.
According to Florida Statute 316.027, injuries that meet the serious injury threshold include:
Serious head, brain, or spinal injuries.

Damage to organs.

Severe disfigurement.

Injuries that cause a real and substantial risk of death.
If you meet the serious injury threshold, this will also entitle you to pursue non-economic damages, including:
Pain and suffering

for emotional distress.

Loss of consortium.

Loss of enjoyment or fulfillment of life.
The guidelines of injuries that meet an injury threshold are vague. There isn't a clear-cut definition, and no two injuries are ever the same. So, you'll need to work with a personal injury lawyer to increase your chances of achieving a higher amount of compensation.
Gather As Much Evidence As Possible
During the settlement negotiation process, both your lawyer and the defendant's lawyer will be using all available evidence to support their cases. Therefore, achieving a higher personal injury settlement amount will be dependent on how much evidence you can gather to support your claim.
You should collect evidence that includes:
Medical records and assessments from your doctor, as well as diagnostic evidence such as X-ray and test results.

Photos and videos of the accident scene.

Written notes of everything you can remember from before and during the accident.

A record of any expenses resulting from the incident.
In addition, your lawyer will help you gather further evidence, including:
Surveillance camera footage.

Witness accounts and testimonies.

Opinions from professionals who can reconstruct the accident in order to determine fault.
Avoid Harming Your Claim
Often, people can stand in their own way when it comes to achieving an appropriate settlement.
Examples of things you could do to harm your claim include:
Admitting fault at the scene of the accident or during the claims process.

Signing any documentation from your own insurance company or any other insurance companies involved in your case without consulting your lawyer.

Accepting an insurance company's first offer without legal

counsel

.

Downplaying your injuries when speaking to an insurance adjuster.

Communicating with any insurance adjusters without legal advice.

Settling because you feel guilty for the liable party.
You should bear in mind that insurance providers in the State of Florida are usually doing everything they can to pay you as little as possible – even your own insurance company. They may be using tactics you may not even be aware of in order to do this – and they'll often make you believe you have no other option but to accept their offer. So, it's always best to find legal representation as soon as possible following your accident.
Hire a Personal Injury Attorney
A personal injury attorney can increase your chances of receiving a fair settlement by:
Communicating with your insurance company to ensure you don't say anything to jeopardize your claim.

Communicating and negotiating with the at-fault driver's insurance company to try to increase your settlement amount.

Filling out all paperwork and submitting it on time.

Advising you of the best course of action and help you understand your legal rights.

Advising you whether or not to take a personal injury settlement depending on the amount they feel you are entitled to.

Finding and analyzing all available evidence to help support your claim.

Helping you to file a personal injury lawsuit and supporting you through the

litigation

process.
Filing a Personal Injury Lawsuit
Insurance companies in the State of Florida will try to protect their own interest where possible. In fact, they'll often offer a much lower amount than you may deserve to try to get you to settle. So, even if you file a personal injury claim against another driver in order to negotiate a settlement, you may still not receive the appropriate amount of compensation.
Therefore, if you've carried out all of the steps above, have gone through the negotiation process to try to receive a higher amount, and you have still received a settlement that you're not happy with, you can choose to turn down the offer. Then, you will be able to file a personal injury lawsuit and take your case to court.
Your personal injury lawyer may advise you to do this if:
Your injuries are severe and clearly exceed the personal injury threshold.

Your case is complicated and requires more time to investigate.

The amount you are being offered does not cover your expenses for damages.

It is likely that you will receive a higher amount of compensation by taking your case to court.
You should bear in mind that by taking a settlement, you'll usually be required to sign a document that waives your right to file a lawsuit further down the line. So, you'll need to be confident that your out-of-court settlement is fair and appropriate for your case.
We're Florida's top litigation team with over 75 years of combined experience
Contact The Law Place to Hire a Personal Injury Lawyer
If you've been involved in a personal injury accident, contact The Law Place today. We're a Florida law firm committed to protecting the rights of all our clients and helping them to achieve the compensation they deserve.
We can support you through the legal process and help you to pursue personal injury compensation for medical bills, lost wages, pain and suffering, emotional trauma, and more. We also work on a no-win, no-fee basis, so if we can't negotiate you a fair settlement based on the specifics of your case, you won't pay a penny.
Attorney client relationship is of utmost importance to us here at The Law Place. So, we offer a free case review to all of our prospective clients to help ensure they are completely satisfied before they commit.
To find out more about how to increase your personal injury settlement, book your free case evaluation today on (941) 444-4444.