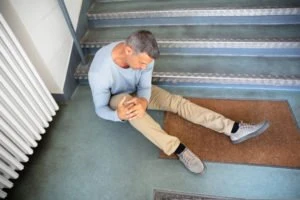 Slip and fall accidents are among the most common types of personal injury in America. The injuries you could sustain in a slip and fall range from minor and negligible injuries such as cuts and bruises to potentially life-changing injuries, which could result in disabilities, impairments, and disfigurements. The severity varies between slip and fall cases, depending on the environment in which the accident occurs, the fragility of the victim, and luck.
However, if you have suffered any damages from a slip and fall accident on someone's property, you could be entitled to compensation. You may be thinking that it would be wise to simply take the settlement amount offered by your insurance company, but it is much more likely that you will get the compensation you deserve by utilizing a personal injury lawyer. There are many reasons why cases supported by a lawyer get higher compensation on average, which will be explored below.
The personal injury lawyers at The Law Place are here to help you. Our law firm has 75 years combined experience in accident and injury law. We can offer you a free consultation over the phone at no obligation, fully protected by the attorney-client relationship.
Contact us today at (941) 444-4444 and tell us about your case.
In Which Cases Can You Make a Slip and Fall Claim?
You are entitled to make a slip and fall injury claim in any situation where you fall and injure yourself on someone else's property due to their negligence.
The laws detailing negligence in Florida slip and fall accidents are detailed in Florida Statute 768.81.
A property owner is negligent when they fail to prevent an avoidable and predictable accident. Personal injury cases of this type take many shapes and forms, as property can be left in a dangerous condition in many different ways. Wet floors, trailing cables, and other trip hazards are all good examples of this.
It is the responsibility of the property owners to make sure their property is not in a dangerous condition. If they do not, they are violating their duty of care and are therefore liable for your injuries or damages.
But How Can You Prove an Accident Occurred Due to the Negligence of a Property Owner?
You may be wondering how cases of premises liability are proven, either to the insurance company or in a lawsuit. This is one of the many ways personal injury attorneys can help you.
It is the job of your slip and fall lawyer to demonstrate how the property owners violated premises liability laws by leaving their property in a dangerous condition. This is something that may be incredibly difficult without the help of a legal team, as they have the experience necessary to argue, prove, and build a solid case to get the compensation you deserve.
Your attorney will show that the property owner should be held liable by demonstrating the following:
A duty of care was owed to the person who sustained the slip and fall injuries. This may be because they were invited into someone else's property or were doing business in the property owner's store.
The property owner did not exercise due care to make sure that the dangerous condition that caused your slip and fall accident was safe.
Due to this negligence on the part of the property owner, you were injured in a slip and fall accident.
Your lawyer will know your legal rights and have experience dealing with insurance companies and property owners. Without this level of knowledge, you could easily damage your claim amount without realizing what you are doing.
Don't risk this. Tell us about your slip and fall case and begin an attorney-client relationship that will attain the compensation you are entitled to.
Do I Still Need a Personal Injury Lawyer if I Am Settling My Claim With the Insurance Company?
In cases where liability is clear, it may be possible to get your compensation directly from the insurance company without the need for a lawsuit.
However, we would still advise the use of an attorney if you are making your injury claim in this way. Insurance companies are not your friends. It is their prerogative to pay out as little as possible for your slip and fall accident claim. They employ dedicated legal teams and insurance adjusters to help them achieve this.
Your attorney will be able to help you accumulate evidence to prove you are entitled to more than they are offering you. They will also take the burden of negotiating your settlement, as an insurance company will very rarely accept the first fair figure offered.
How Insurance Companies May Lower Your Claim Amount
When it comes to an injury case, insurance companies have many tricks that they may employ to get your claim amount lowered.
One of these tricks is to goad you into accidentally admitting you were at fault at the time of the accident. Slips and falls may be impacted by comparative negligence laws in Florida, which would mean if you are partially responsible for your injuries, the payout will be lowered.
For more information on comparative negligence laws in reference to slips and falls, the legal information is contained in Florida Statute 768.81.
One technique used time and time again by insurance companies is to take advantage of your flustered state when you contact them to report your slip and fall accident. They may ask you unnecessary questions about your case in order to get information that you don't need to disclose.
Attorneys can help prevent this by informing you of the information you are required to disclose. Contact us and tell us about your case as soon as possible to receive all the information on what you actually need to disclose, as well as receiving a free case evaluation concerning your possible compensatory amount.
How Attorneys Can Help to Maximize the Payout for Your Damages
The attorneys you employ will be able to help you collect and collate all of the evidence necessary to maximize your compensatory amount.
Your attorneys will also be able to build the strongest case possible in order to demonstrate that you are not at fault in terms of liability and deserve the highest payout appropriate to your slip and fall situation.
To begin this process today, contact an attorney at The Law Place and leave your contact information to arrange a free claim evaluation.
What Are the Different Types of Damages an Attorney Can Achieve You Compensation for?
There are a number of different types of damages that your attorney can fight for. These will depend on the circumstances surrounding your slip and fall, as well as the extent of the consequences you suffered.
The following sections will describe the different damages possible when slip and falls occur.
Medical Bills
Other than the actual physical injury, the cost of medical attention in the case of a slip and fall accident is often the most debilitating factor.
It is no secret that medical bills are a frequent cause of financial devastation in the USA. If you are able to retain copies of your medical bills, your attorneys can work to get you reimbursed for the cost of your medical attention.
It can also be beneficial to seek copies of your medical records. This is due to a common argument by the insurance company or property owner that the life-altering impacts of your injuries were, in fact, pre-existing conditions that you are claiming for.
Property Damage
While less common as a result of a slip and fall injury than something like an auto accident, it is entirely possible that items that are valuable can become damaged when you fall.
If this is the case, your attorneys can work to get you reimbursed for the cost of these items.
Pain and Suffering
This is the specific legal terminology that describes the compensation, which is based on the length, pain level, and lasting impact of your injuries.
While there are several ways of calculating pain and suffering damages, many are based on the economic cost per day or per week, multiplied by the length of your recovery process.
This type of compensation also accounts for permanent consequences of an accident that was the fault of a property owner, such as any disability, impairment, or disfigurement to the victim.
Lost Wages
If you have been forced to take time off work in order to recover from an accident that was not your fault, this is another thing that your attorney can help you to claim for.
In order to maximize the chances of your lost wages claim being successful, you should keep hold of any correspondence with your employer concerning the time you have been required to spend out of work recovering.
Wrongful Death
If you were unfortunate enough to lose a loved one to a slip and fall accident, you could file a wrongful death lawsuit.
While no amount of money will help to ease your pain, this can be a huge help with the funeral expenses, lost income, and other additional stresses, which can make your grieving process even more difficult.
For more information on raising a wrongful death lawsuit, the details are contained in Florida Statute 768.21.
Contact The Law Place Today
If you have suffered a slip or fall that wasn't your fault in the last four years, you could be entitled to compensation for the injuries you received as a result.
For the best chance of maximizing your compensation, call us using the contact information located at the top or bottom of this page. Our law firm has over 75 years of experience dealing with accident injury cases and will treat you with the compassion you deserve while fighting tirelessly for your justice. All our work is no-win-no-fee, with fees only subtracted from the final settlement amount if you win your case.
For more information about how we can assist you or to arrange a consultation free of charge, call us today at (941) 444-4444. Phone lines are open 24/7.