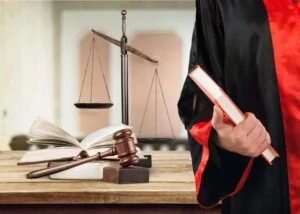 In This Article
Meet Kaitlyn Piechnik, This Year's Law School Scholarship Winner
Why Malvina Shanklin Harlan Inspires Kaitlyn Piechnik
How the Law School Scholarship Impacted Kaitlyn's Life
What the Future Holds for Kaitlyn Piechnik
The Law Place offers a $2,500 Law School Scholarship award to honor the legal heroes who inspire students to become the next generation of justice fighters. For Wake Forest University's Kaitlyn Piechnik, that idol is Malvina Shanklin Harlan.
In an era when societal expectations confined women to specific roles, progressive individuals like Malvina paved the way for a more inclusive and egalitarian society.
Meet Kaitlyn Piechnik, this Year's Law School Scholarship Winner
Our scholarship winner decided to pursue a legal education and is contemplating a career in the field. She has an unwavering desire to bring even the slightest measure of justice to others. This pursuit aligns with her lifelong aspiration to make a meaningful difference and advocate for fairness and equity.
Kaitlyn Piechnik is currently a 1L at Wake Forest University School of Law. During her first year of legal studies, she participated in numerous competitions, providing a platform to demonstrate her skills. Notably, Kaitlyn's exceptional performance in the 1L trial competition earned her a coveted spot on the prestigious trial bar.
During her studies, Kaitlyn had a revelation about the field of law. She realized that:
"It is not just lawyers or judges that dictate the streams of precedent that have brought that law to where it is or where it will go. Instead, there are people who whisper in the ears of those with the power to change the laws."
Why Malvina Shanklin Harlan Inspires Kaitlyn Piechnik
Kaitlyn was introduced to Malvina Shanklin Harlan through the late Justice Ruth Bader Ginsburg's book My Own Words. In the chapter dedicated to this unsung legal hero, she tells the story of a woman "who, despite being taught by her mother to keep her opinions to herself in her marriage, was unafraid to have her own voice and mind."
Over time, the impact of her beliefs on her husband, Justice John Marshall Harlan, became evident. While steadfastly maintaining her abolitionist stance, she subtly influenced her husband's perspective.
"Malvina Shanklin Harlan used her position to influence legal policy with grace and for the betterment of society. She used her voice during a time when women were supposed to keep their opinions to themselves, or better yet, have no opinions at all."
Justice John Marshall Harlan would later emerge as the sole dissenter in the landmark case of Plessy v. Ferguson, partly due to the influence of his wife's passionate advocacy for civil rights.
Kaitlyn Piechnik believes that:
"The opportunities I have today can be traced back to women like her, and for that, I am overwhelmed with gratitude."
Our team of dedicated attorneys fight and win for Floridians.
How the Law School Scholarship Impacted Kaitlyn's Life
At The Law Place, we recognize that a student's choice to pursue law can be one of the most important decisions in their life. What is more, this decision can become the catalyst that later leads to significant social changes that impact entire communities.
Our legal team acknowledges that studying law can be financially demanding, as it is one of the costliest fields of study. We want to alleviate some of the financial burden and help make this commitment more manageable for students.
"I am extremely grateful for this scholarship to help offset the cost of my law school tuition. Law school has always been my dream, and this scholarship will be extremely beneficial to my continuing education."
What the Future Holds for Kaitlyn Piechnik
Anticipating the summer ahead, Kaitlyn is excited as she prepares to intern with a Federal Magistrate Judge and a criminal defense firm. These opportunities will enable her to delve deeper into litigation and gain firsthand experience in the field. She eagerly looks forward to honing her skills and witnessing the dynamics of successful legal representation in action.
Having observed the legal professionals in action and recognizing their profound impact on society, Kaitlyn is inspired by the potential to advocate for justice and make a meaningful difference in people's lives.
After graduating, she hopes to work as a litigator in the D.C. area. She is interested in delving deeper into the intricacies of white-collar crime and is considering pursuing a career in law.
The unwavering support from Kaitlyn's family has been instrumental in shaping her aspirations and instilling in her a strong sense of determination. Having the unconditional support of her parents and siblings, Kaitlyn feels ready to face whatever the future might hold for her.
You can read Kaitlyn's winning essay here.