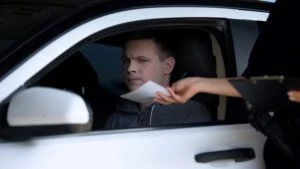 In Florida, all drivers are expected to fulfill a duty of care to other drivers, passengers, and pedestrians when they get behind the wheel. If they do not fulfill this duty of care, a driver may receive a traffic ticket.
These tickets can bring with them incredibly high fines, a license suspension, and a rapid increase in insurance costs. If you are ticketed for a small mistake that you didn't even realize you were making, this may seem devastatingly unfair.
That's why The Law Place is here to help you! We believe that you shouldn't be so harshly punished for a simple mistake, and you can trust that we will do everything possible to prevent this from happening. Our traffic ticket lawyers have over 75 years of combined experience in dealing with the Florida legal system and helping clients just like you battle their traffic tickets. So, contact us today to schedule a completely free consultation and learn what your best options are for your case.
Call us now at (941) 444-4444! Phone lines are open 24/7.
Types of Traffic Tickets in North Port, FL.
In Florida, there are many different types of offenses that are classed as moving violations, which can result in you getting ticketed. These violations vary in the severity of their consequences.
If you have received a traffic ticket, you must contact The Law Place immediately. While it may seem like a trivial matter now, traffic tickets can result in harsh penalties that can have long-term effects on the rest of your life, so don't delay! An experienced attorney can help you. Call our law firm today and schedule a consultation, free of charge.
Civil Offenses
Civil traffic violations are one type of traffic ticket that is given out in Florida. Civil offenses include the following:
Broken headlight or taillight.
Careless driving.
Driving without a seatbelt.
Driving on an expired license.
Failure to yield at a stop sign.
Running a red light.
Speeding.
Tailgating.
Criminal Offenses
Criminal traffic violations are seen as much more serious than civil violations and are punishable by larger fines, a longer time on probation, and potentially even jail time. Some criminal offenses are listed below:
Driving under the influence (

DUI

).
Driving on a suspended/revoked license.
Hit and run.
Reckless driving.
Refusal to obey orders from police officials or law enforcement.
Speeding more than 30 mph over the speed limit.
Common Penalties You Could Be Facing for Moving Violations in North Port, FL.
The penalties that you can face for moving violations are likely much higher than you would expect. It is important that before you go into any court trial, you are aware of the penalties you may be facing.
While every ticket case is different, and so the penalties vary depending on specific circumstances, listed below are the most common penalties that people who receive a traffic ticket face:
Fines – The cost of fines varies depending on how severe your ticket is and where you were when you were caught committing the traffic violation.
Court fees – You will likely be charged for court fees on top of any fines.
Points on your license – Every moving violation ticket comes with a certain number of points, depending on what the violation was. If you reach a certain number of points within a set period, your license may be suspended. Find out more about this at the

Florida Department of Highway Safety and Motor Vehicles (FHSMV)

.
Probation – If your ticket was for a serious offense, you might be sentenced to probation.
Jail time – In rare circumstances, a convicted defendant may be sentenced to a short time in jail.
When you've been accused of what seems like a small traffic violation, the above penalties may seem steep. The fines can often be incredibly high, and many people struggle to pay them off. However, by enlisting the help of a traffic ticket attorney, you will be giving yourself the best possible chance at securing an acquittal, getting your charges reduced or dismissed, or receiving lenient penalties, regardless of what your moving violation may have been.
Our North Port criminal defense lawyers at The Law Place possess deep knowledge and extensive experience that is required to adequately help clients in situations just like yours. They are more than qualified to build a strong defense on your behalf and are determined to secure the best outcome for you. So, contact us now to schedule your free consultation.
Can Lawyers Get Traffic Tickets Dismissed?
It is highly recommended that you seek legal advice from an experienced criminal defense attorney for any kind of legal process, including traffic tickets. At The Law Place, we know how confusing and daunting it can be when you're facing charges, and this is why we're here to support and guide you through this time, ensuring it remains as stress-free as possible.
The only way to get your ticket dismissed is to appeal through the court, as long as the ticket isn't a criminal violation. So, it's important you have legal representation. If not, you could face an unnecessary financial burden and perhaps even harsher penalties.
Fortunately, the traffic ticket lawyers at The Law Place have sufficient knowledge of Florida moving violation law, which comes from substantial training and experience. These skills are priceless in court and can mean the difference between a dismissal and a conviction. Therefore, if you're going to court for a traffic ticket or a speeding ticket, it's crucial that you have a criminal defense lawyer on your side.
Our lawyers will investigate your ticket thoroughly, ensuring that law enforcement followed procedures correctly, cross-examine any witnesses the prosecution may have, question the legitimacy and accuracy of the rest of their evidence, represent you in court, and more. With our help, you will be much more likely to secure a favorable outcome. Most of our lawyers have the highest possible AVVO rating of 10.0, so you can trust that you will be getting quality legal representation. Contact us now for a free consultation!
Contact The Law Place for Help Today!
If you or a loved one have received a traffic ticket in North Port, Florida, then it is crucial you contact The Law Place as soon as possible to give our lawyers plenty of time to build a solid defense on your behalf. Our team's skill, knowledge, and experience are unmatched and will prove to be vital in court.
In order to receive valuable legal advice from a qualified traffic ticket attorney, contact The Law Place today. Our phone lines are open 24 hours a day, 7 days a week, so don't hesitate! Call us now to schedule a free consultation at (941) 444-4444!