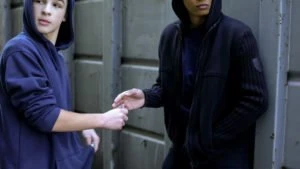 If you are being convicted of the sale of illegal drugs, it is important that you seek legal advice as soon as possible. In all of Florida, including North Port, if you are convicted of possession with intent to sell controlled substances, you are facing a felony charge. The severity of the charge will depend on the circumstances surrounding your arrest. The sooner you seek legal assistance from a reputable law firm, the greater your chances will be at having your charges reduced or dismissed entirely.
At The Law Place, we boast over 75 years of experience in dealing with drug crime cases across all of Florida, including North Port. We have a strong team of knowledgeable attorneys that want to fight for your rights. When you contact us, you will receive a free consultation with a member of our team. Any of the information you wish to share during this free consultation will be protected by us.
Our phone lines are accessible at any time of the day, 24 hours a day, 365 days a year. Someone from our team will always be available to take your call. We understand how stressful and scary this time will be for you and your loved ones, and you don't need to go through it alone. Contact us today at (941) 444-4444 to speak to a lawyer on our team and begin the steps towards your freedom.
What Are the Florida Statutes on Drug Crimes?
Information about Florida's stance on drug crimes can be found in Florida Statute 893.13. Regarding the sale of illegal drugs, it states that depending on the type of controlled substance involved, you can face a first-degree, second-degree, or third-degree felony charge. A felony is a serious charge, which comes with life-altering consequences.
The most severely punishable felony charge is a felony in the first-degree. If you are convicted of this, you are looking at 30 years imprisonment along with a monetary fine of $10,000.
It is important that if you or a loved one are facing drug charges involving the sale of illegal substances that you seek help from a criminal defense attorney as soon as possible. Drug crime cases can often be confusing, with several legal loop-holes that you might not be aware of. This is why you need the help of an experienced criminal defense attorney that is well-versed in Florida law.
What Are the Different Drug Charges in North Port, FL?
In North Port, drug crimes vary – every case is different. Listed below are some of the common categories that drug crimes tend to fall under:
The possession of drug paraphernalia. This refers to anything that is used for concealing, cultivating, planting, producing, selling, or transporting a controlled substance.
Being in possession of a controlled substance.
The selling of controlled substances.
The trafficking or delivery of controlled substances.
The manufacturing of controlled substances.
Different Schedules of Controlled Substances
As stated in Florida Statute 893.03, controlled substances are usually split into five different categories known as 'schedules.' These schedules are based on the addictiveness of the controlled substance and the harm it is capable of causing a person. Schedule One is considering to be the most harmful, and Schedule Five is thought as the least harmful.
Listed below are the different schedules and some examples of what drugs are included in each:
Schedule One
As mentioned previously, Schedule One controlled substances are the most dangerous and addictive drugs. With no approved usage in the medical world, they are highly likely to be abused. If you are caught by law enforcement officers attempting to sell a Schedule One substance, this will automatically be a first-degree felony charge. You can expect a lengthy jail sentence as well as a hefty fine. Schedule One drugs include LSD, meth, and heroin.
Schedule Two
Although they are not as dangerous as schedule one drugs, schedule two drugs can still be highly addictive. Unlike Schedule One drugs, Schedule Two drugs have some approved medical uses and can even be prescribed in certain cases. Some Schedule Two drugs include oxycodone (OxyContin), fentanyl, Adderall, methamphetamine, Dexedrine, hydromorphone (Deluded), hydrocodone per dosage unit (Vicodin), cocaine, methadone, meperidine (Demerol), morphine, and Ritalin.
Schedule Three
Schedule Three involves less harmful controlled substances. Included in this schedule are ketamine, steroids, or products that contain less than 90 milligrams of codeine per dosage unit.
Schedule Four
Schedule Four drugs are known to have a low risk of dependence, meaning they are less likely to be abused by a person. In Schedule Four, you will find the following: Soma, Tallinn, Ambient, Darvon, Xanax, Darvocet, Valium, Ativan, Tramadol.
Schedule Five
Schedule Five drugs are considered to be the least likely to be abused. In this schedule, you will find cough syrups with less than 200 milligrams of codeine or per 100 milliliters, Motofen, Lyrica, Lomita, and Parepectolin.
How Can the Prosecution Prove Intent to Sell?
If you are being convicted of being in possession with intent to sell illegal drugs, which is also referred to as 'drug trafficking, the prosecution needs to successfully prove beyond a reasonable doubt that the intent to sell or deliver was present at the time of the arrest. Listed below are examples of evidence that the prosecution can use in their case to achieve this:
Statements given by the defendant, stating their intention to sell illegal drugs.
Packaging materials for illegal drugs.
The presence of any drug paraphernalia at the time of the arrest. For example scales, baggies, etc.
The presence of U.S. currency.
The presence of a firearm or any other illegal weapons.
The type and quantity of the illegal drug involved.
In your case, if any of these above components weren't present, they can be used as circumstantial evidence for your criminal defense attorney to argue that that the defendant did not have the intent to sell illegal drugs.
As mentioned previously, a felony conviction will add serious complications to your future life decisions. For example, securing housing, employment, and financial aid. This is why it is imperative that you have a skilled criminal defense lawyer working on your case that will be able to fight for and protect your rights.
What Are the Possible Defenses for Drug Crimes in North Port, FL?
The line of defense taken by your criminal defense attorney will be crucial to your success. This is why it is important to form a strong attorney-client relationship to help your case. The more truthful you are with your lawyer, the better the outcome will be. Once they know all of the details, they will be able to analyze your case thoroughly and pick the components they need to go forward. Listed below are the main defense areas your attorney could take in relation to the possession of illegal drugs with the intent to sell:
The law enforcement officers who were involved at the time of your arrest are committed entrapment.
The illegal drugs present at the scene were not yours.
There was no intent to sell the drugs.
You were not correctly identified at the scene.
There was no legal search warrant present for the law enforcement officers to search the scene.
The substance in your possession was less than 10 grams in weight.
What Questions Should I Ask a Criminal Defense Lawyer Before Hiring Them?
As mentioned previously, your relationship with your attorney is central to the overall success of your case. We realize that this is not an easy decision to make, and you want to make sure you choose the right one. They need to be someone you can trust, as they will be by your side for every step of the legal process. Before making such a decision, you will be bound to have some questions. Listed below are some questions that you should ask before hiring:
Do your practice areas cover cases like mine? How many cases similar to mine have you worked on before? What is your success rate?
Can you talk to me about your fee system, and is there the possibility of setting up a payment plan?
How many jury trials have you litigated?
What is your track record of

plea bargains

?
May I see previous clients' references for you and your work?
The last point is one that should not give you trouble. If it does, it is good to be aware of. Any successful attorney should willingly show you previous references. If they are in any way reluctant to do so, it would be wise to continue your search. This is too important of a decision to get wrong.
Contact The Law Place Today
If you or a loved one are being charged with the intent to sell illegal drugs, we understand how stressful this can be. We understand that you might feel hopeless in trying to find the right kind of legal presentation. At The Law Place, we are here to help. We strive to place the client at the heart of what we do. We have a team of criminal defense attorneys with a combined 75 years of experience representing clients across Florida, including in North Port.
There is never a bad time to get in touch. A member of our team will always be ready to take your call. Our telephone lines are open around the clock, 24 hours a day, 365 days a year. Call today for your free consultation and to get some advice from an attorney at our law firm. Contact us on (941) 444-4444!