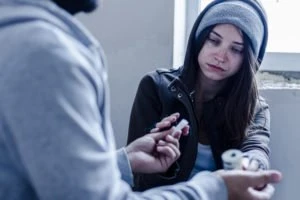 With 8,436 miles of coastline, Florida is a prime target for illegal drug trafficking. It is also the home to one of the south's biggest distribution hubs of illegal drugs, according to the Drug Enforcement Administration. So it should come as no surprise that law enforcement agencies in Florida are serious about combating drug crimes.
Drug charges can result in varying penalties depending on the type and amount of drug in question. Consequences range between probation, years in prison, and thousands of dollars in fines.
While drug possession is the most common drug crime law enforcement officers deal with, possession over 10 grams can be viewed as intent to sell, which comes with more severe consequences.
If you have been arrested for drug possession with intent to sell in the State of Florida, it is in your best interest to contact a criminal defense attorney to help you understand your charges. The Law Place offers a free consultation to discuss the details of your case and outline your options.
Don't let a controlled substance charge ruin your life. Call The Law Place today at (941) 444-4444 to get the help you need. Phone lines are open 24/7.
Drug and Narcotic Offenses in the State of Florida
Florida's opioid epidemic has been growing in recent years, so much so that it was declared a statewide public health emergency. The Florida Department of Health reports that accidental drug overdose deaths have doubled, with opioid overdoses tripling. Law enforcement agencies are battling this with strict drug laws and severe penalties.
In 2018 the Florida Department of Law Enforcement reported 119,656 drug and narcotic arrests. Drug and narcotic offenses are defined by the Florida Uniform Crime Report in multiple ways, including:
Cultivation
Manufacturing
Distribution
Sale
Purchase
Possession
Transportation
Importation
These apply to both the substance itself and the equipment used for ingesting a controlled substance.
What Does Possession With the Intent to Sell Mean?
Simple possession typically refers to someone who did not manufacture the substance and most likely has the substance solely for personal use. This does not only apply to having the drug on your person or in your bag/purse, it can also apply if the drug is in your home or vehicle. However in this second case, it may also need to be proven that the person knew or should have known that the drug was present.
Proving intent to distribute will require circumstantial evidence regarding what the person planned to do with the drugs. This may include possession of packaging products, large amounts of money, or an amount of drugs deemed too much for personal use. Any communication between potential customers could also be used to confirm that the sale was intended.
Intent to sell can also be interpreted differently depending on the specific drug. Not all controlled substances carry the same weight. The particular substance and amount will determine which penalties you face in North Port.
Because this is open to interpretation, it is important that you seek legal help to distinguish what charges you are up against. Our law firm has over 75 years of combined experience in drug possession cases in the State of Florida. We can provide the best advice on defending your case.
What Is a Controlled Substance?
Florida law divides controlled substances into categories known as schedules. This determines the severity of punishments for possession or purchase of different drugs. Some common controlled substances include cocaine, heroin, marijuana, and various prescription drugs.
The schedules are outlined by Florida Statute 893.03 as follows:
Schedule I
Possession or purchase of Schedule I controlled substances will result in the highest level of repercussions under Florida drug law. These drugs are deemed to have no potential medical benefits and are considered as high risk for abuse or addiction.
These substances include:
Heroin
Marijuana (although it is now legal for medical purposes)
Fentanyl
LSD
Schedule II
Schedule II substances are considered to have a high risk of abuse or addiction and potentially damaging psychological or physical effects if abused or overused. Some of the drugs in this category have been approved for medical use.
These substances include:
Cocaine
PCP
Methamphetamines
Oxycodone
Schedule III
Schedule III drugs are considered to be less of a risk for addiction and abuse than the above schedules. However, overuse can still potentially cause dependence or psychological and physical harm. The substances identified as Schedule III are permitted for medical usage.
These drugs include:
Anabolic steroids
Testosterone
Codeine
Ketamine
Schedule IV
Schedule IV controlled substances are considered to have a lower risk for dependence and overuse. Many of these substances are common prescription drugs, which should be possessed and used only with a proper prescription.
These drugs include:
Xanax
Valium
Ambien
Tramadol
Schedule V
Schedule V substances are viewed as having the lowest potential for abuse or misuse and have a low chance of causing physical or psychological harm if abused. These substances all have permitted medical uses.
These drugs include:
Cough medicine
Sleeping medicine
It is unlikely that you will be charged with possessing a controlled substance if you have a legitimate prescription for one of the drugs on these lists. Although, large quantities could be considered possession with intent to sell, which could lead to felony charges.
If you have been charged with possession of any of the above substances, call us immediately to begin your legal defense.
What Are the Penalties for My Drug Crime?
Because controlled substances are divided into different categories, the penalties will depend on the specific schedule the drug is categorized as. Some may be classified as misdemeanors and others felonies. Felonies carry higher penalties than misdemeanors, but your specific penalty could be also be affected by the amount of the substance in your possession, the particular drug in your possession, and where the offense took place.
Florida Statute 893.13 helps define the differences between potential penalties surrounding misdemeanor and felony charges as follows:
First Degree Misdemeanor
One year of jail time
One year of probation
$1000 fine for your first offense
Third Degree Felony
Five years of prison time
Five years of probation
Maximum $5,000 fine
Second Degree Felony
15 years of prison time
15 years of probation
Maximum $10,000 fine
First Degree Felony
30 years of prison time
Probation for life
Maximum $10,000 fine
Drug charges are serious and should not be taken lightly. It is important to seek legal counsel from a qualified criminal defense lawyer. Contact us and schedule your free consultation to evaluate your case with one of our experienced drug law attorneys today.
Is Possession of a Controlled Substance a Federal Crime?
In Florida, most drug crimes will be prosecuted at the state level. However, there are circumstances that may involve other federal agencies, including the Drug Enforcement Agency (DEA), FBI, or NSA. If the offense involves large quantities or the crossing of state or country borders, this could be grounds for federal agencies to step in.
If your drug charge is being prosecuted at the federal level, this could have much more serious implications. Federal crimes carry much larger penalties, including several years in prison and thousands of dollars in fines.
If you're not certain which authorities are pursuing your case, we can help. The Law Place can find out which agency is prosecuting you and whether your offense will be charged as a felony.
What Can a North Port Criminal Defense Attorney Do for Me?
Drug offense cases can have varying outcomes due to the scheduling of different substances and the amount you are accused of possessing. An experienced drug offense attorney can help you navigate your drug charge and aid you in defending your case.
Our lawyers will assess the evidence collected against you and look for any discrepancies in the police report. If there are ways to contest your charge, our lawyers will find it.
It is important to have a knowledgeable criminal defense attorney to help you understand what your charges are, who is prosecuting you, and advise you on possible defense strategies.
Contact The Law Place Now
Have you been charged with possession or purchase of drugs in North Port, Florida? Are you confused about your charges and what penalties you may be facing? Don't try to navigate this alone.
In your free case evaluation, you can speak with a knowledgeable criminal defense attorney with experience in fighting drug cases throughout the State of Florida. Let our law firm help you defend against your charges and minimize the chance of you facing jail time and excessive fines.
Contact The Law Place today at (941) 444-4444.