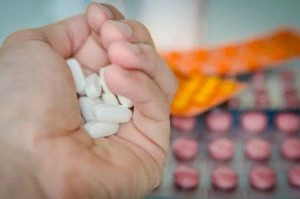 Florida is a highway for drugs into the United States. Because of this, drug law enforcement here is much more frequent and stricter than in some other states. If you're caught with 10 grams of a controlled substance, you could be facing years, maybe even decades, in prison. In Sarasota, drug possession is one of the most common drug crimes law enforcement officers arrest for and prosecute.
Purchasing illegal narcotics is a severe crime that can result in misdemeanor or felony charges. Depending on the drug, possession over 10 grams can be automatically interpreted as an intent to sell. Penalties for this type of crime are more severe than simple possession charges.
If you have been arrested and charged with drug possession with intent to distribute, you need to contact a defense lawyer immediately. Call The Law Place to schedule your free consultation with the best criminal defense lawyer in Sarasota, FL. Drug possession penalties are severe, and if you're prosecuted with an intent to sell, your life could be changed forever.
Don't hesitate. Call The Law Place phone number today to schedule your free consultation with an attorney at (941) 444-4444.
Controlled Substance Schedules
Controlled substances in Florida are divided into different categories known as schedules, as per Florida Statute 893.03. Schedules determine how severely offenders can be punished for purchase and possession with intent to sell. Not only are commonly known narcotics, such as cocaine, heroin, and marijuana included in the scheduling, but the compounds used to make them also feature.
Schedule I
Considered to have a very high potential for abuse/addiction and no potential medical use. Schedule I controlled substances carry the highest penalties under Florida drug law.
Heroin
Marijuana (now legal for medicinal use, but still under Schedule I)
Fentanyl
LSD
Schedule II
A controlled substance with a high potential for abuse/ addiction and severe psychological and physical side effects if overused. However, some narcotics under Schedule II may also have certain approved medical usage.
Cocaine
PCP
Methamphetamines
Oxycodone
Schedule III
These drugs pose less risk than Schedules I and II but still have the potential for abuse. Overuse can lead to minor or major psychological dependence or physical harm. Narcotics under Schedule III have an approved medical use.
Anabolic steroids
Testosterone
Codeine
Ketamine
Schedule IV
Drugs that have a lower potential to cause physical or psychological dependence than the above Schedules. Most controlled substances in this category are commonly known variants of prescription drugs.
Xanax
Valium
Ambien
Tramadol
Schedule V
Drugs under Schedule V have a similarly low chance for abuse as Schedule IV and limited potential for physical harm if misused. All drugs under this schedule have an approved medical usage.
Cough medicine
Sleeping medicine
You typically won't be charged with possession of a controlled substance under Florida law if you have a prescription for any of the drugs listed above. However, larger quantities will be pursued as a felony offense in most cases.
If you have been arrested for possession of any of these drugs, call a Sarasota drug lawyer from our firm today. We can get you the legal help you will need to fight these charges.
Penalties for Purchase of Illegal Drug Possession Over 10 Grams
Florida Statute 893.13 lays out exactly how state drug laws work. Penalties for drug possession and the sale of narcotics, including minimum and maximum sentencing, vary wildly depending on the drug in question.
Since different narcotics carry different penalties, it may be more useful to show the penalties for misdemeanor and felony offenses. The following outlines the maximum penalties for criminal charges as per Florida Statutes 775.082, 775.083, and 775.084:
First Degree Misdemeanor
One year in jail
One of year probation
$1000 fine (first offense)
Third Degree Felony
Five years in prison
Up to $5,000 fine
Probation for five years
Second Degree Felony
15 years in prison
Up to $10,000 fine
Probation for 15 years
First Degree Felony
30 years in prison
Up to $10,000 fine
Probation for the remainder of life
Sarasota drug crime laws stipulate 20 grams of marijuana is not the same as 20 grams of cocaine. Whatever substance you are caught with or accused of having will determine the specific penalties you could be facing.
If you face any of the drug charges listed above, you need to seek out a qualified attorney immediately. You won't be able to fight the case on your own. A qualified Sarasota County criminal defense attorney will aggressively defend you from the serious charges you face. Call today to schedule a free case evaluation with one of our experienced lawyers.
Is Possession of a Controlled Substance a Federal Crime?
Most drug crimes are prosecuted at the state level in Florida. However, federal agencies can step in for crimes dealing in large quantities of controlled substances or offenses that cross state or country borders. While the DEA (Drug Enforcement Agency) is the federal agency primarily dealing with drug offenses, other agencies also have jurisdiction over certain drug crimes, including the FBI and NSA.
Federal crimes are much more serious than state crimes. Any person found guilty can be sentenced to decades in federal prison with thousands of dollars in fines. Defendants face extremely skilled and resourceful prosecutors in any federal trial.
If you're unsure whether state or federal authorities are prosecuting your drug crime case, contact The Law Place. We can find out which agency is pursuing your investigation and tailor your criminal defense to match the unique needs of your case. Contact us today to find out how we can help you.
What Can a Sarasota Criminal Defense Attorney Do for Me?
A qualified criminal defense attorney can approach your drug crimes defense in several ways. There is no one-size-fits-all strategy for Sarasota drug crime cases.
Your lawyer will address all of the evidence brought against you. Any discrepancies in the police report, or if there is reason to believe that evidence was collected illegally, will be contested in court.
If you need a lawyer to defend you from drug possession or sale of narcotics charges, contact The Law Place. We offer a free case evaluation so you can know exactly what kind of defense you are signing up for.
Contact The Law Place Today!
Have you been charged with a drug crime in Sarasota, Florida? Are you worried about prison and how a criminal record will affect your future?
Call The Law Place immediately to schedule a free consultation with one of our qualified drug crimes attorneys. Our law firm has combined experience of over 75 years battling drug crime cases throughout Florida.
Not only can we offer the best attorney-client relationship available in Florida, but our team also works together on every case. You get multiple lawyers for the price of one, thoroughly examining your situation to develop the strongest defense strategy for your situation.
The Law Place is your best chance of beating the charges you face and avoiding jail time. Our representatives are available and waiting for your call 24 hours per day, 7 days per week, to set up your meeting with a lawyer from our firm.
Call The Law Place at our Sarasota County phone number now at (941) 444-4444.