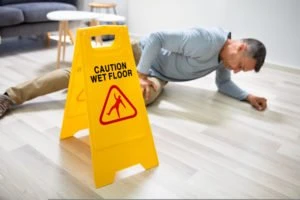 Slip and fall accidents can be incredibly serious and may affect the way you live your life. As such, you deserve compensation for things such as medical bills, loss of income, or pain and suffering.
A slip and fall accident resulting in personal injury could end in a premises liability lawsuit. This is because the property owner had a duty of care to keep you safe, and they may have acted negligently.
These types of cases are often complex, and you should seek medical advice from a reputable law firm such as The Law Place. We have over 75 years of combined experience seeking justice for our clients.
Depending on a variety of factors, your slip and fall claim could take months or even years. Your case will go through several distinct stages, and your personal injury attorneys will be by your side every step of the way. Here we will lay out the timeline most slip and fall cases follow.
Contact us now at (941) 444-4444, and we will fight your slip and fall case together. At The Law Place, the attorney-client relationship is at the heart of everything we do, and we will make sure that you receive the best legal advice and support. Call us now for a free consultation.
Free Consultation
The first step in your slip and fall case is to seek advice from a personal injury lawyer. When you contact The Law Place, we will discuss the details of your case, offer some free legal advice, and determine whether we believe you have a claim. If you do, then we will invite you to a free consultation. At which point, you can ask any questions that you may have.
We will discuss your case at length and give you a detailed breakdown of our fees, which are monitored by the State Bar Association. We only charge if we win your case, so there will be no risk to you, and there are no hidden costs.
At this point, you can walk away, or you can agree to representation. At which point we will get right to work, gathering evidence and building the details of your slip and fall claim. Most slip and fall cases will settle outside of court. However, if your case does go to trial, then we will be ready to fight for you to get the compensation you deserve.
The Complaint/Summons in Slip and Fall Cases
The first thing your personal injury lawyer will need to do is to prepare a summons that details the nature of your claim. The complaint will detail:
Who is involved.
A description of how the accident occurred.
Who is allegedly responsible.
What you want the responsible party to pay for their negligence.
Your complaint must be filed to the court, where you will bring your lawsuit, along with your summons. The defendant will then need to respond to your complaint within a set period, usually 20 days.
The Defendant's Answer in a Slip and Fall Case
The defendant will then need to provide an answer to your complaint. The answer is usually very brief and is only required to admit or deny the allegations laid out in your complaint. Or to state that the defendant does not have sufficient information to admit or deny an allegation.
The answer usually sets forth 'affirmative defenses', which are legal doctrines that the defendant must prove to reduce their liability or absolve it.
The answer may come in the initial 20 days of the complaint. However, the defendant may ask for an additional 20 days in exchange for a waiver of certain legal defenses.
The Discovery Phase of Slip and Fall Cases
Slip and fall accidents often involve a lot of different factors, and cases can quickly become complex. During the discovery phases, each party will spend time learning as much as possible about what occurred and why, which involves interrogatories and requests for production. Interrogatories are questions you will need to answer in writing and under oath. Requests for production are requests to produce documents or things related to the claim.
This process can take just a few months or years, depending on the duration of your medical treatment, the complexity of the case, and the schedule of the court.
Pre-Trial Motions
Leading up to the trial, during the discovery phases, parties can file motions with the court in an attempt to resolve issues.
Common pre-trial motions include:
Motion for summary judgment – If granted, this is a powerful motion. Any party can file a motion for summary judgment if they believe that there is no supporting evidence for the other party's claims. If granted, the case will be over.
Motion to dismiss – A defendant can file this motion if they believe that the lawsuit fails because of a legal technicality. If this occurs, it usually happens early on in the case.
Motion to compel – Either party may file this motion to ask the court to order another party to take any action that they would not do otherwise. Typically, it involves producing documents they are unwilling to produce or show up for a deposition they are reluctant to give.
Motion in limine – This is a request to keep certain evidence out of the trial because it is too prejudicial. For example, to keep the jury from hearing that the defendant has liability insurance that will cover compensation. This information may be too prejudicial because it could sway the jury's decision regardless of the facts.
Mediation/Mandatory Settlement Conference
Following a slip and fall accident, the lawsuit will often not go to trial. Trials are lengthy and costly processes, and often, the property owner will be better off if they offer a settlement.
Slip and fall accidents can be resolved through mediation and settlement conferences. Mediation is often done with a private mediator, while the court can order a settlement conference, and it will be conducted by your judge.
Typically, this occurs at the end of the discovery phases. If there is little dispute over liability, then it may simply come down to how much your case is worth.
Even if your slip and fall accident does not go to court, it is still worth seeking help from a personal injury lawyer as they will be able to guide you through the process. They will protect you, ensure that you are not taken advantage of, and make sure you do not settle for less than what you deserve. Things such as pain and suffering can be difficult to quantify, but you have the right to be compensated for the impact these things have on your life.
If a Slip and Fall Lawsuit Goes to Trial
If your slip and fall accident does go to trial, then it will occur after the discovery is closed. Your case will be set on a "trial docket" with the court; the court then hears cases in order. You will be given a trial date, but this could change.
Depending on the details of your case and what judge is overseeing it, your trial could take two to five days.
If you are successful at trial, then you will need to collect your check on your judgment. The property owner or defendant will usually have 30 to 60 days to pay a judgment. If they fail to pay, then you may need to take extra measures to secure your settlement.
Contact The Law Place Today
Contact us now at (941) 444-4444, and we will guide you through the process of your slip and fall claim. We offer a free consultation so that you can have all of the information you need before you make a decision. The sooner you seek advice, the better, as your attorney will be better able to gather evidence and prove negligence.
Our phone lines are open 24/7, so call now.