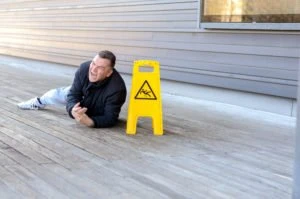 Slip and fall accident cases are amongst the most common personal injury types in the U.S. today. If you have suffered from a slip and fall in the past four years, you can make a claim, get the compensation you deserve, and hold the negligent property owner accountable for the risks they have placed upon you or others visiting their hazardous site.
There a number of different types of damages available when making a fall injury claim. These claims can be made whether you suffered your slip and fall injury in a public space or had an injury occur at work. You could claim for property damage, medical bills, pain and suffering damages, and more. The level of compensation you are likely to receive increases with the quality of the personal injury attorneys you choose to represent you.
The Law Place has a host of experienced personal injury attorneys in your area. If you would like to raise a case, contact us now for a free case evaluation over the telephone. We will ask you to answer a few questions to help us understand your situation and set you on the road to compensation.
Our lines are always open. Help us match you with the compensation you deserve by calling (941) 444-4444 today to tell us about your case!
What Constitutes a Slip and Fall Accident Case?
Slip and fall cases are cases that deal with a personal injury caused by the negligence of a property owner. These cases occur when someone violates premises liability by allowing a predictable hazard to go unaddressed.
The Florida laws for negligence are contained in Florida Statute 768.81.
A slip and fall case will work differently, depending on the type of property owner. Those who own businesses owe the public the greatest duty of care possible, as those entering their property are considered invitees.
If you want to seek the highest amount of compensation for your slip and fall, seek out an attorney today. The quicker you get started, the more your claim is likely to be worth.
Which Injuries Are Commonly the Result of Slip and Fall Cases?
The level of injury you are likely to receive in a slip and fall case will depend on a variety of factors. These include the environment and your level of personal frailty.
People with disabilities or older people are much more likely to sustain grievous injuries, and as such, are more likely to receive a greater payout in terms of pain and suffering damages.
Common slip and fall consequences seen by a personal injury lawyer would include:
Lacerations, cuts, bruises, and abrasions.
Fractured or broken bones.
Injuries of the head or brain, which are particularly dangerous.
Disabilities or mobility impairments.
Sprained ankles or wrists.
Scarring or disfigurement.
To get the most accurate valuation of your injuries, tell us about your case today. The information provided on this site can help you to get an idea, but nothing beats our free consultation service.
What Is Comparative Negligence and How Does It Work in Florida?
When making an injury claim for a slip and fall in Florida, it is important to remember this is a state with comparative negligence laws. If you suffered your slip and fall outside of Florida, there might be different laws related to your state.
Comparative negligence is when the property owner is not the only person to blame for the damage to the injured person. In these cases, you may still get the compensation for your injury, but the amount will be decreased depending on how much you were to blame for your injury.
Arguments for comparative negligence often seen by attorneys in your area would include:
A lack of consent by the property owner for the visit where the accident occurred.
A lack of due attention is paid by the victim, especially in situations where the person who fell was occupied by an activity such as looking at their mobile phone.
A lack of appropriate or sensible footwear worn by the victim.
The property owner clearly displayed signs or cordoned off the hazardous areas.
To determine the level of potential comparative negligence, your personal injury lawyer will ask you questions such as, 'in which specific area did the injury occur?' or, 'what exactly were you doing at the time of the accident?'
However, you should not worry about disclosing this information. Your case evaluation will be covered by the attorney-client confidential relationship, so your disclosure is safe with us.
Which Damages Are Available Following a Slip and Fall?
The damages available to you will depend on the unique circumstances of your accident. This is why we will begin your case with a free consultation to get to grips with your situation.
For the best chance at maximum compensation, give us a call about your case, provide your contact information, and receive a free consultation. In terms of your legal journey, we will tell you from the start how it works.
Medical Bills
One of the leading causes of bankruptcy in the U.S. today is unexpected medical bills. These expenses can easily blindside someone and, combined with other expensive aspects of an injury, can lead to financial precarity.
Your attorney will stand the best chance of helping you to recover enough compensation to cover your medical bills if you are able to retain copies of all your medical billing information and receipts.
Property Damage
While it is quite uncommon for victims of a slip or fall to sustain property damage, it is not unheard of.
If your slip and fall resulted in you damaging something which was valuable, your attorney could help you claim the value of this.
Pain and Suffering
Pain and suffering damages are damages that are calculated by looking at the duration of your recovery process, the pain level involved, and any permanent changes to your lifestyle that may have occurred as a result.
There are a number of different ways of calculating the compensatory amount for pain and suffering damages. The way yours is calculated will usually depend on your insurance company.
Lost Wages
Medical expenses are not the only way that your slip or fall accident injury can leave you out of pocket. There is also the time you may have to spend off work recovering. Many people are not lucky enough to be blessed with a job that provides them with fair pay when they are unable to attend for a reason out of their control.
Lost wages damages seek to recover this money for you in the form of compensation. Again, for the best chance at maximizing this claim, you should retain all the relevant documentation you can. This usually takes the form of correspondence you have had with your employer concerning the period of time you were forced to take off to recover.
Wrongful Death
It is possible that you were not the one that suffered from a slip and fall accident but instead the family of someone who died as a result of one. In these tragic circumstances, we more than understand that no amount of money will be able to ease the pain and grief that you are feeling.
However, unfortunately, the loss of a close family is almost never a cheap affair. You will likely be suffering from a lost source of income, not to mention the cost of burial and other funerary expenses.
By filing a wrongful death claim, you can seek compensation for:
The lost wages of your loved one.
Expenses related to the funeral.
Here at The Law Place, you can rest assured that your loved one's wrongful death case will be treated with the utmost care and dignity. We only employ empathetic and sensitive legal professionals who will ensure that your journey to compensation is as gentle as possible.
How Long After a Slip and Fall Do You Have to Make a Claim?
If your slip and fall occurred in Florida, Florida Statute 95.11 states that the statute of limitations in which you can make a claim is a period of four years.
This period begins on the day that the accident occurred. However, this does not mean you should delay.
Claims made sooner rather than later are statistically more likely to pay out a greater amount. This is because of the propensity of evidence to become lost or otherwise unavailable, as well as the likely presence of competing legal teams on behalf of your insurance company or the negligent party.
Contact The Law Place Today
If you have suffered a slip or fall in the past four years, you should call The Law Place today. We can match you with attorneys that have a whole host of experience and the perfect skillsets to maximize your accident injury claim. The lawyers working for our firm have a cumulative total of over 75 years of experience in accident and injury law.
What's more, all of our cases are operated on a no-win-no-fee basis. The only charges we will make are taken from your settlement once you have won compensation. This means there is no risk involved in raising a claim. If you are unsuccessful for some reason, the process will have cost you absolutely nothing at all. We believe that no one should have to worry about the financial implications of seeking justice.
For the best chance at maximizing your compensation, call us for a free consultation today. Our phone lines are always open, and your call will be entirely confidential as well as at no-obligation. Beginning the journey achieving the compensation you deserve could not be any easier.
The number for our Florida office is (941) 444-4444. We look forward to hearing from you and helping you to recover the financial justice you deserve.