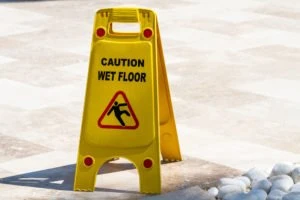 Slip and fall accidents happen every day in Florida. It could be a poorly maintained floor, a spillage that has not been cleared, or a natural occurrence such as heavy rain. If you are in a business establishment when you are injured, then they can be held liable under Florida Statute 768.075, or premises liability. Their insurance companies will pay your damages if your claim is successful. However, what if you are injured on public property?
The answer is not straightforward. While we will do our best to give you an answer in the following article, if you want advice that is tailored to your specific circumstances, contact us today to arrange a free consultation. We can offer initial advice so that you can be confident about your next steps. If we believe you have a valid claim and you decide that you need representation, then we will be ready to get right to work protecting your rights and seeking justice.
The attorney-client relationship is the most important thing to us. We will be there to support and guide you, and we will review your case as a team so that you can benefit from our 75 years of combined experience in Florida personal injury law.
The Law Place is open 24/7, so call us now at (941) 444-4444.
Premises Liability if You Are Injured on Public Property
If you suffer a slip and fall accident in Florida and the property owner is a government agency, then different laws will apply.
One key difference is the amount you can receive. There is a limit on how much compensation can be awarded to any victim.
Private vs. Public Owners in a Slip and Fall Case
If you suffered a slip and fall due to a dangerous condition on private property such as a grocery store, hotel, or shopping center, then under Florida premises liability law, you can seek damages from the property owner. If your claim is successful, then there is no limit to what you can claim – so long as you can justify your settlement amount with things like medical bills and details of your pain and suffering.
By contrast, if you slip and fall on a property owned by a government agency, then you will not be able to recover the same amount in damages. Furthermore, you will need to follow very specific procedures and deadlines, or your claim will not be successful at all, and you could be left with nothing. It is important to seek legal advice from a law firm quickly if your rights are to be protected.
Determining Which City Owns the Premises
Your slip and fall accident may have occurred in an incorporated city, a municipality, or an "urbanized area" as defined by the federal government.
Your attorney will help you to determine what city or governing body owns the site where your injuries occurred. In accordance with Florida Statute 180.01, a "municipality" is defined as "any city, town, or village duly incorporated under the laws of the state."
It is important to determine if your accident occurred in a legally recognized municipality, as this will determine how you seek compensation. You cannot always rely on look alone, rural land can be owned by a city, and an urbanized area could be part of the state. An attorney will help you to determine who you should be claiming from quickly so that the right steps can be taken.
Common Conditions That Lead to Slip and Falls on Public Property
Accident victims can be hurt on public property while crossing the street, walking a dog, having a picnic, or more. Common examples of negligence include:
Changes in elevations of walkways.
Grates in the footpath.
Cracks in sidewalks.
Slippery surfaces caused by oil or sand.
Puddles of water.
Potholes in streets.
Foreign objects such as trash on the footpath.
Curbs without adequate warning (paint, markers, signs).
Sovereign Immunity Protects Florida Cities
Cities are not run for profit. They are financed by taxes. Therefore, the public property has special legal protection from lawsuits. Protections are in place to protect taxpayers' money and ensure that city funds are not diverted to pay too much in injury damages.
The Doctrine of Sovereign Immunity
This protection is under 'sovereign immunity,' laid out in Article X, Section 13 of The Florida Constitution. Under this doctrine, you cannot sue the government for civil damages.
However, there are limitations. You can sometimes hold the government financially responsible if its employees or agents caused your injury.
This exception is stated in Florida Statute 768.28. Cities can be held responsible if your injury was caused by a negligent act of a city employee, within the scope of their employment. However, to win a successful settlement this way, specific procedures must be followed.
Pre-suit Notice
Before a premise's liability lawsuit can be filed for a slip and fall on city property, the accident victim must give notice to the municipality where they intend to file the lawsuit. It must be written on paper and sent to the appropriate city office.
You must make sure that you give notice to the correct department or city subdivision, or your entire claim could be dismissed.
The notice should include details about the incident, such as:
Documentation supporting your damages.
What problem caused you to slip and fall.
Medical documentation and proof of your injuries.
The address and exact location of the slip and fall.
Witnesses to the event.
What direction you were walking.
Photos or other documentation of the event.
You have three years to give notice. Once your notice is given, you cannot fuel your lawsuit for 6 months. Unless the city declines your claim, at which point you are able to fuel your lawsuit.
This is an essential process to get right. A quality law firm such as The Law Place has the knowledge and experience necessary to help make sure you have a strong case and that all procedures are correctly followed.
Limits on Recovery From the City
When you do file a claim against the city, you must be prepared for them to reduce your settlement, even where it seems invalid. This is because there are caps on how much you can receive.
Under Florida Statute 768.28, actual damages are capped at $200,000. Additionally, cities in Florida cannot be held liable for punitive damages (designed to punish the offender) or interest covering the time before the judgment.
These rules apply regardless of how serious your injuries are or how prolonged your medical treatment will be. However, an attorney that is experienced in personal injury cases will work with you to secure as high a number as possible in damages.
Limitation on Attorney Fees
There is also a limit to how much your attorney can receive. The Law Place works on a contingency fee basis, as monitored by the State Bar Association. This means that we only take a fee if you win and usually as a percentage of your case settlement. We will discuss this in your free consultation, so there won't be any surprise costs.
Under Florida Statute 768.28, lawyer fees are capped at twenty-five percent (25%) of the recovery. As a result, some attorneys may reject personal injury cases involving a premises liability case on public property. The best thing you can do is contact The Law Place for advice.
Contact The Law Place Today
If you have been injured in a slip and fall accident on public property in Florida, then you should contact The Law Place for a free consultation. The sooner you contact us, the better, as your case will be strongest in the initial weeks following an accident.
An experienced lawyer will be able to tell you whether you have a valid claim and what your next move should be. We offer free, no-obligation advice so that accident victims can be armed with the knowledge they need to seek justice. We also keep our phone lines open 24/7 so that we can be there for you when you need it.
Contact us today at (941) 444-4444.