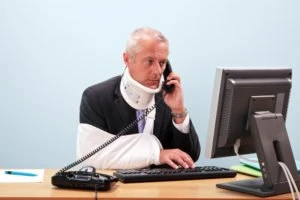 No job comes completely without risk, and if you sustain a workplace injury, then receiving workers comp benefits is one way to compensate for any lost wages as a result of you being forced to take time off while you recover from your injuries. Many employers will be legally required to carry worker's compensation insurance to protect them from personal injury lawsuits being filed by their employees.
It is natural to be worried that you could lose your job while on worker's compensation, as it is still legal to make someone receiving worker's compensation benefits unemployed in several scenarios. However, if your employer fires you for a legally unacceptable reason, you can take legal action for unfair dismissal.
To find out if you could be entitled to take legal action after losing your job while claiming workers comp benefits, give one of the personal injury lawyers at The Law Place Today. Our team has over 75 years of combined experience dealing with the worker's compensation system, and you can get in touch today for a free consultation at no obligation. Our phone lines are always open, and all calls are completely confidential.
To find out more about how we could help you both in making and protecting workers comp claims, call (941) 444-4444 today!
What Is Workers Compensation and How Does It Work in the State of Florida?
Workers compensation refers to the type of insurance which is purchased by employers and businesses to both provide workers compensation benefits for injured workers and protect the business itself from personal injury lawsuits filed by an injured employee.
A worker's compensation claim will provide reimbursement for any workplace injury, regardless of fault. The worker's compensation benefits will depend on whether the claim is for medical expenses, a disability, a fatality, or a combination of the above.
Is It Possible for an Employee to Lose Their Job While Claiming Workers Comp for a Work-Related Injury?
Unfortunately, the short answer is that it is still possible for an employee to lose their job after successfully filing a workers compensation claim – however, an appropriately legal reason must be provided.
These legal reasons include cases where your employers were unable to retain your job while you were recovering on medical leave as they needed someone to fill the position. They also include previous insufficient or poor performance during employment, the restructuring of the company, or cases where the employer is facing financial issues.
This is especially true for the many employees in the United States who are employed at will. At-will employment allows both the employer and the employee to terminate the employment of an at-will employee at any time, for any reason – except for a handful of illegal reasons, which will cover shortly.
What Is Retaliatory Termination and Is It Illegal Under Florida Law?
One of the certain restrictions that make terminating an employee illegal is retaliatory termination.
This refers to situations where an employer becomes angry at someone and fires them for filing a workers comp claim and reporting their at-work injury. This is usually because the employer will be forced to pay an increased insurance premium in order to partially cover the cost of the worker's comp claim.
While most employers would never wilfully admit that your firing was an example of retaliatory termination, this does not mean that all is lost. A passionate lawyer from our law firm will gather evidence to demonstrate that the firing was illegal under Florida law.
For more information on how we can help you demonstrate that your employer was acting illegally, book a free case evaluation today with a member of our worker's compensation attorney team and receive free legal advice at no obligation. Your phone call will even be covered by the confidentiality of the attorney-client relationship, so you do not have to worry about any information getting back to your employer or insurance company.
What Happens to the Financial Benefits if You Lose Your Job While on Workers Comp?
A workers comp claim is designed to be a safety net for injured workers to provide financial assistance for lost wages and medical bills while they are unable to work.
Thankfully, this means even if you do lose your job position, you are entitled to continue receiving the benefits until your doctor gives you the all-clear to return to work, in most circumstances.
Unfortunately, insurance companies may often try to take advantage of the confusing nature of workers comp to claim that you are no longer eligible for workers comp after losing your job. If this is the case for you, a worker's compensation attorney can help fight your corner against the insurance company.
The Different Type of Workers Compensation Possible Depending on the Type and Consequences of Your At-Work injury
Workplace injuries vary greatly from workplace to workplace, and injured employees will receive different work injury benefits depending on the type and severity of the injury they incurred.
The benefits most employees are entitled to include:
Temporary disability benefits – Which provide between two-thirds to eight-tenths of your average weekly wage for a temporary disability, depending on the severity.
Permanent impairment benefits – Which come into play once any medical treatment is complete and are designed to reimburse you for up to 75% of your total disability benefits rate if you have sustained an impairment that will be with you for life.
Permanent total disability benefits – These benefits are designed for an injured worker who is injured in such a way that it is impossible for them to work again, even doing light-duty work. These will continue to be accrued until you reach the age of 75 or for your entire life in cases where you do not qualify for Social Security.
Medical benefits – In most cases, worker's compensation pays the cost of all medical care as a result of your at-work injury. Medical benefits also extend to medical treatment-related travel and prescription costs.
Vocational rehabilitation benefits – In cases where you are unable to continue employment at your regular job because of your injury, filing a workers comp claim can provide additional placement services, help in gaining new employment, and even vocational counseling and additional training.
Death benefits – In the tragic circumstances where an employee loses their life due to an at-work injury, the worker's comp claim will include coverage for lost wages and burial and funeral expenses.
The best way to find out which of these worker's compensation benefits apply to your situation is to call our law firm today for a free legal consultation. We will be able to go through your case in a completely free and no-obligation environment and let you know exactly how Florida law works for your situation.
Are There Any Limitations to Workers Comp in Florida?
Unfortunately, workers comp is generally an exercise in compromise. While it is true that worker's compensation is much quicker and easier than filing a personal injury lawsuit and going through that entire legal process, there are some downsides.
These downsides include the fact that you are only usually eligible to receive a portion of the lost wages you would have earned working normally – although these benefits will not usually be taxed like your regular income is.
Furthermore, in most cases, worker's compensation does not include considerations for pain and suffering damages as a regular personal injury claim does. However, it may still be possible to file a lawsuit for an injury received on the job while on workers comp in exceptional circumstances. Again, the best way to find out if this applies to you is to speak to an attorney from our firm by arranging a free consultation today.
How Much Will It Cost if You Need a Lawyer From The Law Place to Help File a Lawsuit?
Unfortunately, many Americans are put off seeking proper legal counsel after an injury or accident at work due to misplaced beliefs that worthwhile lawyers are always expensive and unattainable unless they have a lot of money to spare.
This is understandable, especially due to the fact that the time after a workplace injury or unfair termination is fraught with financial insecurity and anxiety.
However, we are pleased to inform you that all of your workplace injury legal work from The Law Place in Florida will take place in a no-win-no-fee environment.
This means that you will not have to pay anything upfront for your legal counsel and that any fees will only be taken from your final settlement amount after it has been won. This also means that if, for some reason, your case is unsuccessful, it will not cost you a cent, and there will be no risk involved.
All of our no-win-no-fee work is strictly monitored by the Florida State Bar Association. Transparency, honesty, and a lack of risk are at the heart of what we do here at The Law Place, so you do not have to worry about extra costs or hidden fees. Furthermore, even though there is no risk to you, you will still benefit from the support of many of our lawyers who are AVVO rated a perfect 10.0.
Contact The Law Place Today
If you need help navigating the difficult field of workers comp law, whether that is because of unfair dismissal, trouble with your insurance company, or wanting to file a lawsuit outside of the worker's comp system, The Law Place in Florida is here for you.
Our team of lawyers has 75 years of experience in this field, and unlike many other law firms, we operate all our cases as a team to ensure that we use all of the experience and wisdom at our disposal.
If this sounds like something you could be interested in, all it takes is a simple phone call to our Florida office to arrange a free consultation at no obligation today. We will provide free legal advice in a safe and understanding environment, without judgment or the risk of confidentiality breaches, thanks to the attorney-client relationship.
To find out more about how a workers comp attorney from our law firm can help you to make the best of your situation, call us on (941) 444-4444 as soon as possible!