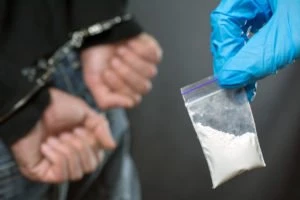 There are few crimes that are treated as seriously in Sarasota and across Florida than the selling of an illegal substance. Even more serious is when the charges are for the sale of a large quantity of the substance.
Here at The Law Place, we have fought for numerous clients in similar situations to you. Thanks to this, we know exactly what your best defenses are both now and what they will be in the future. We know how to fight for you, and we will do so to the best of our ability.
Our phone lines are always open. Call us any day of the week at any time of the day, and one of our Sarasota criminal defense lawyers team will be there to help. The call is free, and we will give you immediate advice from a position of clarity. This could be the one thing that saves you from a long stint in prison.
Our number is (941) 444-4444. Call us now for a free consultation.
Florida Statutes
Florida Statute 893.13 states that you could be looking down the barrel of a first-degree felony for this crime. This could lead to you spending up to 30 years in prison, receiving a 30 year probation period, as well as a huge fine of up to 10 thousand dollars.
The statute specifically states that you are forbidden from selling or delivering a substance that is mentioned or described in the accompanying Florida Statute 893.03.
If you are facing these charges, we cannot press the importance of hiring a lawyer. Specifically, one that is well versed in defense cases involving drugs, such as the possession or the sale of controlled substances. When you are facing an event that could have a serious negative effect on your life, you need the best help possible.
Different Charges
Drug charges are sorted into the following categories.
Possession of a controlled substance.
Selling a controlled substance.
Manufacturing a controlled substance.
Trafficking a controlled substance.
Possession of drug paraphernalia. This includes anything designed to cultivate, store, sell, produce, plant, conceal, or transport a controlled substance.
Different Schedules of Controlled Substances
In Florida, all controlled substances are divided into five different categories. These categories are called schedules and relate to how addictive they are and how much potential they have to cause serious harm. You can find out more about scheduling on the Drug Enforcement Administration (DEA) website.
Schedule One
Schedule one illegal drugs have no accepted use in the medical field and have the highest possibility of abuse. These are drugs that carry the harshest and most severe of punishments. They include Heroin, Meth, Crack LSD, and Crack.
Schedule Two
Schedule two drugs also have an extremely high level of addiction but may also have some medical uses. These are closely monitored when given in a medical setting. This category includes morphine, hydrocodone per dosage unit (Vicodin), cocaine, methamphetamine, methadone, hydromorphone (Dilaudid), meperidine (Demerol), oxycodone (OxyContin), fentanyl, Dexedrine, Adderall, and Ritalin.
Schedule Three
Schedule three drugs have a low or moderate potential for addiction. This category includes drugs such as steroids and ketamine.
Schedule Four
Schedule four drugs are substances that have a low potential for abuse and low risk of dependence. They include Xanax, Soma, Darvon, Darvocet, Valium, Ativan, Talwin, Ambien, and Tramadol.
Schedule Five
Schedule five drugs include drugs with very little to no chance of addiction and harm, such as codeine cough syrup, with a low percentage of codeine per dosage.
Possible Defenses
Your Sarasota, FL., criminal defense attorney will always be the best person to discuss the potential defenses of your case with. However, these are some of the more common defenses we see here in Sarasota.
If the police obtained evidence illegally.
There was no warrant to search and seize, or it was not valid.
The way in which they identified the drugs on your person was a flawed method.
The substance was not actually 10 grams or more.
A law enforcement officer entrapped you.
You were not in possession of the drugs at the time.
The illegal drugs were not yours.
You were identified incorrectly.
Investigation of Your Arrest
The first thing we will begin to do when looking at defending you is to investigate the evidence and how that evidence was obtained. This is massively important in your defense and could prevent you from spending 30 years in prison. Your criminal defense attorney will identify whether the law enforcement officers involved in your case acted in accordance with the Constitution and relevant laws. If you have had your Fourth Amendment rights violated, we could be able to seek the suppression of all evidence used against you in court.
By showing our due diligence and preparing your case for trial in a strong and correct manner, we show law enforcement and the government that we are extremely serious and are willing to fight every single possible issue with your case in order to help you win. If we can't get your charges dropped, then there is an extremely good chance that our work pre-trial will lead to a much more favorable result in court.
Given the seriousness and massively complex laws that surround drug prosecutions, an experienced lawyer is going to be your best possible option to achieve a favorable result for your case.
What to Look for When Hiring a Criminal Defense Lawyer
When you are placing the fate of your life into somebody's hands, you are going to want to make sure they are both capable and the best option for you to choose. You want to find a lawyer with expertise, skill, and who you can comfortably talk to. By choosing the best lawyer, they may be able to:
Reduce charges or get them dropped altogether.
Lower the severity of the punishment.
Reduce jail time.
Develop the best possible defense for you.
You should find out as much as you can about any potential law firm that you are looking to hire. You can search for testimonials and reviews online, review their website, and look for their case results. Also, ask around the local area to get a good idea of their reputation.
A good place to look is on the Avvo website. This is a website that gives law firms a recognized rating for the quality of their services. This is calculated by an algorithm, referencing the number of years they have been a criminal defense lawyer in Sarasota, their wins and losses, and any disciplinary history. Every attorney will get a rating between 0-10, with 10 being very high quality.
You should also look at whether you are hiring a law firm that only has a single attorney instead of a firm that has a team behind them. When they are working behind the scenes, attorneys will often confer with their colleagues. This can be a real benefit if your chosen law firm has a team of skilled and reputable attorneys. With these firms, you are essentially getting several attorneys for the price of one.
Communication and first impressions are immensely important. You want to make sure that you will have a good attorney-client relationship. When you are dealing with a serious case like this, you will want to be able to get in touch with your attorney easily. If you are finding it hard to get responses or for them to pick up the phone in the initial stages, you might want to reconsider your choice.
Finally, you should make sure that they explain their fee system in an easy to understand way. You will want it laid out clearly and in writing. Cost does not always relate to quality, but be wary of any firm that is charging a rate that seems low compared to the competition. Make sure you investigate, as these firms can often fail to explain hidden costs, and you could actually end up paying more than you would have if you went for a firm that was more expensive upfront.
The agreement should always state the terms of your contract.
Questions to Ask a Criminal Defense Lawyer Before Hiring Them
When you are looking for a potential attorney to represent you, you need to be prepared to be very open and comfortable with them. They will want to know as much as they can about all of the aspects of your charges. These are the questions you should be prepared to ask them if you want to fight your first-degree felony charge. This should happen in a face to face meeting or over the phone.
Have you handled cases similar to mine?
Have you won cases similar to mine?
How many trials with a jury have you litigated?
What is your record for working out plea bargains?
What are your fees? Can I pay them in monthly installments if they end up being larger than expected?
Can you provide me with references?
The last one is particularly important. If they are hesitant to provide references, that is a very big red flag, and we would advise you to consider your options very carefully. A good lawyer will always be more than happy to give references and talk about their case history.
Contact the Criminal Defense Attorneys at The Law Place Today
Hiring the correct criminal defense lawyer could possibly be the most important decision you have ever made. Here at The Law Place, you are hiring a team of skilled and reputable defense attorneys with a combined 75 years of experience in dealing with criminal charge cases. Throughout those years, we have helped thousands of clients in their most desperate time of need. We helped them then, and we can help you now.
We keep our phone lines open every hour of the day, every single day of the week, around the clock. Call us today at (941) 444-4444 for a free consultation.