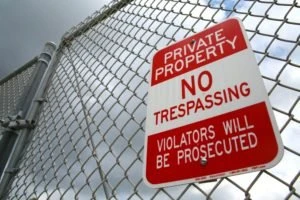 If you are being accused of trespassing in Bradenton, then you are going to need the skills that a criminal defense lawyer can offer. A conviction for trespassing can result in large fines, a long period of probation, and even a stint behind bars. The subsequent criminal record could also impact you for the rest of your life, affecting your job prospects, housing opportunities, and more.
At The Law Place, we place a high value on a close attorney-client relationship that is based on trust. We have over 75 years of collective experience and will do everything possible to develop a defense strategy and help minimize the consequences you might be facing.
Contact us on (941) 444-4444 for a free consultation.
How Does Florida Define Criminal Trespass?
Trespassing is described in Florida Statute 810.08 as the willful and deliberate entry onto a property without the consent of the property owner. Someone may also be found guilty of trespassing if they remained on a property after consent had been taken away.
In Florida, there are two kinds of trespassing. Trespass in a structure or conveyance, and trespass on a property that is not a structure or conveyance.
Trespass in a Structure or Conveyance in Bradenton
A trespass of structure or conveyance in Florida is the intentional and willful entering or remaining in a structure or conveyance, such as a building or a dwelling.
Someone could enter a property without the owner's consent, or they could be told to leave and remain on the property anyway. Both of these scenarios would result in a trespassing charge. The penalties can include up to 60 days in jail. However, if the trespasser was armed and someone else was present on the property, then the charge could be elevated to a first-degree misdemeanor, which could result in up to five years in prison.
Trespass on Property Other Than a Structure or Conveyance in Bradenton
If someone enters or remains on a property without proper authorization, and the property was not a structure or conveyance, then that is classified as trespassing on a property other than a structure or conveyance. Examples might include a golf course or an amusement park. Generally, there is public access to these areas during business hours, but if you were told to leave and stayed anyway, then this could also be classified as trespassing.
Trespassing on a property other than a structure or conveyance is usually considered to be a first-degree misdemeanor. The penalties include up to one year in jail.
However, in some circumstances, your penalties could be elevated, if for example, you were carrying a weapon or if you were on a construction site larger than one acre that had clear signage to say that you were not allowed on site. In both of these scenarios, your charge could become a third-degree felony. The punishment for which is a prison sentence of up to 5 years, 5 years of probation, and a fine of up to $5,000.
Other examples of circumstances where your charge could be elevated are if you were on a site that is designated for testing or research, you were in a safe house for people escaping domestic violence, or if you took or injured an animal.
Our team of dedicated attorneys fight and win for Floridians.
Possible Defenses for Trespassing in Florida?
In order for the prosecution to be successful, they would need to prove that the act of trespassing was intentional and willful, e.g., the trespasser knew what they were doing.
In some scenarios, the trespasser may have thought that they had consent, or they may not have been told to leave. The court will consider if there is a reasonable explanation for someone to be on a property.
Other possible defenses to trespassing include:
Lack of proof of intent.
Withdrawal of the request to leave the property.
Lack of communication to leave the property.
An improper notice.
An implied invitation to enter or remain on the property.
At The Law Place, we will conduct a thorough investigation and will do everything we can to have your case dismissed or your charges dropped. It is important to contact us as soon as possible so that we can get straight to work investigating your case.
Getting the Help You Need From a Criminal Defense Attorney in Sarasota, FL.
With over 75 years of collective experience and knowledge in Florida law, The Law Place is ready to assist you with your case. We are always developing our skills in order to offer our clients the best possible service, and we have helped thousands of people just like you. We will utilize all of our resources and will take advantage of our combined knowledge to develop the best possible defense.
Facing a possible conviction and criminal record is frightening. Especially if you do not have any experience with Florida's legal system. Luckily, our phones are always open, so you can speak to someone when you really need it. Most of our attorneys are AVV0 rated 10.0, the highest possible rating. We also have hundreds of incredible reviews from people who have previously been represented by us. At the very least, call us for a free consultation and find out what we can do for you.
Contact us now at (941) 444-4444.