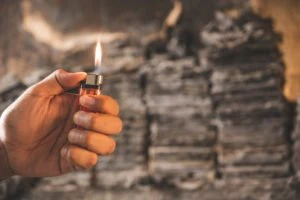 In St. Petersburg, and indeed across the State of Florida, arson is considered to be an extremely serious crime. If convicted, the penalties are very serious and can result in large fines, a length of time behind bars, and a permanent criminal record. By seeking the help of a skilled criminal defense attorney, they will work to do everything in their power to reduce or eliminate the charges being brought against you.
If you have been accused or charged with arson in St. Petersburg, Florida, then we strongly advise that you seek the help of a criminal defense lawyer. At The Law Place, our team of attorneys has over 75 years of collective experience in dealing with arson cases and defending the accused. At The Law Place, we offer all our customers a free consultation where we will analyze your case and offer some free, no-obligation advice on the next best steps to take.
At our offices in St. Petersburg, our phone lines are open 24 hours a day, 7 days a week, so rest assured we will be here to answer your call at any time of day. What are you waiting for? Call our law firm at (941) 444-4444 and get started with your case today.
What Is Arson?
Arson can be defined as the malicious and intentional burning of a building or structure using explosions or fire. As noted in Florida Statute 806.01, a structure is classified as an enclosed space that has a roof over it. Common types of structures that may be damaged include:
Shops or houses.
Hospitals and other healthcare facilities.
Schools, nurseries, and other educational centers.
Prisons.
Churches and other places of worship.
Care homes or nursing homes.
Vehicles, including cars, airplanes, and boats.
Portable buildings such as a tent or motor home.
The classification of the crime will depend on the circumstances in which the arson took place, as well as the damage and injury caused. For example, if the damage is caused to a structure that does not usually contain people, then the charges are generally lessened.
It is also useful to know that most states in the United States no longer require that the property that is damaged or destroyed by arson to be a dwelling or building. The intentional burning of personal property without consent or with malicious and unlawful intent is generally enough to constitute arson. In addition, arson can be classified as a state or federal crime.
What Are the Potential Penalties and Punishments Associated With Arson?
Due to the seriousness with which arson is considered in Florida, it is always classified as a felony crime. A felony crime can be defined as a serious crime that is punishable by at least a year in prison. Although arson is classified as a felony, many state laws also include different degrees of severity depending on how the arson was caused, the perpetrator's intent, and whether the fire or explosion resulted in physical injury or even death.
In St. Petersburg, arson can be classified as a first-degree or a second-degree felony. A first-degree arson attack generally involves damaging a structure where people are normally present. For example, a deliberate explosion or fire at an educational institute, such as a school during hours of teaching, would result in a first-degree felony. Penalties for a first-degree felony can result in up to $10,000 payable in fines, up to 30 years in prison or on probation, and a permanent criminal record.
A second-degree felony would be issued to an arson attack that was committed in a building or structure that is not usually occupied, such as a storage facility. As noted in Florida Statute 775.082, punishments for a second-degree felony may include a $10,000 fine, a permanent criminal record, and up to 15 years on probation or behind bars.
In addition, if someone is injured or even killed as a result of the arson attack, then the perpetrator will likely receive additional charges. A minor injury could add a first-degree misdemeanor, and a serious injury could add a second-degree felony charge.
Additional Consequences of an Arson Conviction
If you are convicted of arson in St. Petersburg, Florida, then you will receive a criminal conviction that will remain permanently on your record, which is visible to the public. Whilst receiving a criminal record might seem relatively minor in comparison to jail time and hefty fines, a criminal record can have a massive impact on your future. For example, you may struggle with:
Finding or continuing education.
Seeking employment.
Receiving approval for loans, mortgages, and other types of finance.
Seeking child custody or visitation rights.
Being approved for rental agreements.
Seeking certain licenses.
What Damages and Injury Can Result From an Arson Attack?
Depending on the severity of the fire or explosion, arson is likely to result in damage to property and structures and injuries to people. Some of the most common damages and injuries resulting from an arson attack are:
Structural and physical damage to the property or structure.
Loss or damage to personal property.
Pain and suffering.
Cuts and lacerations.
First, second, and third-degree burns.
Damage to the lungs and other internal organs as a result of smoke inhalation.
Potential Defenses Against Arson Charges
If you are accused or convicted of arson in Florida, then it is strongly recommended that you seek legal advice as soon as possible. By employing the help of an experienced criminal defense attorney, they can analyze your case and investigate any evidence being brought against you. Depending on the circumstances of your case, they may also be able to build a strong defense strategy that can be used in court to reduce or eliminate the charges you may be facing. Possible defense strategies include:
Actual innocence. You were not the person that committed the arson attack, or the witness is mistaken about your identity.
There was an apparent lack of intent.
Although you caused the fire, it was an accident and not a deliberate act.
The origin of the fire or explosion was not due to your actions, but rather an act of nature or an electrical issue.
The prosecution's evidence is invalid or insufficient in proving that you committed arson.
Questions to Ask a Criminal Defense Lawyer
When considering hiring a criminal defense attorney, we at The Law Place believe it is important to ask a lawyer a variety of questions to ensure they are experienced and knowledgeable enough to handle your case. Some of the questions you could ask are:
Have you dealt with arson cases or similar practice areas before? If so, what was the outcome of those cases, and how successful were you?
How many trials in St. Petersburg, FL., and other neighboring cities have you litigated?
What are your legal fees?
Do you have any client testimonials or reviews?
By receiving the answers to these questions and employing a knowledgeable St Petersburg criminal defense attorney, you are placing yourself in a good position with regards to achieving the best possible outcome for your case.
Contact The Law Place in St. Petersberg Today
If you have been arrested or convicted of arson, then you should seek the advice of a criminal defense lawyer as soon as possible. At The Law Place in St. Petersburg, FL., we have a team of lawyers with an abundance of experience in dealing with cases similar to yours.
At our law firm, we pride ourselves on developing a positive attorney-client relationship that is built on honesty and trust. An attorney will investigate your case and work to build a defense strategy that places you in the best possible position. Your lawyer will fight for your rights and work to eliminate any charges and penalties that you may be facing.
Contact our law firm today and get started with your case. Our Florida offices are open around the clock, so you can contact us whenever it suits you, and we will be on hand to offer support and advice. Our phone number is (941) 444-4444. Call us today, and receive a free consultation with a knowledgeable attorney.