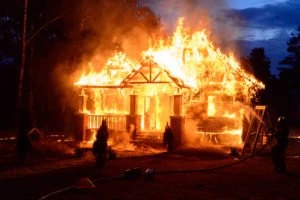 Arson cases are taken very seriously in Florida, and the state upholds strict arson laws. If you have been convicted or charged with committing a criminal offense regarding arson, then it is likely that you have been caught starting a fire or have caused a fire while committing an unlawful act. You can find the laws on arson in Florida Statute 806.01.
Depending upon the seriousness of the arson committed and where the arson took place, you could face a severe fine, have to serve probation, end up in prison, and potentially face life-long repercussions.
If you have been arrested and charged for committing arson, then you must have a qualified attorney at your side. If you decide to choose a criminal defense attorney from The Law Place, you can rest assured that your defense is in highly qualified, experienced hands. You can call us now for a free case evaluation, as there is always somebody at The Law Place that is available to speak to you, 24 hours a day, 7 days a week. Contact us anytime at (941) 444-4444.
First-Degree & Second-Degree Felonies in Arson
Florida has some of the strictest laws in the U.S. regarding arson, which is considered a severe criminal offense. The penalties you will face if you are facing a charge of arson will depend on the arson's severity, the intent, and the damage left behind from the arson offense.
These penalties are measured by first-degree and second-degree felonies, with arson in the first-degree considered a more severe crime with serious consequences, especially if there have been large amounts of damage.
Some of the punishments that you might face if convicted of first-degree arson are stated in: Florida Statute 775.082, Florida Statute 775.084, and Florida Statute 775.083, which detail the penalties for first-degree and second-degree felony arson crimes.
If convicted for first-degree arson, you can face fines as high as $10,000, a lifetime criminal record, lifetime probation, and in some cases, you could receive a jail sentence of up to 30 years.
Although the crime is considered less severe than a first-degree felony, the charges for second-degree arson could consist of the defendant receiving fines as high as $10,000, a permanent criminal record, a probation period of up to 15 years, and a jail sentence of 15 years.
All of the above could potentially affect future opportunities for you. With the right criminal defense lawyer working your case, you are much less likely to face severe charges.
Potential Defenses of Arson
At our law firm, we know how important it is to build an attorney-client relationship based on trust with your criminal defense lawyer. When you are ready for a consultation, we will go through the arson incident in detail to find any details of the incident that we could use in your favor in court. Some common defenses that you may use in your criminal defense are:
There is a lack of evidence against you.
The fire was accidental, unintentional, and not deliberate.
You have been wrongly misidentified by an eyewitness and are innocent
There is not enough evidence to be used against you in a court of law.
You did start the fire, but it was a genuine accident.
If you want to build up a defense for arson, you will need an accomplished lawyer to look into your case's specific details.
Additional Consequences of a Conviction
Your attorney must understand the ins and outs of your case if they want to lessen the severity of the charges you could face. Some additional consequences of a conviction for arson are:
Unable to take on further education.
Considered unfit for loans.
Denied approval for taking out a mortgage on a property.
Considered undesirable by employers (some companies will not enroll people with criminal records).
Without legal support, you could face severe consequences. This is why it is essential to have an experienced and knowledgeable lawyer defending you in front of the judge and jury.
Why Do I Need a Criminal Defense Attorney?
We understand how complex and confusing the law can be and how difficult it is to understand if you are unfamiliar with it. You will need an experienced representative to defend your case in court. If you do not have the help of an attorney, you could end up facing some of the harshest charges that the state has to offer.
Our attorneys will delve in-depth into the arson's circumstances and work tirelessly to understand every detail of the incident to build a strong defense for you. The Law Place prioritizes excellent attorney-client relationships. We know how important it is to trust your attorney and feel comfortable telling them all of the specifics of your case.
The more detail you can give us about the arson incident, the better we can look for potential avenues for your defense to fight for the best outcome for your case. Our attorneys will consider what you would like the outcome of your case to be and work with you to achieve this as best as we can.
Get Your Free Case Evaluation Today!
If you have been charged with arson and need the help of an experienced attorney, then we here at The Law Place urge you to give us a call for free today. We are here to answer any questions you may have about the processes.
By taking your time to look into all of our information, past cases, client reviews, and the quality of our law firm, you can make your own decision on whether you would like the support of our attorneys. We are confident that our criminal defense lawyers are some of the best in the state. If you decide on The Law Place for your representation, don't hesitate to call us today for your free consultation.
We are available 24/7 for your convenience. So, call us anytime for a free case evaluation at (941) 444-4444.