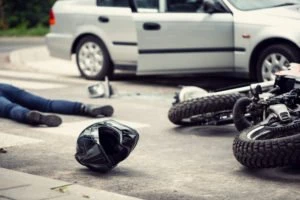 Motorcycle accidents have recently been becoming more and more common in Clearwater, Florida. According to the National Highway Traffic Safety Administration (NHTSA), motorcycle riders are 28 times more likely to be killed in an accident than drivers of any other type of vehicle.
If you or a loved one has been seriously injured in a motorcycle accident in Clearwater, St Petersburg, or elsewhere in Florida, then you should be entitled to compensation. Here at The Law Place, our Clearwater motorcycle accident lawyers have over 75 years of combined experience in dealing with Florida law, and so will be fully prepared and suited to dealing with your case. We will fight to ensure that we get you the maximum amount of compensation available to help you rebuild your life.
So call The Law Place today at (941) 444-4444 to schedule a free consultation with an esteemed accident lawyer.
The Severity of Motorcycle Accidents
Motorcycle accidents have such a higher likelihood of death and severe injuries sustained compared to other motor vehicle accidents likely because motorcyclists have much less protection than drivers and passengers who are inside of a vehicle. This is why it's so crucial that all drivers and motorcyclists do everything possible to respect one another and be cautious and considerate when driving. If they don't, it could lead to a lethal accident.
Because of their small size, motorcycles are often not seen by other drivers on the road, particularly bus and truck drivers, as they are so much bigger in comparison. Dangerous road conditions also affect motorcyclists much more than drivers of other vehicles, which can make motorcycle accidents all the more dangerous.
Common Causes of Motorcycle Accidents in Clearwater, FL
There are many reasons as to why motorcycle crashes happen in Clearwater. The majority of all motorcycle crashes are preventable and wouldn't have happened if drivers had been more cautious and followed the rules of the road more closely, but some are not. Either way, accidents can result in severe injury and sometimes even death, and so it is important to be aware and avoid dangerous drivers as best you can. Below is a list of some of the most common causes of motorcycle crashes.
Negligent or aggressive driving – Drivers who disobey the rules of the road, such as stop signs and red lights, put motorcyclists more at risk. Some drivers may think motorcycles do not belong on the road and so might fail to give you the right of way. This can lead to a motorcycle crash, and often ends worse for the rider. This is why you should always make sure the intersection is clear and be sure that another driver is yielding to you before you turn.
Distracted driving – This is a very common cause of Clearwater motorcycle crashes. Drivers can be distracted by anything, from the use of electronic devices, adjusting the radio, eating and drinking, or even just talking to passengers, but this means that the driver is less likely to notice motorcycles approaching or driving nearby.
Speeding – It is common knowledge that the faster a driver drives, the longer it takes for them to slow down to a full stop. Speeding also means that the impact in an accident will be higher and could leave the rider with more severe injuries.
Driving under the influence – Driving Under the Influence (DUI) automatically makes the roads more dangerous for everyone on them as it impairs the driver's judgment and slows their reaction time. This could mean that the driver may not notice a motorcyclist in time, or even lead to the driver losing control and swerving into one.
Tailgating – Drivers can cause a serious motorcycle accident if they are driving too close behind. This is because, by driving so close, they are not allowing enough space to stop or react to a situation or obstruction in the road. If a motorcycle is hit from behind, it could lead to serious injuries for the rider. If a driver is tailgating you, it may be a good idea to pull over and let them pass you.
Blind spots – Motorcycle accidents are often caused by blind spots as drivers can easily fail to see motorcycles because of how much smaller they are to other vehicles on the road. Drivers need to be aware of motorcycles on the road. They may turn into your motorcycle or cut you off, causing an accident where injuries occur. Always leave plenty of room between you and another driver to avoid a blind spot situation.
Poor weather conditions – Clearwater sees its fair share of rain, fog, and other poor weather conditions, and these can not only limit visibility, which can make it harder for drivers to notice motorcyclists but also makes roads slippery. A slick road can make it much more difficult for drivers to control and stop their vehicles, causing more accidents. It is important that you slow down when traveling in poor weather conditions and use additional caution to avoid a motorcycle accident.
Unsafe lane changes – It is important for all drivers and riders to be vigilant and aware of all vehicles when changing lanes by checking all mirrors and blind spots. It is also crucial that you use a turn signal to share your intent when changing lanes. When drivers do not do this, they may change lanes into the path of an oncoming motorcycle, and even if the rider was able to swerve out of the way of the oncoming car, they might end up swerving into another vehicle by accident.
Making left- hand turns – The National Highway Traffic Safety Administration (NHTSA) has stated that a third of all multi-vehicle motorcycle crashes happen when a driver is making a left-hand turn and accidentally drives into the path or the motorcycle. This is because motorcycles are less visible than other vehicles, as many drivers later claim that they didn't see the motorcycle when they committed to making the left-hand turn.
Regardless of the cause of the motorcycle accident, whether it was one of the reasons listed above or another one entirely, the damage and injury caused to you from the crash could be critical and extreme. The driver themselves may not be at complete fault, but you still may be entitled to financial compensation, especially if the injuries sustained were in an accident that was out of your control and has reduced your quality of life.
If you or a loved one has been involved in a pedestrian accident in Clearwater, don't hesitate to seek the help of an experienced Clearwater pedestrian accident lawyer. Our skilled legal team is dedicated to protecting your rights and ensuring you receive the compensation you deserve. Contact us today to schedule a consultation and let us fight for your justice.
Common Injuries Caused by Motorcycle Accidents in Clearwater, FL
Just like in any other motor vehicle accident, a motorcycle accident can lead to severe and deeply impactful injuries. In fact, the severity of said injuries is often increased, as the rider involved has very little protection compared to the drivers and passengers of other vehicles, even if they are wearing all possible safety equipment. A few of the most common injuries that a motorcycle accident can cause are listed below:
Internal injuries and internal bleeding.
Permanent disfigurement, amputations, and scarring.
Cuts, bruises, lacerations, road rash, and burns.
Broken bones and fractures.
Whiplash and other neck injuries.
Traumatic brain and head injuries (this is the leading cause of death of the rider in motorcycle accidents).
Spinal cord and back injuries.
A motorcycle crash could also lead to mental trauma, emotional distress, financial problems, and property damage.
If you or a loved one have been injured in a Clearwater motorcycle accident, including but not exclusive to any of the injuries listed above, then you should get in touch with The Law Place for a free consultation with an experienced personal injury lawyer. Regardless of how small or life-changing the injuries you sustained may be, you may still deserve compensation. All of our accident attorneys have a vast amount of experience in dealing with motorcycle accidents in Clearwater, and so we will be able to help determine the exact amount of compensation you deserve and then fight for your justice. So, call us now to book a free case evaluation with a Clearwater motorcycle accident lawyer that you can trust.
Damages Awarded After a Motorcycle Accident in Clearwater, FL
Victims of a motorcycle accident often not only then have to deal with the injuries and trauma caused, but also an immense amount of financial losses. This can be because of medical bills, property damages, loss of wages, and more. Once a lawyer has established the negligent party, they can then help you by assessing the number of losses you may have experienced, and now deserve compensation for, to ensure that you receive the maximum amount of compensation possible. Listed below are the types of damages that The Law Place often recovers compensation for:
Medical bills – If any injuries sustained in the accident were serious enough that you had to pay medical expenses, then you deserve compensation to cover those bills. This includes future medical costs, as well as travel to and from appointments and other related costs.
Property damage – If your motorcycle, or another vehicle, was damaged or totaled in the accident, then you deserve to be reimbursed for the cost of repairing or replacing the vehicle in Clearwater.
Lost wages – If the injuries caused by the accident left you unable to attend work and you lost wages because of this, then those wages should be covered by compensation.
Permanent disfigurement or disability – If the motorcycle accident, unfortunately, left you with permanent disfigurements and/or a disability, then you undoubtedly deserve compensation.
Pain and suffering – If you have been left with emotional distress or can no longer take part in activities and hobbies that you used to enjoy, then you may be entitled to compensation.
Wrongful death – If a loved one was lost in the accident, then you could receive money to cover the funeral costs and loss of consortium.
The losses caused by a motorcycle accident may be severe and life-changing. If this is the case, then our Clearwater motorcycle accident lawyers will be able to guide and support you through the legal process as they represent your case as well as possible. Contact The Law Place, based in Florida, to speak to a personal injury lawyer and for a free case evaluation.
Why Should You Contact a Clearwater Motorcycle Accident Lawyer?
If you have been involved in a motorcycle crash, then you will want to act quickly. Florida Statue 95.11 states that you only have four years after the date of your motorcycle accident to file your injury lawsuit. Waiting to file your lawsuit could result in the dismissal of your case, meaning that you have no opportunity to receive a settlement, regardless of how severe your injuries that you sustained are.
A personal injury attorney will also be able to determine if you need to file a lawsuit or settle out of court and will be able to negotiate with an insurance company for you to make sure that you are not taken advantage of.
Not only this but if you have been injured in a motorcycle accident, then you need to be focusing on healing and recovering from the traumatic experience. This is why you should call The Law Place today, as one of our personal injury lawyers will be able to do all the complicated legal work for you and you can then relax, knowing that it is in safe hands.
However, it is crucial that you contact our law firm as soon as possible, as you will want to give your motorcycle accident lawyer enough time to develop a strong case that will be able to fight the negligent driver at fault on your behalf. It will also help you receive your settlement quicker and easier, meaning that you will be able to put the traumatic event behind you sooner.
The Law Place
If you or a loved one has been injured in a motorcycle crash, then you may deserve compensation. Our law firm understands the devastating effects that a motorcycle accident can have and are here to help you get your life back on track.
By calling The Law Place today, you are ensuring that you get advice and guidance from an experienced and esteemed Clearwater motorcycle accident lawyer. So, what are you waiting for? Contact us today to schedule a free consultation. You deserve justice and financial compensation from the accident, and we are here to give you the best chance of receiving it.
Call us now on (941) 444-4444.