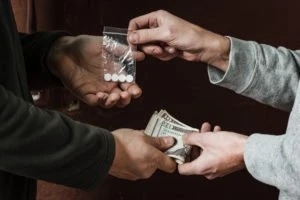 In Bradenton, as in the State of Florida, the sale, purchase, delivery, distribution, or possession of drugs or controlled substances is highly illegal. As noted in Florida Statute 893.13, if you are accused or charged with committing a drug crime, you will face serious penalties and punishments. The extent of penalties and punishments will depend on the type and amount of controlled substance you are caught in possession of but will likely include a large fine, criminal record, and potentially even time behind bars.
If you or a loved one has been accused or charged with the delivery of illegal drugs or possession with intent to sell them, then our law firm is here to help. Here at The Law Place, we have a team of highly skilled criminal defense lawyers who have an abundance of experience in handling drug-related cases and defending the accused. Contact our offices in Bradenton and receive a free case evaluation from a defense lawyer today. Our phone lines are open around the clock, so you can call us at any time of day. Rest assured, an experienced criminal defense attorney will be on hand to offer valuable legal advice and information. Call us today at (941) 444-4444.
What Are the Florida Statutes Relating to the Delivery of Controlled Substances?
As noted in Florida Statute 893.13, if you are convicted for the delivery of illegal drugs, or possession with intent to sell, then it is likely that you will face a felony charge. Whether you are charged with a first-degree, second-degree, or third-degree felony will depend on the type of drug you are caught in possession of, as well as the amount.
A first-degree felony charge is the worst possible conviction you can receive. If you are charged with a first-degree felony, then you may face punishments of up to 30 years in jail as well as a $10,000 fine.
Should you find yourself facing criminal charges for a drug crime, then it is strongly recommended that you seek legal representation from a reputable criminal defense attorney. At The Law Place, we have a team of defense attorneys that are highly skilled in defending the accused. A criminal defense lawyer will work to build a strong defense strategy that can stand up in court and ensure you receive the best outcome possible.
Different Drug Crimes in Bradenton, FL.
There are many different drug crimes that occur in Bradenton and the State of Florida. As a result, drug crimes fall into a number of different categories, including:
Possession of controlled substances – Convictions for this crime will depend on how dangerous the drug involved is and the amount that the accused is caught in possession of.
Manufacturing of drug paraphernalia – If materials used to manufacture drugs are found in your possession, then you will be charged with the manufacturing of drug paraphernalia.
Trafficking of controlled substances – Trafficking of illegal drugs refers to the sale of or intent to sell, purchase, manufacture, deliver, possess, or transport drugs within the State of Florida.
Distribution or selling of illegal drugs – This relates to the sale or delivery of controlled substances or the intent to sell or deliver them.
Prescription fraud – This is a crime committed when an individual uses fake prescriptions with the intent to obtain prescription medication.
What Is Considered to Be the 'Sale' or 'Delivery' of an Illegal Drug?
According to Florida law, to 'sell' means to deliver or transfer something to someone in exchange for money or something that is of value. 'Delivery' can be defined as the actual constructed transfer or attempt to transfer an illegal substance to another person.
In order to convict a person for the delivery of illegal drugs or controlled substances, it is necessary for the prosecutor to convince the jury beyond a reasonable doubt that:
The defendant sold or delivered an illegal drug or controlled substance.
You were aware that the substance you were selling or delivering was illegal.
The substance that was sold or delivered was a specific illegal substance in line with Florida Statute 893.13.
Schedules of Controlled Substances
In Florida, controlled substances are regulated and organized into five different categories, more commonly known as schedules. They are categorized according to whether they have any medical use, the potential for being abused, and how dangerous the controlled substance can be. The schedules can be broken down into the following:
Schedule I – The drugs in this category are considered to be the most dangerous and have no approved medical use. These include substances such as meth, crack, heroin, and LSD.
Schedule II – The drugs in Schedule Two carry some medical uses but also still have a high risk of addiction. Schedule Two drugs include oxycodone (OxyContin), fentanyl, Adderall, methamphetamine, cocaine, methadone, morphine, and Ritalin.
Schedule III – The drugs that fall into this schedule include ketamine, steroids, or products that contain less than 90 milligrams of codeine per dosage unit.
Schedule IV – Schedule Four drugs include Soma, Talwin, Ambien, Darvon, Xanax, Darvocet, Valium, Ativan, Tramadol.
Schedule V – The drugs in Schedule Five are generally considered to carry the least risk of abuse and addiction. Cough syrups with less than 200 milligrams of codeine or per 100 milliliters, Motofen, Lyrica, Lomotil, and Parepectolin all fall into this category.
Here at The Law Place, no matter the illegal drug that you may be accused of delivering, our criminal defense lawyers are here to help when you need us most. Call our Bradenton, FL., offices today to arrange a free consultation with one of our highly skilled defense lawyers.
Possible Penalties for the Delivery of Illegal Drugs With Intent in Bradenton, FL.
As noted previously, the type of felony charge that you may face for delivering illegal drugs in Florida will depend on the amount and type of substance that was found to be in your possession at the time of the arrest. More often than not, it is likely that you will be charged with a second-degree felony charge. Punishments for a second-degree felony may include up to $10,000 payable in fines and a 15-year prison sentence. However, there are some exceptions, including:
The sale of certain Schedule I, II, III, and IV drugs, including amphetamines and hallucinogens, may result in a third-degree felony charge.
The delivery or sale of a Schedule I drug over 10 grams or more, excluding marijuana, will likely result in a first-degree felony charge.
The delivery or sale of any Schedule V drug is classed as a much less serious drug crime and is therefore charged as a first-degree misdemeanor. Penalties for a first-degree misdemeanor may include a mandatory minimum of one year in jail as well as a fine of $1,000.
Possible Defences Against the Delivery of Illegal Drugs With Intent in Bradenton, FL.
An adept criminal defense attorney may be able to construct a defense strategy that can be used to contest the charges being brought against you. The type of defense strategies that your criminal defense lawyer may put forward will depend on the circumstances surrounding your case. Possible defense strategies that may be used for drug-crimes include:
Disputing the legality of the search and seizure – In Florida, law enforcement officers must show reasonable authorization to stop and search you and are required to adhere to specific procedures when doing so. If any of these protocols were not followed correctly, then the evidence collected could be deemed invalid and may even result in your case being dismissed entirely.
Challenging constructive possession – A skilled defense lawyer may be able to argue that you had no knowledge of the presence of the drugs and, therefore, no intent to sell or deliver them.
Challenging the intent to sell – A lawyer may be able to argue that the drugs found were for your personal use and that you had no intention to sell or deliver them. Although this defense strategy admits to the crime of possession of illegal drugs, the penalties are likely to be much less severe.
Entrapment – If police officers or law enforcement engaged in tactics of deliberate entrapment and illegally pushed the defendant to commit the crime, it could be argued that without their input, the crime would not have taken place.
If a strong defense strategy is built and successfully used in court, then we may be able to reduce some or all of the penalties and punishments that you are facing. Contact us today to speak with a knowledgeable criminal defense lawyer and get started with your case.
Bradenton Delivery of Illegal Drugs with Intent to Sell Lawyer – FAQ
What is considered drug trafficking in Bradenton?
Drug trafficking generally involves the illegal sale, transportation, and distribution of controlled substances. In Bradenton, if you are caught with a quantity of drugs that exceeds the threshold for personal use, it could escalate to drug trafficking charges.
How does a drug possession charge differ from drug trafficking?
Drug possession charges typically refer to having control over a drug, whereas trafficking implies a larger scale of possession, often with intent to distribute. The controlled substance involved and the amount can affect the severity of the charge.
What is a mandatory minimum sentence for drug trafficking in Manatee County?
Mandatory minimum sentences are set by law for certain drug offenses. This means if convicted, the court must impose at least the minimum prison sentence, which varies depending on the particular substance and quantity involved.
Can drug crime attorneys help if I'm charged with a drug offense?
Yes, a drug crime attorney can help by reviewing the evidence against you, conducting a pre-trial investigation, and developing a defense strategy to challenge the drug charges, with the aim to have the charges reduced or dismissed.
Is it possible to defend against drug trafficking charges in Hillsborough County?
Defending against drug trafficking charges may involve questioning the evidence of actual possession or intent to sell. A practicing attorney can argue for reasonable doubt, especially if there is a lack of direct evidence linking you to the drugs involved.
What are the penalties for drug crimes involving prescription drugs?
Penalties for drug crimes involving prescription drugs can be severe, especially if they concern trafficking or distribution without a valid prescription. This could lead to felony charges, affecting your criminal history and possibly your professional license.
How can federal law impact my drug charge in Sarasota County?
If your drug charge violates federal law, such as when drugs cross state lines or involve anabolic steroids, you could face federal drug charges, which often carry harsher penalties and mandatory minimum sentences.
What legal defenses are there for a drug possession charge?
Legal defenses for a drug possession charge may include proving the drugs were not yours (lack of actual possession), you had a valid prescription, or that the controlled substances were planted. A skilled drug crime lawyer can help raise these defenses.
How can my criminal history affect my drug case in Bradenton?
A previous criminal history, especially involving drug offenses or related crimes like sex crime, can lead to harsher penalties under Florida law, as repeat offenders may be subject to increased sentences or the harshest penalties.
What are my options if I'm a first-time offender charged with simple possession of street drugs?
First-time offenders charged with simple possession may be eligible for diversion programs, which could result in having the drug charges dismissed upon successful completion. Discuss this possibility with your attorney to understand if you qualify.
Can community service be an alternative to prison for drug charges?
Yes, in some cases, community service may be part of the sentence for drug charges, particularly for lesser offenses or when the defendant has a clean driving record or no prior criminal history. This can be negotiated by your drug crime lawyer as part of a plea deal.
Will a drug crime attorney from The Law Place help me if I'm from outside Manatee or Sarasota County?
The Law Place serves clients throughout Florida, so regardless of whether you're from Manatee, Sarasota, or Hillsborough County, their attorneys can assist you with your drug charge.
Contact The Law Place in Bradenton, FL., Today
If you or someone you know has been caught in possession with intent to sell or deliver illegal drugs, then it is strongly advised that you seek representation from an experienced criminal defense attorney. At The Law Place, we have a team of adept criminal defense lawyers with over 75 years of collective experience in defending the accused.
At our law firm, we fully understand how daunting and worrying facing criminal charges can be, which is why we pride ourselves on developing trusting attorney-client relationships built on honesty and transparency. Many of our lawyers are AVVO rated 10.0, which is the highest possible rating, so you can rest assured that your case will be in safe and knowledgeable hands. AVVO ratings are based on several factors, including trial skills, length of practice, number of awards, as well as client reviews and testimonials.
Contact us today and schedule a free consultation with a highly skilled attorney. We offer all our customers a free consultation where we will assess your case and offer some comprehensive and valuable legal advice on the next best steps to take, and all at no-obligation. Our Bradenton offices are open 24 hours a day, 7 days a week, so you can call us at a time that suits you. Contact us today at (941) 444-4444.