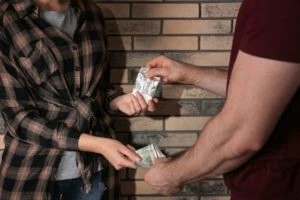 If you have been arrested for the possession of an illegal drug, you will need the support of an experienced and high-quality attorney to prevent it from negatively impacting your future. Florida has very strict drug laws and takes any involvement in drug trafficking very seriously in order to maintain its no-tolerance attitude towards illegal drugs. Purchasing 10 grams of an illegal substance is breaking Florida laws and can lead to a long jail sentence.
In the immediate aftermath of being arrested for a drug charge, it's vital you find a reliable attorney to have the best representation and to take on your case. A highly experienced lawyer will give you the best chance to have a less serious outcome and potentially lower jail time.
Being arrested and involved in a drug case can be a highly anxious time so chose one of our reliable lawyers to put your mind at ease. Our lawyers at The Law Place have over 75 years of combined experience in a variety of cases, so you know your case is in safe hands. Contact us today at (941) 444-4444 to schedule a free consultation. Our phone lines are open 24 hours a day, 7 days a week, so you can contact us as soon as you need us. 
How Strict Are Florida's Controlled Substance Laws?
Deaths in relation to controlled substances have increased drastically over the last few years, so Florida's drug laws have tightened as a result. There are many laws for drug possession, drug trafficking, production of drugs, and possession of drug paraphernalia. The penalties for drug-related crimes have also become more severe in Florida.
If you have committed or been involved in any of the crimes above in St. Petersburg, you may serve a long prison sentence if you don't have a reliable defense lawyer working on your case. By choosing The Law Place, you can have confidence in a professional and reliable attorney-client relationship that will benefit your case.
Florida Laws in Relation to the Possession of a Controlled Substance
In accordance with Florida Statute 893.13, it is illegal to
Sell illegal controlled substances.

Manufacture or distribute illegal controlled substances.

Possess illegal substances with the intention to sell or deliver them.
The laws around illegal drugs in Florida have become more strict in recent years to try and battle the drug addiction problem within the United States. If you are found with drugs in your possession, as a result of purchasing them or with the intention to sell or distribute them, then you could face drug charges. Being found in possession of drugs over 10 grams could see you face jail time for a drug trafficking offense. These carry greater sentences than possession of drugs under 10 grams as you could be linked to drug trafficking. This sentence can be increased if a person is found to have drug paraphernalia on them as well. This includes needles, small bags, and scales.
If you have been arrested whilst in possession of a controlled substance over 10 grams, contact a reliable attorney at The Law Place as soon as possible. Our experienced lawyers can discuss your case during a free consultation and offer you legal advice in relation to your charges and any defense you may be able to claim.
The Five Drug Schedules
Florida has five drug schedules in relation to the potential abuse, harm, and addiction associated with the controlled substance. Each drug is categorized into a schedule, with 1 being the most severe and 5 being the least. However, regardless of the schedule the drug falls into, the State of Florida takes any drug crime very seriously, so we recommend you seek legal advice as soon as possible. For further details on the five drug schedules, read Florida Statute 893.03.
Schedule 1
The following drugs are ranked as the most dangerous for their potential abuse, addiction, and harm. None of these drugs are legally allowed to be used within the State of Florida, including for medical purposes. Being found in possession or drug trafficking any of these drugs can result in lengthy jail time.
MDMA.

Marijuana.

Heroin.

DMT.

MDA.

LSD.

Crack cocaine.
Schedule 2
The drugs included within Schedule 2 have a high potential for addiction. However, some are used legally for medical purposes, although this is still tightly controlled. These drugs can have serious physical, mental, and psychological impacts if they are used irresponsibly. If you are found in possession of these drugs for any reason other than being prescribed them by a physician, it could result in serious legal consequences.
Cocaine.

Morphine.

Codeine.

Fentanyl.

Methadone.

Methamphetamine.

Oxycodone.
Schedule 3
The following drugs are used for medical reasons that are less restricted than those in Schedule 2. They have a moderate to high-risk level for abuse, addiction, and harm with the potential for negative side effects.
Ketamine.

Anabolic steroids.
Schedule 4
The drugs included in Schedule 4 have a low chance for addiction and abuse compared to those included in the schedules above. They are common prescription drugs that are subscribed by physicians to patients dealing with sleep problems or mental health issues. Therefore, being in possession of these drugs is not illegal if you have a prescription from a doctor.
Zopiclone.

Alprazolam.

Tramadol.

Loprazolam.

Xanax.
Schedule 5
These drugs are commonly used in medical practice with a very low chance of addiction and harm. Purchasing these drugs is not illegal and can be bought from licensed and registered pharmacists.
Pregabalin.

Cough medicine with less than 200mg of codeine per 100ml.
Penalties for the Possession of Controlled Substances in Florida
These are the common penalties in relation to crimes involving controlled substances in the State of Florida.
First-degree felony –

If you are found in possession of a Schedule 1 drug up to 10 grams, you could receive a fine of up to $10,000 or up to 30 years in prison.

Third-degree felony –

If you are found in possession of any of the other schedule drugs up to 10 grams, without a prescription from a physician, you could receive a fine of up to $5,000 or a 5-year prison sentence.

First-degree misdemeanor –

For the possession of 20 grams of marijuana, you could receive a fine of up to $1,000 or a 1-year prison sentence.
The penalty you receive for the simple possession of a controlled substance can also depend upon if you were caught selling drugs to a minor, if any weapons were used during this time and if you have any previous drug charges. Even where you were seen purchasing drugs can have an impact on the penalty you receive. For example, if you're seen selling drugs near a school or a playground, then the consequences could be worse.
Florida Statute 775.083 contains more information regarding felonies and misdemeanors.
Mandatory Minimum Sentences
Florida has mandatory minimum sentences attached to drug-related charges, meaning those who are found guilty have a minimum amount of years they must serve in prison. The minimum mandatory sentence cannot be downgraded by the court or through good behavior in prison. The years can range from 3 to 25 years. This type of sentence is usually related to crimes involving a high volume of drugs, such as drug trafficking. It is important you have a strong defense attorney on your case, as the only way to reduce these mandatory sentencing years is to get your case reduced to a lesser charge.
Other Drug Crimes in Florida
There are further offenses that aren't related to the purchasing of drugs that you could be charged with that also don't require you to have the controlled substance actually on your person. For example, you can be charged with constructive possession, selling, and manufacturing drugs. Most of these types of charges are generally known as drug paraphernalia offenses, which is a broad term to cover the use of instruments to plant, cultivate, transport, conceal, manufacture, store and produce any controlled substance. The consequences will depend upon the types of drug you are charged in relation to.
Defenses Against Drug Charges
The laws relating to controlled substances in Florida are strict, but there are some defenses that can be claimed. With the right evidence and a confident criminal defense attorney, a strong defense can lead to a smaller fine, lesser sentence, or even see your case dismissed entirely. Your attorney will base the possible defenses around your specific case and the details that led up to your arrest, but the following are some of the most common defenses.
You don't own the controlled substance that you were found with.

The arresting officers could have identified the controlled substance wrong.

The arresting officers performed a deliberate entrapment.

The evidence against you could have been found in a manner that doesn't aline with the law and could be dismissed.

The arresting officers acted without a search warrant.

You may have been incorrectly identified as the person with the controlled substance in a group of people.

The substance was incorrectly weighed, and a lower weight could result in a lower sentence or fine.
These situations will be dependent upon your case. If you would like a lawyer from The Law Place to look into your case, contact one of our lawyers today. One of our attorneys may be able to apply one of the above defenses to your case and lessens the consequences for you.
How a Defense Lawyer Can Help Your Case
To best support your case, you should contact a law firm immediately after your arrest so they can start working on your case and offer you advice. The sooner you contact a lawyer, the better, as, over time, your memory and any valid evidence will degrade. Any discrepancies in your case can be used against you in court, so it's important to be consistent, and a reliable lawyer can offer you this. A skilled defense attorney will have a range of ways to support your case in court in relation to the specific details of your case.
You should find a law firm offering a free first consultation so you can find the right lawyer for you, as a strong attorney-client relationship is important to support your case. You should feel confident that your lawyer is working hard on your case, with your needs at the center of their case plan.
Questioning the Authorities
It can seem intimidating, but if you believe the arresting officers and court are using incorrect information or invalid evidence, you can defend against this in court. The imprisonment and fine you are facing could be decreased if your lawyer can prove the arresting officers at the time weren't acting within the law.
You can question the reasons for your stop, search, and seizure that led to your arrest for a drug offense. In St. Petersburg, Florida, it is within your fourth amendment right for a police officer to only act if they have a suspicion that you are committing or are about to commit a crime. Without probable cause at the time of the arrest, your case could be overturned.
In addition, your lawyer can investigate any aggressive or intimidating behavior displayed by the officers during and after your arrest, as this can drastically impact your case.
Contact The Law Place in Florida
The controlled substances laws and penalties in Florida are strict, so it can be intimidating to navigate a drug case. This is why it's important you have a trustworthy attorney working on your case. If you have been involved in any of the drug crimes described, then contact The Law Place today to schedule a free consultation to discuss your case. We can help you find the correct defense that works for your case and may be able to reduce your minimum mandatory sentence.
Our attorneys are highly skilled in a variety of legal matters, including criminal defenses of controlled substance crimes. As a law firm, we work tirelessly to provide high-quality legal advice and defend our client's rights. Whatever drug charges or penalties you are facing, you can trust our experienced lawyers to act in your best interests. Contact The Law Place today on (941) 444-4444.