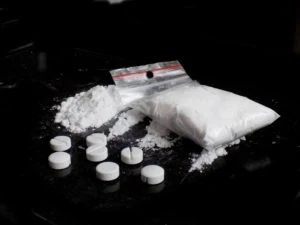 In Fort Myers, Florida, heavy penalties exist for drug crimes. Florida's proximity to cross-border drug trade from Mexico is said to be responsible for a large amount of drug crime in the State of Florida. You could face penalties for any drug-related crime such as drug possession, selling, intent to sell, and drug trafficking in Florida.
When you are caught selling a substance in place of a controlled substance, this refers to a situation in which you have told someone that you are selling them a controlled substance, such as Cocaine, but you are really selling the buyer a legal substance, like sugar. Although you are selling a product that is not actually illegal, the State of Florida still recognizes this as a crime. Drug crimes can have devasting effects on the perpetrator's life, so having a strong criminal defense team can help relieve the consequences.
Possession or intent to sell a substance in place of a controlled substance should not be taken lightly. You will need a criminal defense lawyer who is well versed in Florida's statutes. If you or someone you know has been involved in a Fort Myers drug crime, contact The Law Place and schedule a free consultation with a criminal defense attorney today. Phone lines are open 24/7.
Controlled Substance Law, Fort Myers, FL.
Florida Statute 817.563 states you have the potential to be charged, face fines, and potentially even years in prison if you are caught selling a substance in place of a controlled substance in Fort Myers. This might seem unfair if the drugs you were selling were not actually illegal. However, despite this, you could still be charged with a second-degree misdemeanor or a third-degree felony. The specific charge will depend on the schedule of the drugs you were in possession of.
What Are Drug Schedules?
Schedules in Florida relate to how dangerous said drug is to the user and the level of addiction it may cause, according to the state. Schedules were created to categorize controlled substances based on their harmfulness to users. Therefore, punishments for drug crimes are based on the category of the drug involved in the crime. Schedule I drugs are much more harmful than Schedule V, and therefore carry heavier penalties if you are caught in possession of or selling these drugs.
Schedule I
Controlled substances in Schedule One are the most harmful and addictive and can impact a user's life negatively. The drugs in this schedule have no medical use or benefit to a person, and therefore, if you are caught in possession of or selling controlled substances in this schedule, you could face the maximum penalties. This may include narcotics such as Heroin, Meth, and LSD.
Schedule II
Controlled substances in this schedule are a little less addictive and harmful than those in Schedule One. However, they are still dangerous when abused. These substances are occasionally used for medical purposes, such as pain relief. This may include drugs such as Morphine, Methamphetamine, and Oxycontin.
Schedule III
Schedule Three substances are often used for medical purposes and have less potential for abuse and harm to the user than controlled substances in higher schedules. In this category of drugs are Ketamine, Codeine, and Anabolic Steroids.
Schedule IV
Controlled substances in this schedule do not pose serious harm or risk of addiction to the user. Drugs in this schedule are commonly used by doctors as prescription drugs and include Xanax, Ambien, and Valium. However, when mixed with other substances, these drugs can be abused and pose a danger to the user.
Schedule V
Schedule V substances are still illegal to buy and sell without prescription but do not pose much risk of harm or addiction to the user. Common substances in this schedule include Lomotil and Lyrica.
What Are Penalties for Sale of a Substance in Place of a Controlled Substance, Fort Myers, FL?
Penalties are not only based on the type of drug you are caught in possession of but the amount of said drug you that you have on your person.
Felonies result in more severe penalties than misdemeanors. If you end up being charged with a felony, it is likely that you possessed a large amount of a substance from Schedule I or Schedule II, therefore making your crime more severe.
If you are found to be selling a substance in place of a controlled substance, then you could face the following repercussions:
If you are caught in possession of or trying to sell a substance in place of a controlled substance from Schedule I, II, III, IV, depending on the amount in question, you could face a third-degree felony which could see you with a maximum of 5 years in prison, and a fine of up to $5,000.
If you are caught in possession or trying to sell a substance from Schedule V, then this means you could be looking at a second-degree misdemeanor charge, which results in less severe consequences such as spending up to 60 days in jail, carry out up to six months in home confinement, and pay a fine of up to $500.
Other factors could affect your drug charges, potentially making them more severe. These are:
If you were caught selling or trying to sell a drug to a minor or in a public place near a school or a park where children are present, this would increase your charges.
If you are a repeat offender and already have a criminal record, this will also result in more severe penalties.
If you intended to use or were in possession of a gun at the time of the drug transaction.
Whatever drug crime you have found yourself involved in, if you are located in Fort Myers, FL. A criminal defense attorney from The Law Place is the best chance you have of reducing the severity of your charges. With experience in multiple practice areas of criminal defense, including drug charges, they can assist you and help you with the best defense strategies to take.
Selling a Controlled Substance vs. Selling a Substance
Although you will not face as heavy a charge if you are caught selling a drug that isn't controlled compared to if you were selling a drug that was controlled, it is easy to think you cannot be convicted. It is important to stress that you can still be convicted.
Florida Statute 817.563 states clearly that any substances named in Florida Statute 893.03; or any substance in replacement of, is unlawful to sell to another person.
It is also worth mentioning that even if you are not caught in the act of selling a controlled substance, but there is enough evidence to prove that no doubt that you were planning to make a sale, you can still be convicted.
You can also be charged for drug crimes even after the transaction has already occurred. Maybe law enforcement did not catch you in the act, but it could be that an eyewitness has identified you or that you were caught on CCTV. It could also be that an undercover cop or informant witnessed the drug deal, and therefore, this can be used against you in court.
How Will a Lawyer Defend You?
If you do find yourself facing drug charges in Fort Myers, FL., then you should seek legal help immediately. If you try to face charges without legal representation, you are more likely to face harsher consequences as a result of not knowing the defense strategies to defend yourself. A drug crime defense attorney will have a better grasp of Florida law and will be able to help you get charges dropped or reduced.
Our criminal defense attorneys at The Law Place can help clients figure out the best defense strategy to take. They can access various mediums to help aid your defense, such as CCTV footage, fingerprints, and witnesses. This could be the difference between facing jail time or getting away with a fine.
A defense lawyer may argue the following:
Make the argument that you did not try to sell an illegal drug. Your attorney could argue 'simple possession' that you simply had said drugs on your person for personal use and not to sell.
Make the argument that there was no monetary exchange involved.
Make the argument that you were not involved in a drug exchange and are innocent of all charges.
Make the argument that there was a lack of evidence, such as witnesses, paraphernalia, etc.
Your lawyer is also able to question the arresting officer's reasoning for arresting or stopping you. It could be proved by your lawyer that the officer in question had no legal reason to search or arrest you. The following questions can be raised:
Did they have a valid reason to pull you over or stop you?
Did they have a valid warrant to search your home or car?
Did the officer follow the correct protocol?
Call The Law Place today if you have found yourself facing drug-related charges, our attorneys can discuss your case in-depth, and we can work out the most suitable strategy for your defense.
Could I Be Charged With Intent to Sell?
If it cannot be proved that you sold a substance, the prosecution could try to charge you with 'possession with intent to sell.' This is a convictable offense as stated in Florida Statute 893.13
To charge you with drug possession with intent to sell, law enforcement will look for the following evidence.
Evidence that you were intending to sell controlled substances, such as baggies, scales, rolling papers, etc.
The presence of a large sum of money on your person or surrounding the area where you were caught.
These are all often used to suggest and prove intent to sell. Although you may not have been 'caught red-handed,' this does not mean you are exempt from facing drug charges. The prosecution will use all evidence available to create a narrative that you had intent to sell, and therefore you will need help to refute this. Criminal defense attorneys can assist you with this.
Contact The Law Place Today!
Do not let drug charges ruin the rest of your life. We all make mistakes, and having a criminal record could affect employment opportunities, housing, and benefit options, as well as a wealth of other things. If you find yourself in Fort Myers, Florida, and require an attorney, our criminal defense lawyers have over 75 years of experience in drug crime defense.
Call The Law Place anytime. Our offices are open 24 hours a day, seven days a week, and with a free consultation, you have nothing to lose!