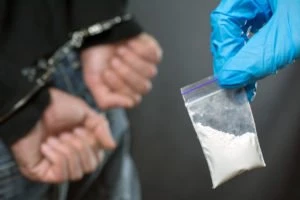 The State of Florida always takes drug crimes extremely seriously. The law is designed in a way that ensures anyone caught breaking it is severely punished. The result of this can be life-changing for both you and your family, possibly leading to a permanent criminal record that will follow you for the rest of your life. Depending on the extent of the charge, drug crimes in Florida can be prosecuted under both state and federal law. Being charged with the delivery of a controlled substance over 10 grams could lead to a sentence of up to 30 years in prison.
Your best chance of having your charges reduced or dropped is by hiring the representation of an experienced criminal defense attorney. At The Law Place, our team has over 75 years of experience in representing clients facing drug charges just like yours. We are committed to every case we work on, utilizing our individual knowledge of criminal law in order to build a strong defense for each case. For us, attorney-client relationships are the most important part of our work, so we seek to ensure that every client receives confidential, impartial advice from the first consultation.
Do not face this alone. Contact The Law Place to schedule a free consultation and find out exactly what steps to take next. We understand that you may feel hopeless in the face of the criminal legal system. However, it is vital that you hire the help of an experienced attorney so that you have the best chance of success. Our lines are open 24 hours a day, 7 days a week so call us today to schedule a free case evaluation at (941) 444-4444.
What Are the Types of Drug Crimes in Fort Myers, FL?
There are numerous types of drug crimes that you can be charged for in Florida. These can all be classified as either a felony or misdemeanor charge, depending on the details of your case, the judge presiding over the case, and the quality of your criminal defense attorney.
Before deciding on your representation, take advantage of the free consultation service that many law firms offer. This will give you an opportunity to learn the possible consequences of your charges, as well as ways to fight them. The following is a list of common drug crimes that happen in Fort Myers, FL.:
Sale of an illegal drug.
Possession of an illegal drug.
Drug trafficking.
Possession of an illegal drug with intent to cultivate, supply, or manufacture.
If you are facing charges for delivery of a controlled substance over 10 grams, then it is important that you seek a lawyer who can assess the circumstances under which the crime took place. There are many factors that can affect the outcome of your case, such as the proximity to a school or the amount that was found in your possession. There are circumstances that may increase the penalties you face.
Furthermore, the outcome of your case can be affected by the evidence that is used against you. High-quality evidence is more likely to increase your sentence, which is why your defense attorney will work to find flaws in its reliability. Plus, experienced representation will be much more adept at getting your charges reduced or dropped altogether, so make sure that you take the time to find the right legal team. At The Law Place, your freedom is our priority.
Florida Statutes
Fort Myers is overseen by both federal and state law. As per Florida Statute 893.13, you may be charged with a first, second, or third-degree felony for the delivery of a controlled substance. Your charge will ultimately depend on the schedule of the drug in question and the quantity you were caught with. The harshest of these charges is a first-degree felony, and this carries a possible penalty of 30 years in prison and a fine of up to $10,000.
Different Schedules Controlled Substance in Florida
So what exactly are drug schedules, and how are they decided? As stated in Florida Statute 893.03, drugs are split into five different schedules that have been created by the government and are based on the drug's potential to cause harm and addiction, as well as their potential to be used medically. There is some debate, however, around where certain drugs should be placed.
Schedule One
Schedule One drugs are regarded as the most addictive and pose the most threat to people. This is why they come with the highest penalties. Some drugs included in this schedule are heroin, meth, crack, and LSD.
Schedule Two
Schedule Two drugs have a high chance of causing addiction and harm, but they have some medical uses. Included in this schedule are morphine and Adderal.
Schedule Three
Schedule Three drugs are less dangerous and pose a lower threat of abuse. Some examples are ketamine and steroids.
Schedule Four
Schedule Four drugs are less likely to cause harm. Xanax and Soma are both examples. A lot of the drugs in this schedule can be used medically but are controlled due to their risk of abuse.
Schedule Five
Schedule Five drugs are the least likely to be addictive and harmful and therefore have the least penalties. Included in this schedule are cough syrup and Lyrica.
Elements Required to Prove Sale, Purchase Manufacture, Delivery, or Possession of Illegal Drugs
In order for you to be charged with delivery of a controlled substance, Florida state law requires there to be evidence that proves there was intent to sell. The prosecution will try to prove some key elements:
You had full knowledge of the nature of the controlled substance.
You were both in possession of the drug and had the intent to sell, manufacture, or deliver it.
The substance is legally regarded as an illegal controlled substance.
Your defense team will work to question the legitimacy of the evidence brought against you. An example of how they may do this is by questioning the presence of money. In order to successfully charge someone with the sale of a drug, there must have been an exchange through which something of value was traded for the controlled substance. Another possible defense is to prove that there is no evidence to show that you had any authority over the substance.
The following is a list of things that the prosecution will need to prove in order to make a successful case against you:
You were in possession of a large amount of cash.
You were in possession of paraphernalia associated with drugs like baggies, scales, or mixing substances.
There are witnesses who will testify in court that you had the intention of selling, manufacturing, or delivering drugs.
The quantity recovered by law enforcement officers was large enough to suggest that you were going to sell or deliver the drug.
Common Defenses Against Drug Possession Charges in Fort Myers, FL.
Even though law enforcement believes the possession of a controlled substance in a quantity over 10 grams indicates that you were going to sell it, this is not always true. Your attorney will work to prove that you had no intention of distributing the drug. The punishments for this charge can be harsh, but an experienced criminal defense attorney will be able to express to a court that you were not at fault, and in a best-case scenario, your charges may be dropped altogether.
Each drug crime case is unique because each happens under a very specific set of circumstances. At The Law Place, we will take the time to get to know every detail of your case so that we can begin to build the strongest possible defense.
Here are some common defenses that we would use to fight a drug charge, whether it is for trafficking, possession, or sale:
The law enforcement used entrapment to collect evidence and make the arrest, rendering it invalid.
Law enforcement acted illegally whilst collecting the evidence against you.
Law enforcement wrongly identified you.
The controlled substance found did not belong to you.
The drugs were incorrectly weighed, wrongly identified, or miscalculated.
Investigating Your Arrest
At The Law Place, one extremely important step of our process is the investigation. If you are facing delivery of drugs over 10 grams charges, we will make sure that we learn and examine every detail of your case.
During our investigation, we will build a clear picture of the circumstances surrounding your arrest. Furthermore, we will assess the evidence brought against you to better understand its quality and any possible flaws in the prosecution's case.
Another aim of the investigation is to see if the arresting law enforcement officers made any mistakes in following protocol. This can be vital to your case, as any breach in procedure is a violation of your Fourth Amendment rights. If your criminal defense lawyer finds a flaw, they can request a motion that every piece of evidence is suppressed, rendering it inadmissible in a court of law. Plus, any behavior that breached the amendments detailed in the constitution or was unlawful will be presented as a reason to dismiss the case.
In the event that your criminal defense lawyer is successful in suppressing the evidence against you, there is a high chance that the prosecution will be unable to convict you for any crimes. That is why it is so important to hire the right criminal defense attorney and avoid spending any of your life behind bars. Having the experience of a good lawyer can mean the difference between a mandatory minimum penalty and a first-degree felony.
Question to Ask a Criminal Defense Lawyer Before Hiring Them
If you are facing a criminal charge, especially one that involved the trafficking of drugs over 10 grams, being completely honest with your criminal defense attorney is vital. They want to help you to the best of their abilities and need as much information as possible to give you the best chance of having your charges reduced or dropped. Without total honesty, you risk the outcome of your case being much worse than it needs to be, especially if you are facing a first-degree felony charge.
For this reason, finding the right attorney is key. You want to work with someone who you trust and feel like you can talk to. Any good attorney will give you full confidentiality and impartial advice. Before deciding on who you want to represent you, take advantage of the free consultation service that many law firms offer. Use this time to ask as many questions as possible, including:
Do you have experience with cases that were similar to mine?
What are your fees, and do you have a payment plan option?
How successful were the other cases that worked on?
How much experience do you have in working out plea bargains?
Do you have references from your previous clients?
The last question is definitely the most important. Any lawyer who cannot or will not provide client testimonies should not be trusted. It usually indicates their lack of experience or success, and they should be avoided at all costs. A good attorney will be able to make you feel comfortable and confident in your case. That is what you should seek to find.
The Law Place
If you or a loved one is facing charges for delivery of illegal drugs over 10 grams, then you need a lawyer who can properly represent you in court. We understand how stressful life becomes when you are facing criminal drug charges. The effects of a conviction can be life-changing and permanent. In working with us, you will always have someone standing by your side, defending your rights and freedom.
We strive to create strong attorney-client relationships that give our clients a sense of comfort and trust. Every case we work on has the knowledge of an experienced team of defense lawyers on its side. We always work tirelessly to prepare strong defenses created around the details of the case. Our aim is to make sure that the judge and jury fully understand the circumstances under which you were arrested.
Many of our attorneys have an AVVO rating of 10.0, which is based on the trial skills, awards, associations, length of practice, and client reviews. Plus, we have battled in almost every county in the state, including many of the courthouses in Fort Myers. We are confident that we can provide you with the representation you need to get your charges reduced or dropped.
Do not hesitate to contact us any longer! Even if it seems hopeless, remember the help of a professional could turn everything around. We have helped thousands of clients get their life back on track, and we can do the same for you. Our lines are open 24 hours a day, 7 days a week, so call us now at (941) 444-4444 and arrange a free consultation.