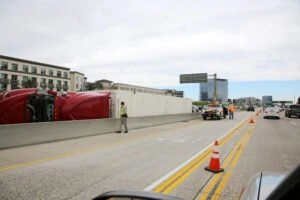 If you or someone you love has suffered injuries in a Largo truck accident, you may be entitled to a great sum of compensation. A truck accident lawyer at The Law Place will work to ensure that you receive a fair settlement that covers all of your medical expenses, lost wages, property damage, and more. We know that Florida truck accidents can have devastating consequences. You don't have to suffer through this alone.
If you decide to hire a Largo truck accident lawyer, you can focus on your rest and recovery while your lawyer does all of the hard work. After suffering such a traumatic experience, you deserve the backing of a reputable personal injury lawyer.
To schedule a free consultation with one of our lawyers, call us now at (941)-444-4444.
Causes of Truck Accidents in Largo
Truck accidents in Florida can occur for a range of reasons. Sometimes, the negligence of a truck driver can cause an accident. Although, the negligence of a trucking company and aggressive road users are equally responsible for causing these truck crashes. Regardless of who the at-fault party is in your case, you can still recover compensation in a personal injury claim.
Some of the most common causes for these truck accidents in Largo have been listed below.
Distracted Driving
Unfortunately, distracted driving is becoming a leading cause of trucking accidents in Largo. Truck accidents caused by distracted driving are incredibly frustrating as they could so easily have been prevented.
There are different kinds of distractions that truck drivers can encounter in their cabs.
Manual distractions refer to something that causes a truck driver to physically remove their hands from the steering wheel.
Visual distractions refer to when the eyes of the truck driver are diverted from watching the road and their surroundings.
Cognitive distractions refer to when a truck driver is caused to take their attention away from driving safely.
Some of the most common distractions faced by truck drivers include cell phone usage, eating, drinking, adjusting GPS controls, daydreaming, and adjusting stereos.
Distracted driving is a major issue that the Federal Motor Carrier Safety Administration (FMCSA) is attempting to combat. They regulate the trucking industry and have implemented penalties that commercial truck drivers can face. For example, for handheld use of their cell phones while driving, they could face monetary fines, suspension of a Commercial Driver's License (CDL), and more.
Driver Fatigue
Another leading cause of truck accidents in Largo is tiredness. A trucking company will likely enforce strict deadlines on their drivers. Sometimes, the pressure that drivers face meeting these deadlines results in them driving while tired. Falling asleep behind the wheel is deadly. Not only does a truck driver put themself in a great deal of danger, but other drivers and pedestrians are also at risk.
To try and prevent these commercial truck accidents, the FMCSA has regulated the number of working hours that drivers are required to complete. For example, a driver can only operate a truck for 11 hours during a 14-hour shift. They are then required to complete a break period of at least 10 hours where they can sleep and rest. The service hours of truck drivers in Florida are recorded on paper trails. If a federal investigator discovers that a driver has breached these limits, they will be penalized.
Alcohol or Drug Impairment
The intoxication of drivers is a further leading cause of truck crashes in Largo. As part of the heavy regulations placed on the trucking industry, regular screening for alcohol and drug use is enforced.
Although preventative measures are in place, drunk driving still occurs. When truck drivers operate their vehicles with their blood alcohol concentration (BAC) impaired above the legal limit, they pose a major risk to themselves and other road users. This is because impairment can impact a driver's ability to operate their vehicle safely. For example, it is common for drunk drivers to struggle to maintain speed or keep to a single lane.
Speeding
Speeding is a leading cause of all traffic accidents in Largo. This offense is responsible for more than a quarter of traffic-related fatalities in Florida. Speeding occurs when a driver either drives a vehicle over the posted speed limit or drives too quickly for the road conditions. The pressure trucking companies place on their drivers to meet deadlines can result in drivers speeding.
Large trucks that are driven above the posted limit are more dangerous than the average motor vehicle. This is because they have larger stopping distances, and their weight can make them difficult to control. It is highly unlikely that a speeding truck driver will be able to bring their vehicle to a complete, safe stop once they perceive a hazard.
Our team of dedicated attorneys fight and win for Floridians.
Common Injuries Suffered in Largo Truck Accidents
Tragically, many truck accidents in Largo are fatal accidents. The large size and weight of these vehicles have the potential to cause catastrophic harm and damage. Victims who are lucky enough to survive will likely have suffered severe injuries.
Some of the most common non-fatal injuries sustained in Largo truck accidents include:
Traumatic brain injuries (TBI).
Spinal cord injuries.
Back injuries.
Head injuries.
Neck injuries.
Internal injuries.
Broken bones and fractures.
Deep cuts and lacerations.
Severe burns.
Should I Hire a Truck Accident Attorney?
You should hire a truck accident attorney if you have been injured in an accident. The average person does not possess the experience and skills required to value a personal injury case, prepare a claim, or negotiate settlements. Although you are within your rights to represent your case and recover compensation alone, we would strongly advise against it. On average, people who attempt to recover compensation alone are far less successful than those who have the backing of reputable truck accident attorneys.
By hiring an attorney, there is less chance that your insurance company will hand you a lowball offer. Insurance companies will try and pay as little compensation as possible to truck accident victims. A truck accident attorney at The Law Place will work to ensure that the insurance company liable in your case pays you the full amount of compensation you deserve.
Furthermore, hiring an attorney will relieve you from unnecessary stress. After suffering a truck accident, you should solely be focused on your rest and recovery. A truck accident attorney will be able to handle all of the paperwork and negotiations on your behalf. You can relax while we fight for your compensation. Florida law is complex, and we can help navigate you through it. Tackling a personal injury claim alone is not an easy task. We are here for you.
We're Florida's top litigation team with over 75 years of combined experience
What Can an Attorney Do for Me?
There are endless ways that a truck accident attorney can help you. Once you hire one of our attorneys, they can do the following:
Examine the Truck Accident Case – An attorney will investigate your case by interviewing witnesses, obtaining police reports, collating evidence, and more. They will also research all of the applicable laws that are relevant to your case.
Represent Your Interests in Negotiations – An attorney can represent you in all dealings with your insurance company. This can include Personal Injury Protection (PIP) claims, property damage claims, and more.
Represent You in Dealings with the Negligent Party – In high-value cases; your attorney will seek compensation from the party to blame for your accident and their insurance company. They may even file a lawsuit if it means that you receive the compensation you deserve.
Represent Your Case in Court – When a lawsuit is filed, an attorney will be required to represent your case and present all the relevant evidence in a courtroom.
Determine the Value of Your Case – An attorney will examine your case to determine exactly how much compensation you deserve. Some damages, such as pain and suffering, are difficult to quantify. It is important that an experienced attorney thoroughly examines your case to ensure that you recover the maximum amount of compensation.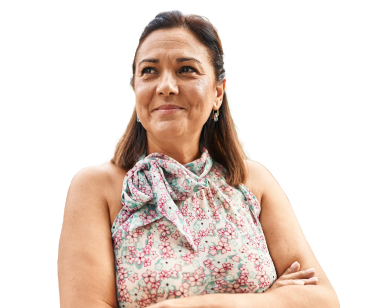 From the initial call to updates on your case status, we are here to get you answers.
Why Commercial Trucks Are Hazardous
In the United States, on average, commercial trucks are 13.5 feet tall, 3.5 feet wide, and 72 feet long. Tractor-trailer trucks that are fully loaded can weigh up to 80,000 pounds. This weight is more than 20 times larger than the weight of an average passenger car.
The sheer size of these vehicles makes them very hazardous. Some of the hazards they present to other Largo road users include:
Dangerous Blind Spots – These large vehicles have blind spots on all four sides. This makes it difficult for a truck driver to see other smaller vehicles driving close to their truck. The most severe blind spot is alongside the passenger side of the truck This space is known as the "no zone."
Larger Stopping Distances – Every vehicle requires a certain distance from when a hazard is perceived and responded to until the vehicle comes to a complete stop. The heavier and larger the vehicle, the greater the distance required. Trucks can have stopping distances that are between 20 and 40 percent greater than those of passenger cars. Trucks, therefore, are more likely to collide with hazards.
Higher Center of Gravity – Trucks have higher centers of gravity which makes them more prone to overturn while going around sharp bends and corners. A rollover truck accident can also occur in Largo if cargo has shifted and become imbalanced.
Higher Ground Clearance – Trucks generally have a sizeable gap between the ground and their undercarriage. In some accident cases, this ground clearance can result in smaller vehicles slipping beneath trucks. Tragically, most accidents of this nature are fatal.
Wide Turns – To turn such a long vehicle, a truck driver will usually have to complete a swing maneuver that involves adjacent road lanes. If a truck driver isn't careful, they can perform reckless maneuvers that endanger drivers in the adjacent lane.
What You Should Do if You Suffer a Truck Accident in Largo, FL
Truck accidents can have catastrophic consequences. If you are ever unfortunate enough to be involved in one, there are a few things you should do to protect your rights, health, finances, and more.
Call 911 and Ensure a Police Report is Filed – In most truck accident cases, the police will be required to attend the scene. This is because they will need to clear the road and manage the situation. The police will also investigate the case and ensure a report is filed. This police report is important evidence that can be used in your personal injury claim.
Seek Medical Treatment Immediately – Your health is important, and you should not take any injury lightly. You should report all of your symptoms to a doctor. The medical records produced are also essential to a personal injury claim.
Gather the Contact Information of Witnesses – This includes their names, contact numbers, and addresses. The testimonies that can be given by witnesses can help your personal injury case massively.
Take Pictures and Videos of the Scene – The more you document the scene, the better. We advise that you take pictures of the vehicles involved, the witnesses, and the injuries sustained by everyone involved. Once you have gathered the evidence, you should back them up. Don't just keep them on your cell phone. These are crucial pieces of evidence that should not be lost.
Don't Discuss Your Case with Everyone – Although you may want to post about your injuries and accident on social media, we would strongly advise against that. It can work against your personal injury case. You should only discuss your injuries with your doctors, the police, your attorney, and a selected few trusted people who you turn to for support.
Don't Sign Anything Before you Have Spoken with an Attorney – Insurance companies may be keen for you to sign and agree to a settlement. However, consulting a reputable attorney should be one of the first things you do. Once you accept a settlement, you will not be able to ask for more, even if the settlement was insufficient to cover your damages.
How to Determine Liability in Your Truck Accident Case
An experienced personal injury attorney at The Law Place can help you discover who is legally responsible for your truck accident case. To do this, your attorney will attempt to prove the following elements of negligence:
The party at fault owed you a duty of care.
The party at fault breached this duty of care.
This breach caused a truck accident that resulted in the death of a loved one and/ or your injuries.
This breach meant that you incurred medical bills and other related expenses.
The Compensation You Can Seek Through Truck Accident Claim
After suffering an injury in a Largo truck accident, you will be eligible to receive compensation by making a personal injury claim. This claim can cover both the financial and psychological costs of your injuries. Florida law only grants injury victims four years to file personal injury lawsuits. This is stated under Florida's statute of limitations.
Some of the compensation you can seek by filing a personal injury claim has been listed below.
Medical Expenses
The most obvious damages that you can claim after suffering an injury in a Largo truck accident are your medical bills. These bills can include emergency treatment, ambulance transport, hospitalization, tests, your doctor's services, prescription medication, rehabilitation costs, prosthetic limbs, the provision of mobility aids, and more.
Your attorney can also help you to claim for future medical treatment costs. Healthcare is expensive, and you should not be left out of pocket because you have suffered an injury that wasn't your fault.
Pain and Suffering
These damages are challenging to quantify. They refer to your psychological suffering and trauma. As there are no physical bills for your suffering, you should hire an attorney to determine how much you could be entitled to. Many truck accident victims are unaware that they can be compensated for their mental suffering. These damages should not be taken lightly, as you may be entitled to a great sum of compensation.
Property Damages
If your car accident involved a truck, you could recover compensation for the damage caused to your vehicle. For example, if you have encountered repair costs, lost the use of your vehicle, or had the value of your vehicle reduced following the accident, you can recover compensation.
Out-of-Pocket Expenses
These are further damages that many truck accident victims may be unaware that they are entitled to. These damages can include the costs of mileage to and from the hospital for treatment, the costs of medication, and more. Our legal team advises that you keep hold of all receipts to ensure that you can be compensated for the full amount of your expenses.
Punitive Damages
In some Largo truck accident cases, victims can be entitled to punitive damages. These damages are intended to punish the party at fault for their negligent involvement in an accident. For example, in truck accident cases caused by a driver driving under the influence (DUI), the driver may be required to pay damages to the victim.
These damages are not commonly awarded and are only available in cases that make it to court. It is worth checking with your Largo truck accident lawyer whether you may be able to recover these damages.
The Value of Your Largo Truck Accident Case
After suffering a traumatic truck accident in Largo, we understand that you may be keen to know the value of your case. First and foremost, however, you should prioritize your health. Once your injuries have been treated, and your condition has stabilized, you can begin work building and understanding your case. The value of your truck accident case will depend on many factors, including:
The severity and permanence of your injuries.
Your total medical bills.
The credibility of the witness statements produced for your truck accident.
The specific facts of your truck accident and whether they are inflammatory facts.
The degree to which you share comparative fault in causing the truck accident.
Many other factors.
An experienced Largo truck accident lawyer can investigate your case to help determine its value. By hiring a lawyer from The Law Place, you will ensure that you are giving yourself the best chance you have of recovering the highest amount of compensation possible.
How to File a Largo Wrongful Death Lawsuit
If you have tragically lost a family member in a Largo truck accident, you may be able to seek compensation for their losses. To do this, you will need to file a wrongful death lawsuit in a civil court. These claims generally highlight who was at fault for causing the truck accident that cost the life of your loved one.
A civil case is separate from any criminal proceedings. Regardless of whether the perpetrator was criminally convicted or not, you may still be entitled to compensation.
These lawsuits can be complex, and that is why we advise that the families of lost loved ones seek professional legal help. No sum of compensation can ever change what has occurred, but it can help relieve you from unnecessary financial burdens during your grieving period.
Some of the damages that can be recovered by wrongful death claimants include:
Lost wages and earnings that the deceased would've likely earned throughout their career.
Funeral expenses.
Medical bills from the treatment of the deceased's final injuries.
Loss of companionship and protection.
Loss of services and support that the deceased would have provided to their family members.
Emotional pain and suffering caused to a family by the loss of a loved one.
Loss of parental support, instruction, companionship, and more.
Florida's statute of limitations, outlined under Florida Statute 95.11, requires a family member to file a claim within two years of when the truck accident occurred.
Truck Accident Cases in Court
Many truck accident victims will not have to attend court to try and achieve compensation. Our attorneys strive to seek compensation in the form of a fair settlement for our clients. We will do all we can to ensure that this settlement offer can be achieved outside of the courtroom.
Unfortunately, not all insurance companies are cooperative. If settlement negotiations with an insurance company fail to progress, one of our personal injury attorneys will file a lawsuit. Although, they will only do so with permission from their client.
Trucking companies and insurance companies can be stubborn. In some cases, lawsuits may be the only way that an attorney can recover fair compensation for their clients. We understand that attending court may feel daunting, but you have nothing to worry about. Your truck accident lawyer at The Law Place will be highly experienced and knowledgeable. They will have successfully backed the cases of countless clients in the courtroom, and they can help you too. You can feel rest assured knowing that your truck accident lawyer has the skill and ability to help you recover the compensation you deserve.
Throughout the whole legal process, your attorney will guide you, and you will be kept up to speed with all the developments. At The Law Place, we pride ourselves on having strong and committed relationships with our clients.
What Are the Legal Fees for a Personal Injury Lawyer at The Law Place?
In Largo, many people assume that seeking professional legal help is expensive and not a valid option for them. This could not be further from the truth. If you decide to hire a Largo truck accident lawyer for help filing a personal injury claim, you will not encounter any upfront costs.
This is because our law firm operates on a contingency fee basis. Many people are more familiar with the term no-win-no-fee. You won't have to pay any legal fees unless your lawyer successfully achieves a settlement. Once a settlement has been obtained, a small percentage will cover the legal fees of your lawyer.
Our law firm's legal practice is monitored by the Florida Bar association. The Bar monitors all law firms in Florida, and we abide by their regulations closely. Our attorneys only act with the interests of their clients at heart, and they will do all they can to ensure that justice in the form of financial compensation is served.
Get In Contact With The Law Place Today
If your truck accident occurred in Largo, you should contact our law firm today. We have a team of personal injury attorneys with over 75 years of combined experience. We will review your case as a team to ensure that every possible avenue to compensation is explored. At the same time, an experienced attorney will be assigned to your case and will support and guide you through the entire process.