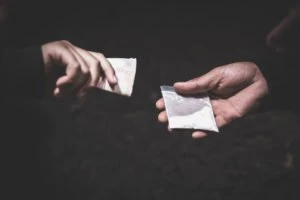 In Florida, drug crimes are taken very seriously, and penalties for them tend to be quite high. If you are being convicted of possession of a controlled substance with the intent to sell or distribute it, you should find a good criminal defense attorney as soon as possible. There is a very good chance they will help you have your charges lowered or dropped entirely. Moreover, they will provide you with the necessary legal advice and support, so you can gain back your confidence that everything will change for the better in the end.
If a person is caught in possession of an illegal drug and is thought to have the intent to sell or distribute it, they could be facing a first-degree or third-degree felony charge. The penalties for this include up to 30 years of jail time and astronomical fines. However, a skilled attorney with good experience in this area will know how to manage the situation so that the outcome is more favorable for you. At The Law Place, we hire exactly the attorneys you are looking for.
The Law Place is a reputable law firm with more than 75 years of combined experience in many practice areas, including drug crimes. Moreover, we offer a non-binding, free consultation to all our potential clients. This way, you can consult your situation with a trustworthy lawyer without having to commit to anything. And if we agree on representation, you can rest assured that you will get a good quality service. Most of our attorneys have been ranked 10.0 by the AVVO, which is the highest mark an attorney can receive at this site.
So, don't hesitate and schedule a free consultation with us at (941) 444-4444. Our phone lines are available 24 hours a day, 7 days a week.
Florida Legislation Regarding Drug Crimes
In Florida, drug offenses are governed by Florida Statute 893.13, which states that it is illegal "to sell, manufacture, or deliver, or possess with intent to sell, manufacture, or deliver, a controlled substance." If you are found in possession of a controlled substance with the intent to sell it, you might be facing charges for various degrees of a felony, depending on the type of the substance and the amount of it. A felony is a serious crime, and if you are convicted of it, you will be facing life-altering consequences. The penalties for individual degrees of a felony are as follows:
First-degree felony – Up to 30 years in prison and a $10,000 fine.
Second-degree felony – Up to 15 years in prison and a $10,000 fine.
Third-degree felony – Up to 5 years in prison and a $5,000 fine.
All controlled substances are listed in Florida Statute 893.03. The most common examples of a controlled substance found in somebody's possession with intent to sell are marijuana and cocaine. The possession of marijuana is charged more lightly, and it is considered only a third-degree felony. The possession of cocaine, however, is considered a much more serious offense, and it is usually perceived as a second-degree felony.
No matter the degree, being charged with a felony is a very serious issue with a huge impact on the defendant's life. If this is your case, you should seek a criminal defense attorney as soon as you learn of the charge. There is a lot that an experienced lawyer could do for you in this situation. But the sooner you contact them, the better chance you have in lowering your charges. Call our law firm for a free consultation and check this off your list.
Division of Controlled Substances in Florida
Apart from listing controlled substances, Florida Statute 893.03 also divides them into five categories or schedules. Each schedule indicates a different level of addictiveness and danger to its users. Schedule 1 contains the hardest and most dangerous drugs, while schedule 5 is comprised of the least harmful ones. However, it is important to point out that all of them are unhealthy without medical supervision and their use, possession, or sale are punishable by law.
Schedule 1
Substances belonging to schedule 1 are considered the most dangerous ones and are the most likely to be abused and cause addiction. They have no approved medical use and are simply illegal. If they are found in your possession, and your intent to sell them is proven, you could face a first-degree felony. Schedule 1 contains, for example, meth, crack, heroin, or LSD.
Schedule 2
Schedule 2 is comprised of drugs like oxycodone, Dexedrine, hydromorphone, methamphetamine, cocaine, methadone, or morphine. These, too, can cause addiction and be harmful to our health, but they can be used as a medicine in certain cases.
Schedule 3
From Schedule 3 further, we encounter less harmful drugs with less potential to create addiction. This is also associated with lower but still very serious penalties for their possession with intent to sell. This category includes ketamine, steroids, and substances containing less than 90mg of codeine per dosage unit.
Schedule 4
Schedule 4 contains drugs that are even less addictive, so they are less likely to be abused. This includes, for example, Xanax, Valium, Tramadol, Darvon, Talwin, or Ativan.
Schedule 5
If a substance is listed in Schedule 5, it means that it is one of the least harmful and addictive drugs from all controlled substances. This includes, for example, cough syrup, Motofen, Lyrica, Lomotil, or Parepectolin.
Different Drug Charges
Drug crimes can be divided into various categories according to their circumstances:
Possession of a controlled substance – This charge refers just to the possession of the substance alone, and it depends on the nature and amount of the controlled substance or drug paraphernalia that was found in your possession.
Distribution or sale of a controlled substance – This charge includes the actual sale or distribution of the substance or just an intent or attempt to do so.
Manufacturing of a controlled substance – This charge relates to the situation when you are caught producing the drug, or the materials used to manufacture it are found in your possession.
Trafficking of a controlled substance – This charge concerns the sale, purchase, manufacturing, delivery, possession, or transport of a controlled substance into the state of Florida or just the intent to do so.
Prescription fraud – This charge is used in situations when a person tries to obtain a controlled substance through a medical prescription using fraud. They might, for example, forge the prescription or engage in a practice called "doctor shopping."
These are just some of the most common examples of criminal charges for drug possession with intent to sell, but there are actually many more. This area of law tends to be quite complicated, so we strongly recommend you find a good criminal defense attorney who will be able to defend you successfully in court. At The Law Place, we hire skilled lawyers with experience in many practice areas, including drug offenses. Contact us today and schedule a free consultation to find out what options you have.
Proving the Intent to Sell
In the State of Florida, the prosecution must prove that the defendant committed a crime, i.e., the burden of proof lies with them. Therefore, in this case, they need to prove beyond reasonable doubt that you had the intent to sell the drugs or that you were otherwise involved in the drug trafficking. In order to do so, the prosecution must prove certain aspects of the case, for example:
The defendant admitted the intention to sell drugs in their statements.
How the substance was packed.
Drug paraphernalia (e.g., scales, baggies, etc.) was present at the time of the arrest.
The situation involved U.S. currency in cash.
A firearm or other weapon was present.
How much of the substance was involved, and what type it was.
If the prosecution isn't able to demonstrate some of these points, your criminal defense lawyer will have grounds to prove that you did not intend to sell the drugs found in your possession. This can potentially lower your penalties and improve your future prospects. That is why it is so important to hire a skilled attorney to help you with your case. Don't wait for the right moment and call today for a free case evaluation.
Possible Defenses for Drug Charges
If you have been charged with a drug offense, the best solution is to find a skilled lawyer who will build a strong defense for you. Moreover, it imperative that you are absolutely honest with them. A good attorney-client relationship is key to success. Only this way will they be able to create a personalized defense tailored exactly to your case. If you aren't honest with them, some inconsistencies might arise later, threatening the success of the defense.
Once your lawyer knows all the details, they will analyze your case and design the best defense for you. Some of their arguments might include:
The law enforcement officers who arrested you engaged in your entrapment.
The controlled substance in question wasn't yours.
You didn't intend to sell a controlled substance.
The law enforcement identified you incorrectly.
The police didn't have a corresponding search warrant.
The amount of the drug in your possession was lower than 10 grams.
Investigation of Your Arrest
If we agree on cooperation, our people will conduct a thorough investigation to learn the exact circumstances of the arrest. We will also check the quality of the evidence that the prosecution has against you and the way in which it was obtained. If the police officers didn't act according to the protocol in either of these situations, it might be used in your favor.
An experienced criminal defense attorney will recognize whether the police officers acted in accordance with legislation at first glance. If they violated any of your rights, for example, your Fourth Amendment rights, the evidence obtained that way cannot be used against you. After that, it is not likely that the case will be pursued further.
Contact The Law Place for a Free Consultation
Have you been charged with possession of drugs with the intent to distribute or sell them? Then don't hesitate and contact a reputable law firm immediately. At The Law Place, we offer a free case evaluation for all our potential clients, so you can discuss your situation with a professional without having to commit to anything.
Our attorneys have vast experience in many areas of law and have already helped many clients charged with crimes like drug possession and drug trafficking. They will work tirelessly to lower your penalties and dismiss your jail sentence. Moreover, we always strive to constitute an attorney-client relationship that is strong and based on mutual trust so that we can build an unbeatable defense for you.
Call us at (941) 444-4444.