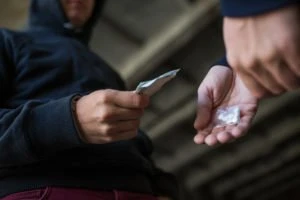 If you have been arrested for the purchase of illegal drugs, you will need legal support from a professional criminal defense lawyer. In Port Charlotte, FL. such crimes can result in a defendant facing severe consequences and future alterations, as Florida continues to uphold its strict, no-tolerant law on drugs.
Without the proper legal support and expert advice, you could have to pay unaffordable fines, serve lifetime probation, especially in severe drug offenses where large amounts of a controlled substance have been seized from the suspect. You may also receive an unwanted prison sentence. Being charged with a prison sentence is the last thing we want for our clients. We aim to prevent our clients from receiving any charges whatsoever, and where this is not possible, we aim to minimize them as much as possible.
If you face charges for purchasing a controlled substance with the intent to sell, or any other drug crimes, you need a professional by your side. By taking the first steps in calling us, we will happily schedule you a free case evaluation. Our consultations will give you the chance to ask us any questions and allow our attorneys to explain what we can do for your case.
Contact our legal team now on (941) 444-4444 and let us guide you through this difficult time.
Which State in America Has the Harshest Illegal Drug Laws?
You can find all the information on Florida drug law in Florida Statute 893.13. In the US in 2018, there were 67,367 drug overdose deaths reported. With such an alarming number of deaths due to drug abuse, it is easy to understand why drug laws in Florida are enforced so strictly and are viewed as such severe crimes. Even committing offenses such as the possession of drug paraphernalia, which might seem like a minor offense, could still result in a defendant facing harsh punishments.
There are several different drug crimes a person can commit in Florida, such as the manufacture of a controlled substance, possession of drug paraphernalia, possession with intent to sell a controlled substance, drug trafficking, etc.
If you have committed any of the above, or are considering committing a drug crime, then you should think twice about the consequences you could face if caught committing such. It could result in you facing consequences that you may struggle to ever recover from, for example, receiving the scar of a criminal record to your name.
The Five Drug Schedules
There are a range of controlled substances that are sold and abused throughout Florida. Therefore, the law classifies controlled substances into five categories, ranging from the public's most dangerous and addictive controlled substances. Schedule five consists of much less harmful and addictive substances used throughout Port Charlotte, Fl.
Starting with the most severe drug schedule:
Schedule 1 – Includes controlled substances such as LSD, Marijuana, Ecstacy, Heroin, Crack Cocaine. These drugs are categorized as some of the most dangerous and addictive drugs. Being found in possession or supply of any schedule 1 drug can result in some of the harshest punishments.
Schedule 2 – Consisting of both illegal and prescripted drugs widely used throughout the US. Schedule 2 drugs include Methadone, Ritalin, Morphine, Meperidine, Fentanyl. Abuse of any of these drugs can be highly threatening to a person's health, so they are classed as some of the most dangerous drugs used and abused throughout Florida.
Schedule 3 – Although considered less severe than schedule 1 and 2 drugs and are usually prescribed by a doctor, schedule 3 drugs consist of Ketamine, Codeine, Anabolic steroids, and Tylenol. When abused, however, these substances can cause many health-related illnesses in the future and can lead to high levels of dependability on the drug.
Schedule 4- Including much less harmful substances according to Florida law, but substances still widely abused throughout the US, schedule 4 includes Diazepam, Valium, Lorazepam, Alprazolam (Xanax).
Schedule 5 – Including the least dangerous of all schedules, schedule 5 consists of Codeine (cough medicines), etc.
Penalties for Possession of Illegal Drugs
If found guilty for the possession of a controlled substance with intent to sell, manufacture or deliver, depending on the amount seized from the suspect and the schedule of the drug attempted to sell, you could be charged with a felony as a result.
In Florida, felonies carry the harshest punishments that a judge can sentence. If you have been accused of attempting to sell a controlled substance that falls under the schedule one category, then you could find yourself being charged with a first-degree felony.
First Degree Felony: A first-degree felony will result in the defendant facing the following:
Fines of up to $10,000.
A prison sentence of up to 30 years.
Permenent criminal record.
Third Degree Felony: Considered less severe than receiving a first-degree felony, but still consisting of harsh punishments and future altering consequences. Being charged with a third-degree felony could result in the defendant facing:
Fines of up to $5,000
A prison sentence of up five years.
Permenent criminal record.
First Degree Misdemeanor: Considered to be much less severe than a felony charge, but still should be avoided at all costs. Being charged with a misdemeanor can result in the defendant facing:
Fines of up to $1,000,
A 1-year prison sentence.
Permenent criminal record.
Drug Trafficking
Drug trafficking is defined by Florida law as the deliberate purchasing, distributing, manufacture, or delivery of a controlled substance, of a certain weighed amount. The trafficking of any controlled substance in Florida is punishable by felony or misdemeanor, depending on the weighed amount of scheduled drug seized from the suspect.
Stated below is the amount of each substance that must be found in possession of a suspect for the offense to be classed as drug trafficking.
Cannabis – Possession of a controlled substance weighing 25 pounds or more or the cultivation of more than 300 plants.
Cocaine – Possession of up to 28 grams or more of cocaine.
Opioid – Possession of 4 grams or more of an illegally produced substance such as heroin or morphine.
MDMA – Possession of 10 grams or more.
Potential Defenses Against Drug Charges
If you stand accused of drug crimes, you should not go through this alone. It is statistically proven that you stand a significantly better chance of walking away from a lawsuit charge-free, with an experienced criminal defense attorney at your side. Our law team is here to guide you on the next best steps to take and ensure that you are entirely aware of your rights as a defendant.
It is easy to become intimidated by a prosecutor, especially if all evidence points towards your guilt. However, our attorneys have taken on many previous defense cases, just like yours. They have proven highly successful in communicating effectively with the prosecutor and defending your claim with efficiency. So please, you don't have to feel as though your case is out of the ordinary or will be at all difficult for us to defend.
Our duty as your defense lawyer is to take on your case with confidence and ease, putting forth the best possible alibi and defense possible against a prosecutor. We promise that we will do everything in our power to ensure that you receive as fair of an outcome as possible.
Every drug case is different from the last, but the following lists some usual defenses that an attorney could use to your advantage against a prosecutor.
There was no warrant out for the suspect's arrest at the time of the arrest. It is well known that a police officer must carry a search warrant if they wish to enter the property. Entering someone's home or private property without a warrant is unlawful.
A law enforcement officer misidentified the controlled substance and therefore concluded the drug was of a higher schedule, resulting in harsher charges for the defendant.
There was a wrongful weighing of a controlled substance by a law enforcement officer.
The evidence against the defendant is of an unreliable source or is seen as objectionable.
Our drug crime defense attorneys have high-quality experience and skill regarding drug defense cases and work tirelessly to develop a solid defense against a prosecutor. Please don't hesitate to schedule a free consultation with our law team today. You will leave the appointment feeling so much more at ease and reassured that your case is in safe hands with us.
How Can a Criminal Record Effect My Future?
After receiving your charges and serving your prison sentence, the consequences of your actions do not stop there. Obtaining a criminal record can restrict you from maintaining a normal future. For example, it can have implications of:
Being unable to apply to particular job roles, such as job roles involving childcare, sensitive information, or cash handling.
Unable to apply for loans.
Unable to apply for mortgages.
Restricted from traveling to certain countries or even to specific places within the US.
Unable to apply for child custody.
If you are entering a lawsuit, it is best to avoid any sentencing if you wish to avoid a criminal record altogether. Suppose you want to have all charges dropped. In that case, you will need professional legal guidance from a criminal defense attorney who is knowledgeable in a range of defense cases, including drug cases.
Plea Bargains
Our attorneys are experienced with communicating with the prosecutor and coming to agreements, including plea bargains. A plea-bargain consists of a defendant pleading guilty to the offense to lessen the severity of their charges. If you have committed no previous offenses and have a clean criminal record, a plea bargain may be an option for you.
Plea bargains are efficient because they speed up case processes which means you won't need to invest as much time into your case. However, if you are innocent and plead guilty, you have to carry around the burden of pleading guilty for the rest of your life. Your defense lawyer is always available to ensure you are made completely aware of your rights and help you to make the right decision that will benefit you best.
We promise to listen to the wishes and desired outcomes of our clients. Our attorneys always look to ensure that both client and attorney will be able to come to a reasonable agreement on how they will plead and the statements they wish to make.
Choosing Your Defense Attorney
We understand how difficult it can be to choose law firm capable of giving you the best outcome possible. We promise our clients the highest level of care and support and are adequately trained to handle your case with ease. We promise to examine your case carefully and offer you an honest legal opinion on your best options.
You may already have an idea of the type of attorney you want to be defending your case. You may wish for a lawyer who is friendly, easy to talk to, non-judgmental, experienced, trustworthy and is able to sympathize with your case. Not only do we pride ourselves on building an excellent attorney-client relationship, but we care about the outcome of our client's case. We understand that the future of your case lies with us, but we assure you that it is in the best hands possible.
Please take your time to looking into our success rates, client reviews, and the number of awards we have achieved throughout our many years of hard work. The Law Place will always be upfront with you on our success rates.
Contact The Law Place Today!
If you or somebody you know has been arrested for the possession of a controlled substance or any other drug crimes such as possession with intent to sell, manufacture, or deliver. The best thing you can do at this time is to get our support right away.
Here at The Law Place, all of our attorneys are qualified and highly trained in a range of criminal defense cases. With over seventy-five years of combined experience, no claim is too difficult for our attorneys.
Please don't hesitate to call us now to arrange a free consultation at (941) 444-4444. Our helpful consultants will give you a chance to go through your situation with us so that we can assist you with friendly, practical advice. We are ready to work your case for you, so please, don't go it alone!