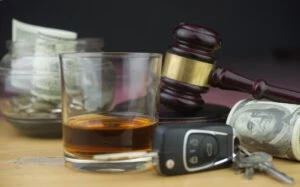 Deltona, nestled in the heart of Florida, isn't just a hub of scenic beauty; it's also a place where the unexpected can occur, like a DUI arrest. Let's unravel the mist surrounding DUIs in Deltona, FL, and highlight how the right Deltona DUI lawyer can change your narrative.
DUIs in Deltona are more common than you might think. The charm of the Daytona Beach nightlife or a simple night out in Central Florida can lead to unsuspecting DUI charges. Ever felt like a deer caught in headlights when pulled over by law enforcement officers? We've seen it happen.
Don't leave your future to chance, arrange a free consultation with a Florida criminal defense attorney today.
Florida DUI Law – The Basics
In accordance with Florida Statutes Chapter 316, the legal limit for blood alcohol content (BAC) stands at 0.08%. Seems small, right? Yet, this figure doesn't mean you have to consume a significant amount. Depending on your body type, metabolism, and other factors, even a couple of drinks might push you over the edge. And if you think that's only for alcohol, think again. The presence of narcotics, prescription drugs, or other controlled substances in your system can also lead to a DUI arrest in Deltona.
Field Sobriety Tests: What Are They?
Before the more technical tests, law enforcement officers in Deltona might ask you to undergo field sobriety tests. Ever seen someone trying to walk a straight line on the side of the road? Or perhaps standing on one leg? These are some of the preliminary tests to gauge if you're under the influence. They might seem simple, but in the nervous aftermath of being pulled over, they can be challenging.
The "Implied Consent" Principle
Here's something many in Deltona might not know: by driving on Florida roads, you've given implied consent for BAC testing. Refusing these tests isn't without consequences. It could mean an automatic suspension of your driving license. Feel trapped? That's why it's crucial to know the law and have a seasoned DUI lawyer on speed dial.
The Consequences of a DUI
A DUI (Driving Under the Influence) conviction is not merely a legal issue; it creates a cascade of consequences that can affect various aspects of a person's life. These ramifications often reach far beyond the court sentence and the financial penalties. Here's an exploration of the multifaceted consequences of a DUI:
Legal Penalties
A DUI conviction typically leads to significant legal penalties. These can include:
Jail Time: Depending on the jurisdiction, the severity of the offense, and whether it's a first or subsequent conviction, jail time for a DUI might be imposed.
Fines: The fines for a DUI can be substantial, often reaching thousands of dollars.
License Suspension or Revocation: Losing the ability to drive can greatly impact daily life, from getting to work to running errands. Fortunately, an experienced attorney may be able to help you get your license back after a DUI in Florida.
Probation: A period of probation may be imposed, during which regular check-ins and adherence to strict rules are required.
Employment Consequences
Many employers perform background checks, and a DUI conviction can make a negative impression. It might:
A DUI conviction could lead to job loss, especially if driving is a significant part of the job description.
It could also limit future job opportunities, as some employers might be hesitant to hire someone with a criminal record.
The Ripple Effects on Insurance Rates
Being charged with a DUI doesn't just affect the present—it has long-term implications, too. One of the most palpable hits comes from your insurance company. Your insurance rates could skyrocket post a DUI charge, and in some cases, insurers may even drop you from their coverage. Ever imagined paying double or even triple the usual amount?
Let's be honest—no one wants a DUI charge looming over them. Employers might second-guess your reliability, or you could even face job termination, especially if driving is part of your job description. And socially? The whispers, the side-eyes, the hushed conversations—it all adds up, turning social situations into potential minefields.
The Role of the Deltona DUI Lawyer in Mitigating Consequences
While the implications of a DUI charge are undeniable, the outcome isn't set in stone. This is where a proficient Deltona DUI attorney comes into play. From challenging the evidence and questioning the legality of the traffic stop to negotiating reduced charges or even dismissals, the right legal counsel can significantly change your trajectory. Do you really want to navigate this tumultuous journey alone?
Unparalleled Knowledge of Local DUI Laws
The intricacies of DUI laws in Volusia County are vast and ever-evolving. Our team is not only well-versed in these laws, but we also stay updated on any changes. This ensures that we provide our clients with the most informed defense strategies tailored to their specific cases.
A Track Record That Speaks Volumes
Our prowess in DUI cases, combined with our dedicated approach, has earned us a proven track record in Deltona and neighboring areas like Daytona Beach and Sanford. With a history rich in favorable outcomes, why gamble your future with anyone else?
Client-Centric Approach
At The Law Place, it's not just about winning; it's about you. We understand the emotional roller coaster that accompanies a DUI arrest, and we're here to provide the support you need. From the free consultation to the final verdict, our focus is on ensuring you feel heard, understood, and confidently represented.
The Priceless Peace of Mind
Picture this: instead of sleepless nights wondering about your DUI case, you rest easy knowing a seasoned Deltona DUI attorney from The Law Place is in your corner, fighting for you. That peace of mind? It's priceless.
An Army of Knowledge and Experience
Within our ranks are some of the finest DUI attorneys in Deltona and beyond. Each brings a unique skill set, a deep understanding of the local legal system, and a passion for justice. Together, we form a formidable team that's ready to tackle even the most challenging DUI cases.
Personalized Representation
At The Law Place, we understand that no two DUI cases are the same. That's why we adopt a bespoke approach for every client, tailoring our defense strategies to suit the specifics of your situation. Whether it's challenging the probable cause for your arrest or the manner in which your blood alcohol content was measured, we meticulously comb through every detail.
Transparency and Trust
We believe in forging genuine connections with our clients. From the moment you step into our law office for a free consultation to the resolution of your case, we keep you in the loop. We're here to answer any questions, alleviate your concerns, and offer the guidance you need. After all, trust is the bedrock of any strong attorney-client relationship.
Committed to Your Cause
While other firms might see you as just another case, at The Law Place, you're family. We fight for you with the same vigor and dedication as if you were our own. We're committed to protecting your interests, upholding your rights, and ensuring the scales of justice are balanced in your favor.
Beyond the Courtroom
Our responsibility doesn't end once the court adjourns. We're here to offer support as you reintegrate into society, helping you understand any court-mandated conditions, liaise with probation officers, and assist with any other post-trial matters. Because at The Law Place, we care about your future.
Simplifying the Process
Facing DUI charges can be an overwhelming experience. That's why our first step is to break down the complexities of your situation. In your initial consultation, we'll decode the legal jargon, helping you understand what you're up against.
Evaluating Your Case
During our meeting, we'll dive deep into the specifics of your arrest. Were there discrepancies in the procedures? Were there violations of your rights? We'll scrutinize every detail to craft a defense that's unique to your situation.
Setting Expectations
We believe in transparent communication. We'll walk you through potential outcomes, possible defense strategies, and what to anticipate as your case progresses. With us, you're never in the dark.
Crafting a Defense Strategy
Using the insights from our consultation, our Deltona DUI attorneys will formulate a strategy tailored to your case. This isn't a one-size-fits-all approach; it's a personalized game plan aimed at achieving the best possible outcome for you.
Building a Relationship
Your journey with The Law Place doesn't end post-consultation. We're in this together, from the first handshake to the final verdict and beyond. Throughout the process, we're here to support, guide, and fight relentlessly on your behalf.
Potential DUI Defenses: Not All Is Lost After an Arrest
Being charged with a DUI can be a harrowing experience. The flashing lights, the test results, the realization that you might face legal consequences—these moments can leave an indelible mark on anyone's psyche. However, it's crucial to understand that an arrest doesn't automatically mean a conviction. Depending on the specifics of your case, there are numerous potential defenses that a skilled DUI attorney can leverage on your behalf. Here's a closer look at some of these defenses:
Inaccurate Breathalyzer Results
Breathalyzers, though widely used, aren't foolproof. They require regular calibration and maintenance to ensure accuracy. Several factors can lead to false positives:
Residual Mouth Alcohol: If you recently used mouthwash or had a drink just before the test, there might still be alcohol in your mouth, leading to an inaccurately high reading.
Diet and Medical Conditions: Diets like keto can cause your body to produce acetone, which some devices might read as alcohol. Similarly, conditions such as acid reflux or diabetes can skew results.
Improper Field Sobriety Test Procedures
Field sobriety tests (FSTs) are subjective by nature, and they must be conducted correctly to be deemed reliable. Factors like uneven surfaces, poor lighting, or even the type of shoes you're wearing can affect your performance. Additionally, if the law enforcement officer didn't provide clear instructions or demonstrated the tests improperly, the results might be contested.
Lack of Probable Cause for the Stop
An officer can't pull you over without a valid reason, known as probable cause. This could be a traffic violation or erratic driving behavior that made the officer suspect impairment. If there was no legitimate reason for the stop, any evidence collected thereafter, including breathalyzer results, might be deemed inadmissible in court.
Chain of Custody Issues with Blood Samples
If you underwent a blood test, the sample taken must be handled and stored correctly to avoid contamination. Breaks in the chain of custody or mishandling can compromise the integrity of the sample. In such cases, the results might be challenged.
Medical and Environmental Factors
Some medical conditions can mimic signs of intoxication. For example, hypoglycemia, a condition related to low blood sugar, can cause slurred speech, unsteady movement, and even the smell of alcohol on one's breath. Similarly, environmental factors like exposure to paint fumes or gasoline can lead to falsely high breathalyzer readings.
Denial of Right to Counsel
If you requested to speak to an attorney after being detained and were denied that right, it could serve as a potential defense. Everyone has the right to legal counsel, and failure to provide this can affect the legality of the arrest process.
Inadequate Observation Period
Before administering a breathalyzer test, officers are typically required to observe the suspect for a certain period (often 15-20 minutes) to ensure they don't eat, drink, vomit, or do anything else that might affect the test outcome. If this protocol isn't followed, the test results can be disputed.
FAQs
Can a Deltona DUI lawyer really make a difference?
Absolutely! With the right legal counsel, many aspects of the case can be challenged, potentially leading to reduced charges or even a dismissal.
What's the difference between DUI and DWI?
While DUI stands for "Driving Under the Influence," DWI means "Driving While Intoxicated." In Florida, DUI is the more commonly used term, but both refer to the impairment of the driver due to alcohol or drugs.
How soon should I contact a lawyer after a DUI arrest in Deltona, FL?
Immediately! Time is of the essence in DUI cases. The sooner you seek legal representation, the better your chances of a favorable outcome.
Do I have to take a breathalyzer test if stopped by law enforcement officers in Volusia County?
While you can refuse, it might come with consequences, such as an immediate license suspension. However, the specifics can vary, making it crucial to consult with a Deltona DUI attorney.
Are DUI penalties the same throughout Florida?
While there's a general framework, specific penalties can vary based on prior offenses, blood alcohol content levels, and other factors. This further underlines the importance of having a knowledgeable DUI lawyer by your side.
Contact The Law Place Today
The path post a DUI arrest can be treacherous. But with The Law Place by your side, you have a dedicated team ready to light the way. From the bustling streets of Daytona Beach to the quiet corners of Deltona, FL, we're committed to ensuring justice is served. After all, in life's toughest moments, it's not just about finding a good attorney; it's about finding a partner who'll stand by you, every step of the way.