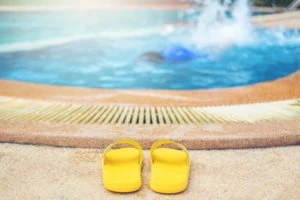 Florida's warm weather and scenic views make swimming pools a popular addition to many homes. However, swimming pools can also pose significant risks, especially for young children. Each year, several swimming pool accidents occur, leading to tragic outcomes such as drowning or severe injuries.
At The Law Place, we understand the significance of these accidents, and we're dedicated to helping victims and their families navigate the legal aftermath. Whether it's seeking compensation for injuries sustained or guiding a family through the loss of a loved one, our team of experienced attorneys is ready to help.
Reach out to us today for a free consultation with Florida personal injury lawyer and let us stand by your side in this challenging time.
Pool Safety Tips
Keeping safety paramount while enjoying a dip in the pool is essential. Following certain guidelines can help ensure that everyone, especially children, stay safe around water.
Emphasis on Adult Supervision
One of the most critical pool safety tips is adult supervision. No matter the proficiency of a child swimmer, accidents can occur unexpectedly. Drownings often happen quickly and silently, so it's essential to have a responsible adult actively watching children in the pool. This supervision should be vigilant and undistracted. Avoid multitasking or becoming engrossed in a book or phone. The safety of children can depend on your watchful eye.
Teaching Children Water Safety and Swimming Lessons
It's never too early to introduce children to water safety. Start teaching children about the potential dangers of swimming pools and the importance of following pool rules. These lessons could include walking, not running, around the pool, not pushing others into the water, and not diving into shallow areas. Swimming lessons can also provide valuable skills and confidence. Organizations like the American Red Cross and local YMCA often provide swimming lessons for various age groups.
Understanding the Risks
It's vital to comprehend the potential risks associated with swimming pools. Diving accidents, for example, can lead to serious injuries if not done properly. Ensure that all family members know which areas of the pool are safe for diving and which are not. Similarly, understanding the potential dangers of pool drains and other openings can help prevent accidents.
Learn CPR
In the event of a pool emergency, knowing how to perform CPR can be lifesaving. CPR classes are widely available and typically include both online and in-person options. Having more adults and even older children in the household trained in CPR adds a layer of safety.
Installing Approved Pool Barriers
Approved pool barriers are essential to block access to the pool area when not in use. Barriers should be at least four feet high, have no foot or hand holds that could help a young child to climb it, and be equipped with a self-closing, self-latching gate. An additional layer of protection could include pool alarms that alert you if someone enters the pool area.
By following these pool safety tips, you can help to create a safer environment around swimming pools and prevent accidents. But remember, no measure is foolproof, so constant adult supervision and vigilance is always necessary.
Our team of dedicated attorneys fight and win for Floridians.
The Role of Responsible Adults
Adults play a crucial role in maintaining a safe environment around swimming pools, and this role extends beyond just supervision. It's about being proactive and fostering a culture of safety around all water features, be it a swimming pool or a simple water feature in your garden.
The 'Water Watcher'
The concept of a 'water watcher' is a useful safety measure, especially during pool parties or gatherings where multiple adults are present. A designated 'water watcher' is an adult specifically tasked with watching the children in the pool for a certain amount of time, typically 15-30 minutes. This adult should remain free from distractions during this period, focusing solely on the pool area.
Then, another adult can take over, ensuring that there is always someone alert to watch children. This approach prevents 'assumed' supervision, where everyone assumes someone else is watching.
Safety in Deck Areas and Other Water Features
Safety considerations should extend to the deck area surrounding the swimming pool and any other water features you may have in your garden. Wet pool decks can be slippery and cause falls leading to injuries. Make sure to install non-slip surfaces or mats around the pool area to prevent accidents. Additionally, keep the deck area free from toys or other items that could pose a tripping hazard.
For other water features like fountains, koi ponds, or hot tubs, similar safety measures should apply. Make sure they are appropriately fenced off, especially if they are deep enough for a child to drown in. Regularly checking these areas for potential hazards can significantly reduce the risk of an accident.
As a responsible adult, your actions set an example for the children around you. By following these safety tips and demonstrating caution and respect for the water, you can help teach children important safety habits. Fun and safety can coexist – it's all about striking a balance and creating a safe environment for everyone.
Importance of Understanding Florida Swimming Pool Laws
In the sunshine state of Florida, swimming pools are a common feature in many homes. With this prevalence comes the importance of understanding and adhering to Florida's swimming pool laws, designed to promote safety and prevent accidents.
Residential Swimming Pool Safety Act
Florida's Residential Swimming Pool Safety Act sets forth safety standards for residential swimming pools to protect young children from drowning. The law mandates that all swimming pools must have at least one approved safety feature, such as:
An approved pool barrier isolating the pool from the home, which can be a fence, a dwelling wall, or a combination of both.
A pool cover that meets the standards of the American Society for Testing and Materials (ASTM).
Exit alarms on all doors and windows leading to the pool.
Self-closing, self-latching devices on all doors and gates leading to the pool, with the latch located at least 54 inches above the floor.
These laws aim to block access to the pool for young children who might wander into the pool area unsupervised.
Building Codes and Permits
Florida building codes also regulate the construction and renovation of swimming pools. Any new pool or substantial pool renovation requires a permit, and the construction must comply with the current building codes. This includes specifications for pool depth for diving, standards for pool barriers, and regulations on electrical installations to prevent electric shock hazards.
Liability Laws
Florida law also highlights the responsibility of the pool owner for any accidents that occur in their pool. If a pool owner fails to comply with the safety laws and an accident happens, they can be held liable for the resulting injuries under a premises liability lawsuit. This underlines the importance of not only following the law for safety's sake but to also avoid potential legal consequences.
Understanding these Florida swimming pool laws is crucial for all pool owners. Not only do these regulations help you create a safe swimming environment, but they also protect you legally. If you are unsure about any aspect of these laws or how to ensure your pool is compliant, consider seeking legal advice. A proactive approach to safety can make all the difference when it comes to preventing accidents and keeping your family and guests safe.
We're Florida's top litigation team with over 75 years of combined experience
The Law Place: Your Advocate in Swimming Pool Accident Cases
When it comes to handling swimming pool accident cases in Florida, you need an advocate who knows the intricacies of the law, understands your rights, and is dedicated to fighting for you. That's where The Law Place comes in.
At The Law Place, we have a wealth of experience in personal injury cases, including swimming pool accidents. We understand the emotional and financial toll that these accidents can take on victims and their families. We're here to provide support, guidance, and legal guidance to ensure that you receive the justice and compensation you deserve.
At The Law Place, we also pride ourselves on our commitment to clear, honest communication. We believe that our clients have a right to know every aspect of their case, which is why we keep you informed and involved at each step of the process. With us, you're not just a case number; you're a valued client whose best interests are our top priority.
We also operate on a contingency basis, which means you don't pay us unless we win your case. We understand that after an accident, finances can be a significant concern, so we take that worry off your table. Our focus is on your recovery and ensuring justice is served.
If you or a loved one has been involved in a swimming pool accident in Florida, don't face it alone. Contact The Law Place today for a free consultation. We're ready to fight for you and make sure your rights are protected. Let us carry the legal burden so you can focus on healing and recovery. Choose The Law Place: your trusted partner in swimming pool accident cases.